Clara Mejías is a black trans woman in Venezuela. For as long as she can remember, Clara has been plagued by panicked dreams in which she's drowning or being chased, waking up night after night hyperventilating in a sweat. "When I grew up," she says, "I understood that my dreams were a manifestation of growing up black and trans in a society which tells me, at every step, that it doesn't have a place for me. My dreams were a place where my deepest fear crystalised and manifested in the most tangible way."
For Clara, the disruption of her resting sleep patterns is part of the broader weapon of oppression used against her. "Sometimes I would ask myself, what must it feel like to want to dream? Being sure that sleeping you'll see your joys and pleasures instead of the oppression of your fear?"

This deprival of restful sleep as a tool of subjugation in established systems of oppression, as experienced by Clara and other marginalised people like her, is the subject of a new exhibition by queer feminist Afro-Latino-American artist duo niv Acosta and Fannie Sosa, now open at the Matadero Madrid arts centre. For niv and Sosa, if sleep is the place where our most terrible fears come to life to torment us – to the point where we fear going to sleep – then sleep is also a space that can be subverted and reclaimed as a space for liberation and resistance.
The project finds roots in the history of colonialism and slavery, particularly in the fact that these systems have for centuries forced people of colour to be awake to a far greater extent than their white oppressors, denying them the regenerative sleep and rest that human beings need.  "Black people were sleep deprived during slavery, working all day under the scorching, maybe sleeping 3 or 4 hours," says Sosa. This lack of rest and fatigue is something that is passed down through generations. "I've probably inherited my mother's exhaustion and my grandmother's exhaustion," says niv. "There's such as thing as intergenerational debt – and it's not just economic, it's also energetic."

Even today, numerous studies, primarily in the US, have found that white people get better sleep overall than people of colour, in both quality and quantity. For niv it's shocking, but not surprising. "It's tied to structure. It's tied to policy. It's tied to how society is constructed. Unfortunately, capitalism runs on the free or little-paid labour of people of colour across the world."
The exhibition (whose Spanish title Siestas Negras sadly loses a crucial wordplay in the English Black Power Naps) is the culmination of a five-month residency at Matadero, in which niv and Sosa have worked closely with Madrid's black and ethnic minority community to develop their ideas. As a country with a prolific colonial history across Africa and the Americas, Spain was an interesting place to conduct this research.
The artist duo was struck by how invisible impoverished ethnic minority communities are in the capital. They attribute this to what they call "the necropolitics of the night", which sees people of colour undertake work that makes them largely invisible during daytime waking hours, such as overnight cleaning, drug-dealing and sex work – a widespread phenomenon in the West, once again linked to the disruption of restful sleep patterns.
Some of the people niv and Sosa have worked with during their residency now feature in the exhibition. Sumptuous photographs greet the visitor upon entering the exhibition space, featuring groups of people of colour – largely queer, trans or female – in languid poses, rich colours, and sleepy lighting. The exhibition then takes the visitor around several places of rest: mattresses filled with air or water, draped in velvet, under elaborate canopies; hammocks hanging side-by-side in psychedelic colours; a giant pit of black beans to gentle sink into and rest… It all has the defiant, indulgent cosiness of a warm nap.
For niv and Sosa, the activism often associated with black power movements is just that – active. What comes with it is an expectation to always be productive, a concept which they find to be too closely linked to the systems of colonialism and slavery that have exploited the production of people of colour and subjugated them by that very process of production.
It links to the idea of being 'woke'. The term, proliferated by African American communities and often used in black activist culture, finds its roots in the experience of the exploited worker of colour. As niv puts it: "We've had to be awake at every moment of the day. We know exactly what's going on, we're the reason why the lights are on, we're the reasons why the building is clean, we're behind the scenes, we're in the shadows, we're on the walls."

niv understands why people now wear the term proudly and find empowerment from it. But he and Sosa want to challenge this idea of wokeness that is so firmly grounded in the deprivation of rest, taking it instead to an anti-production, anti-capitalist direction. "What can it even mean to be woke, when black folks and other folks of racialised colour cannot access sleep?" asks Sosa.
By reversing the association with sleep as a privilege denied to exploited people with darker skin, the exhibition functions as a triumphant re-appropriation of the act of resting, reclaiming it as a weapon of resistance against slavery, colonialism and other systems of oppression that have controlled and subjugated people of colour, women and queer and gender-dissident communities.

The artist duo takes inspiration from African American science fiction writers like Octavia Butler, Nalo Hopkinson and Samuel Delany for their work. Like the writers, niv and Sosa adopt an Afro-futurist approach to imagine a world where people of colour can dissolve the exhaustion that has been passed down through generations – a future in which black people can rest. The booklet of texts, poems and essays that accompanies the exhibition reads: "You must sleep for your ancestors who couldn't."
'Siestas Negras' is at Matadero Madrid until July 31. On Saturday, July 20, as part of Madrid Pride, niv Acosta and Fannie Sosa will host a party with Pussy Palace, Bbz and Nadia Rose.
All images courtesy of the artists.
words. Agnish Ray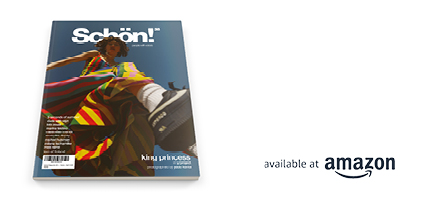 Discover the latest issue of Schön!. 
Now available in print, as an ebook, online and on any mobile device.