"I think the story of a place is told best in the people's faces," says Hendrik Beikirch. You might know the artist for his monumental monochrome portraits that dominate cityscapes around the world, from Busan to Marrakech. Those anonymous faces with familiar souls. When Schön! speaks to the artist at the Montresso* foundation in Marrakech, his Siberia exhibition is minutes from opening. Although he tells us the last piece just arrived moments before, he seems nonplused. Complicated logistics come with the territory, and Beikirch is never one to shy away from a technical challenge. For his latest work series, the artist took on the impossible task of capturing Siberia — the wild, vast Russian heartland — through the resilient faces of its inhabitants. His unique subjects give us an intimate look into this mystical land, in a way that only Beikirch's sensitivity could capture.
Formerly a graffiti artist under the moniker 'ecb', Beikirch knows how to dominate a space and provoke with his art. By merging street culture with fine art education, his signature large-scale portraiture is both raw and delicate. In his extensive travels, his art has become a form of storytelling, where capturing the locals is his way of unlocking the aura of a place. "I like this idea from the pre-camera days when people would come back from travelling just with sketches of different places, different people. It's like telling the story of a place, or my experience, my story, by the people's faces," he explains. Siberia was perhaps the greatest enigma of all, a place rendered "magical" by its harsh nature and its dark past, serving as a point of no return for Soviet prisoners. By returning to Siberia over several years, his fascination only grew. "I think Siberia has a special soul, people have a special soul and the country itself has a special soul […] I worked on [Siberia] for two years and it's still kind of a snapshot."
Siberia is a labour of love. It's a shame we know so little about this large region and its people, but through these portraits of Siberian men and women, veterans of the harsh conditions, some of the mystery is removed. We see the hardships, work and joy that have etched these faces and filled these eyes with pride, and Siberia seems less elusive. Each piece is named after its subject as if they are introducing themselves, making our encounters with them even more personal. There's Evgeniy smoking a cigarette with a boyish glint in his eye, Roza who chose to stand proudly for her portrait, and Kapitolina musing in her room packed to the rafters with memories. It is an honest reflection on life in a hard place. And it really feels as if our modest heroes are right there with us when we set our eyes on their "treasures."
Things we love, things that mean the world, whose value cannot be seen on the surface. These are personal treasures, and we all have them. Whether it's a key, a postcard or a record. For Siberia, Beikirch borrowed these treasures from his subjects. Items with deep sentimental value, whose meaning cannot be unlocked without the corresponding memory, leaving us to wistfully imagine memories of people we've never met. This isn't simply an exhibition to walk through, these are encounters with strangers turning this faraway immenseness into a familiar land.
"I think in Siberia, because that's a wide vast kind of place, the people do need to be friendly to each other, you can only survive as a team." This mutual dependence and trust evokes the most rudimentary expression of humanity: community. Life imitates art, because nowhere does this concept seem more fitting than at Montresso. The art foundation located outside the city of Marrakech, is a paradise for artists, giving them sanctuary and all the necessary tools for them to flourish. Community is at the heart of its operation. For emerging artists, the struggle to do things on your own is all too real and time and inspiration are often sacrificed. Freedom is compelling for creation, and Montresso liberates artists offering them residencies for weeks or months at a time to reflect and develop their art. It's not just a residence, but a home. It's a homecoming of sorts for Beikirch, who has had several residencies at the foundation. "I think you can't find people who are that are more dedicated and enthusiastic than here," he says. When he speaks of the exhibition he speaks of "we", and there's a sense of camaraderie that you would be hard pressed finding somewhere else. "It's always a team effort. You have to understand that you need a good team to bring ideas to life," he surmises, "and the way people are dedicated here it's amazing, I think it's rare to find."
Artists, experts and art lovers mingled at Montresso's launch of the Siberia installation and accompanying book, published by Mare et Martin. As we marvelled at the treasures of Siberia and developed a kinship with these people, one person was notably less thrilled. "I'm a little depressed right now," Beikirch admits, "because I love the process so much more. So now it's time to let go I think. I'm happy with the show, I'm really happy with the book we did and everything, but I really enjoy the journey more than the destination […] I enjoy the work in the studio, I enjoy concept-wise thinking about the show, doing a book, but to travel, to find and create the magic moments this is what I enjoy the most." It is these "magic moments" that give his portraits that spark of life and celebrate universal humanity. It feels like our world is more divided than ever, but Hendrik Beikirch's art reminds us that we can lose our differences in the face of a stranger.
Hendrik Beikirch's 'Siberia' is on show at the Montresso* Art Space in Marrakech until December 31, 2018.
words. Sarah Osei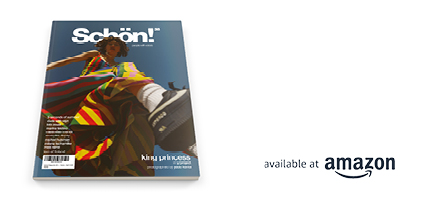 Discover the latest issue of Schön!. 
Now available in print, as an ebook, online and on any mobile device.