Azusena's lyrical command is balanced, tranquil and smooth — mirroring her artful stance. Her latest single, 'In The Water', off her upcoming EP 'Ether', is a perfect reflection of this. Infused with southerly warmth, the track seamlessly fuses alternative pop curling beats and hooks with soft-touch electro offbeat synths. The 24-year-old British-American starlet is enthralling, unfurling love stories and exploring the harmonies and contradictions of the human condition in a narrative characterized by dichotomy and juxtaposition.
The daughter of supermodel Cameron Alborzian and popstar Jill Jones, Azusena's seductive spell is one that's natural, carefree and innate. As the mesmerizing visuals for 'In The Water' premiere exclusively on Schön!, we catch up with her to talk about the elements of space, her songwriting process and what we can expect from 'Ether'.
You said that "'In the water' is about finding harmony in the wrong situation and moving forward". Did you draw on a particular experience to write the track?

I was just going through the motions. I started looking for all this escape in a new person and situations that were totally different from my vibe, to get away from this sadness I had been feeling from someone I lost touch with. 
What inspired the visuals for video? 

Nono Ayuso, the director, and I shared the same vision and I trusted all of his ideas. He is so smart and passionate. He changed his whole life to be a director and that free energy he had inspired me throughout the shoot. Lakes have this stillness and transparency that I relate to. The uncertainty of them can be very emotional. I thought that it supported what I experienced in the song. The reflection and cleansing of your spirit and running through a current and getting to the other side. 
What can people expect from you forthcoming EP, 'Ether'? Could you tell us the inspiration behind the name?
Definitely a journey. Hopefully, it makes people feel strong. The name made it all come full circle — all of the songs encompassed by the fifth element: Ether.
What made you take the five elements of space as a standpoint for this project?
The theme of the elements developed naturally and had a lot to do with the connection my moods had to my astrological birth charts and its elements. 
If you had to, how would you describe your sound?
Sensitive, free, strong 
How would you say this new music takes on from your previous tracks?

It feels like an evolution. This music is about getting back up after you've been knocked down and deciding whether to see the glass half full or empty. I wrote music almost every single day last year and the year before and I didn't have anything left to say afterwards. Everything went into this music. 
Your mom was also in the music business, has she influenced you musically in any way?
My mom is a musical genius — she knows everything about music and the industry and, subconsciously, I learned everything about music and taste through her growing up. She knows my heart and has always encouraged any talent I have. Musically, we have the same ear and hear all of the same things in music, which feels like a blessing because I intuitively know exactly what I need or hear for a song.
Did you always know you ultimately wanted to pursue music as a career?
I went through a phase of not thinking it was worth pursuing because the process felt like shit all of the time; but not doing it felt worse. 
Sadly, a rare occurrence in the music scene right now is artists actually writing their songs. How important is songwriting for you as a performer?

Just as important as making the music and playing instruments. Lyrics especially, for me. 
Independent artists notoriously have a hard time stepping into the limelight but, on the contrary, can also control the trajectory of their sound without external influence. Is remaining independent something you value when it comes to making your music?

So long as I'm always authentic and true to my sound and myself, I'm open to the kind of artist I am supposed to be. 
Being British-American, how do you think the pop British scene has evolved in the last years and how are you hoping to contribute to it?
Dance music in the UK has this dope sound right now and there's more soul on it. [I want] to continue to be involved in the creation of my sound in every aspect of the mixes: [from] production to the mastering. It might drive people crazy sometimes but I trust my ears and I follow my gut and want to just bring my style and sound out there. 
What are your main influences when it comes to music?
It changes all the time! But mostly love. 
With your EP on the pipeline and once it's out, where will people be able to see more from you?
Shows around London and Europe, I do some jams on my Instagram page with my band sometimes…
words. Sara Delgado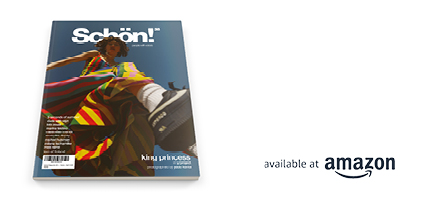 Discover the latest issue of Schön!. 
Now available in print, as an ebook, online and on any mobile device.