Anna Dubowick is the rising DJ you ought to know. Based between Kiev and Paris, you can find the young powerhouse playing sets at fashion week and the hottest Vogue and Harper's Bazaar parties. Dubowick was born and raised in Ukraine but her DJ journey began in the Big Apple. New York is where she first developed her trademark "redux style" — a dynamic fusion of '80s rhythms with electro melodies, and future funk with nu-disco beats. Her style brings a refreshing touch to an iconic era of music and she's created an exclusive summertime Schön! playlist inspired by a late night walk in Paris. Have a listen and get to know the girl behind the decks.
What music did you listen to growing up?
My history with music started when I was little and listened to my parents' LPs. Before I started deejaying I'd probably heard all the styles [out] there: Dark Jazz, old school Hip-Hop, Techno, Deathcore and Metalcore. When I was a teenager I could recognize tracks and artists from the very first second. Music has always been my element and I feel totally in sync with the space around me when I listen to it. I literally feel the vibrations in my skin.
What do you think your taste says about you?
I believe a person's musical preferences and knowledge of music reflects their personality. Music says a lot about a person's views and ideas. I think my [sound] says more than I do. I am a person who wants to discover the universe in all its manifestations. I am moderately curious, as well as truly sensitive, often experiencing a state of unity with nature and space around me.
When did you first start deejaying?
A couple of years ago I was into Rock music and learned how to play the drums. Naturally, nothing came of it but I always wanted to share a [sensory] experience with people. I was often told that with my musical experience and the amount of music I listen to I would make a great DJ. This idea had been stuck in my head for a while. When I was in New York I was truly inspired by the secret vinyl shops in Williamsburg that I used to visit. I finally made the decision and mastered mixing.
What's one of the most memorable parties or shows you've played?
It's hard to name one as each party is unique in its own way. I always try to make every set the most memorable.
What was the inspiration behind your Schön! custom mix?
My inspiration came on a trip to Paris. We walked late at night and I left my phone at home with all these notifications and messages. We walked almost 30 km on foot. I just listened to the sounds of the city that created their own melody and atmosphere. When I came home and crashed on my bed all the night's magic seemed like a distant memory and a dream. That's why my mix starts with from Alan Watts' lecture about reincarnation as a dream and ends with Angelo Badalamenti's track 'Silencio' from the David Lynch movie Mulholland Drive. If you have seen the movie you will definitely remember that "everything is an illusion". Where is reality and where is your dream?
Lastly, what do you think is essential to a good party?
When the DJ feels the audience, and the audience feel the DJ and they become one — kind of a modern 'shaman' —  that's when the real magic happens.
Keep up with Anna Dubowick here. This playlist', 'Lunar Rituals, tracklist is:
– Alan Watts Footage
– SONS – A New Life (Planet Earth Mix)
– Norwell – Deadly Maneuvers
– DJ Disse – Real Roots
– V – Mon Vieil Amour
– BICEP – AURA
– Silicone Soul – Right On
– HNNY- Hotline Riddim (Jacques Renault Edit LTP003)
– M.O.O.N. – Hydrogen (OST Hotline Miami)
– Hot Tub Boys – The Wash
– Angelo Badalamenti – Silencio 
This Schön! online exclusive has been produced by
photography. Tanya Timal
fashion. Lyuto Store 
talent. Anna Dubowick
production. Pavel Kildau 
words. Shama Nasinde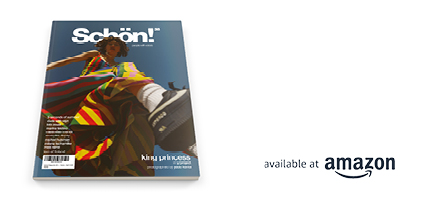 Discover the latest issue of Schön!. 
Now available in print, as an ebook, online and on any mobile device.