If you'd have told Camila Mendes just three years ago that she'd be starring in one of the most talked-about series on primetime TV, she wouldn't have believed you. The Brazilian-American starlet hadn't even graduated from the NYU's prestigious Tisch School of the Arts before landing her decisive (and debut) role as the silver-tongued Veronica Lodge. Riverdale is currently in its sophomore season [and, with a third already confirmed,] all the odds point to Mendes being in it for the long run.
Launched in 2016 to critical success, Roberto Aguirre-Sacasa's reinterpretation of the 1939 Archie comics has proven to be a pop culture phenomenon and cemented Mendes' status as a rising star. Fame brings with it great responsibility, but also the risk of being typecast. "We all knew we were in good hands. If anybody is going to do this show, it's Roberto," she says, "but everybody has that fear; especially when you're playing an iconic role that's so specific and stylised." Regardless, Mendes refuses to be pigeonholed. "We now have so much control over what image we put out via social media. We get to establish who we are outside of the character. I don't stress about it too much because I know I'm capable of playing roles that are unlike Veronica."
Beyond the perfectly groomed eyebrows and impeccable hair, Mendes' portrayal of the formerly rich, turbulent brunette surpasses the femme fatale pictured in the comics and this is down to Mendes' élan and Aguirre-Sacasa's writing. The stereotype-defying Latinx Veronica is a breath of fresh air since, in 2016, only 3.1 percent of speaking characters were Latinx, according to the annual Hollywood diversity report — making it the least represented minority. "My dream is to have a versatile career," Mendes affirms. "I have a comedic streak that not a lot of people get to see. I am a very goofy person and I do a lot of voices and make ugly faces. If I'm ever in a situation that could showcase that, I would love to".
Riverdale's long-awaited musical episode, based on Stephen Kings' 'Carrie',  premieres tonight on the CW and tomorrow on Netflix.
Discover the full editorial and interview in the latest issue of Schön!
This Schön! 34 editorial was produced by
photography. Ben Duggan
fashion. Anna Schilling
talent. Camila Mendes
casting. Anissa Payne
hair. Christine Symonds @ The Wall Group
make up. Kayleen McAdams @ Starworks Artists
words. Sara Delgado
photography assistant. Geoffrey Glenister
studio + production. The Forge
film processing. The Icon LA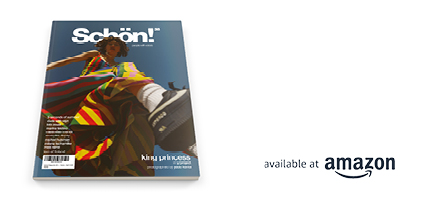 Get Schön! 34 | Sophia Lillis by Elizaveta Porodina
in print
as e-book download 
or on your mobile & tablet