Hana Mae Lee's acting career has taken off astoundingly this past year. She captivated us in Amazon's political dramedy Patriot, awed us in horror musical Haunters and seduced us in Netflix's canine rom-com Unleashed. That's not to mention starring in the most watched movie in Netflix's history, The Babysitter, and reprising her breakthrough role of Lilly Onakuramara in the highly anticipated third instalment of Pitch Perfect. Such a multifaceted cachet is hard to parallel. Yet 2018 is set to be even bigger for Lee.
Glancing at Lee's résumé, it's hard to imagine a time when she wasn't an actor, but her road to success hasn't always been smooth. Despite being born and raised in California, the unrivalled epicentre of entertainment, acting wasn't even in sight for Lee's parents. "My parents are Korean and very hooked on being successful, especially my dad," she says. "He was very work-oriented and strived for betterment, which has been both helpful and detrimental." Aged just 16, Lee enrolled in college to study Fashion Design. "People have the impression that fashion is glamorous and fun but, in reality, it's so gruelling," she recounts. "I really wanted to do acting and I knew that if I worked for any fashion company, that chapter would be completely closed." Although Lee's fashion ventures aren't over yet (her brand Hanamahn is currently in hiatus and there's a sister line in the works), she decided to "take that leap of… call it faith or naïveté."
With such voguish background, it was only natural that her first forays into the spotlight were as a model. "When you're young, you don't know any better," she admits. Modelling opened the door to not only acting but an assortment of complex and multifarious creative outlets — from dancing to stand-up comedy. "It's always fun to portray things through the eyes, an expression, clothes or makeup," she says. "When I started doing commercial projects, I loved the environment and being in front of the camera. Everything shut down around me and that's precisely what drew me into acting."
Inspired by Drew Barrymore's performances in cult titles like Never Been Kissed, Lee's goal was set on making people laugh. "When I started, theatrically, no agency wanted to take me because there weren't a lot of roles," she says. "Everything I went out for was ninja and samurai and I didn't even do that, I was just a comedian." Yet, 2011 was the inflexion point in Lee's career, when she landed roles in Mike & Molly, Workaholic and as the endearing "weirdo", Lilly, in the Pitch Perfect franchise. Seven years later, it's time for Lee to start writing her own stories. "Right now, I'm working on a few different projects that I'm both writing and co-writing," she reveals. "When I wanted to be a comedian, nobody saw it. Now that I want to do serious, not-so-animated projects, people won't see that."
Discover the full editorial and interview in the latest issue of Schön!
This Schön! 34 editorial was produced by
photography. Robin Harper @ OPUS Reps
fashion. Douglas VanLaningham @ Photogenics Army
talent. Hana Mae Lee
casting. Anissa Payne
hair. Preston Wada @ OPUS Beauty using Kevin Murphy
make up. Mynxii White @ Photogenics Army using Kevyn Aucoin
words. Sara Delgado
fashion assistant. Jeremy Friend
location. Rudolph Schindler's DeKeyser Duplex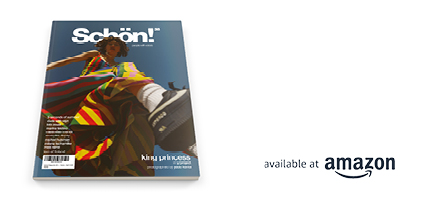 Get Schön! 34 | Sophia Lillis by Elizaveta Porodina
in print
as e-book download 
or on your mobile & tablet