On July 15, 1997, three summers after the deaths of Nicole Brown Simpson and Ronald Goldman — the crime at the centre of the first season of American Crime Story: The People v. O.J. Simpson — came the death of beloved fashion designer Gianni Versace. At the time, actor Darren Criss was a ten-year-old schoolboy. Now, 21 years later, he has taken on the monstrous role of a murderer and the antagonist at the centre of American Crime Story: The Assassination of Gianni Versace. "A Very Potter Musical was like an accidental trampoline. Glee was like a rocket ship" he says, "but this show is my big break."
Criss is on set for his photoshoot with Schön! in what is surely the busiest week of his professional career, but he still takes the time to learn everyone's name and where they come from. "Sure, we're taking pictures, but it's more about being put in a group situation and making something together," he explains. This is to articulate Criss' commitment to the job and his true desire to take something that could be all his and make it ours.
That, and his willingness to go off-script in the increased caginess around celebrity access: "My knee-jerk reaction when people want my picture is that I shy away from it. 'No, you don't want my picture. This is weird. This feels icky,'" he admits. "You kind of give up resistance to something, not because you think it's stupid, but I don't want to make anyone think that I think I'm more important than I am. I don't like that idea." But then he starts to realise that it would make everyone else in the room really happy to get that picture. "Once you do, everyone exhales and you think, OK, this is something that people appreciate and that, despite myself, there are people that would be interested in this and it's not about me."
Discover the full editorial and interview in the brand new issue of Schön!
FX's 'The Assassination of Gianni Versace: American Crime Story' airs Wednesdays on BBC Two in the UK.
This Schön! 34 editorial was produced by
photography. Helen Eriksson
fashion. Nicolas Eftaxias
talent. Darren Criss
casting. Anissa Payne
hair. Jerome Cultrera @ L'Atelier NYC using Shu Uemura
make up. Toru Sakanishi @ Joe Management
retouch. Amanda Sperry
photography assistants. Hans Olson + Saori Ichikawa
words. Evan Ross Katz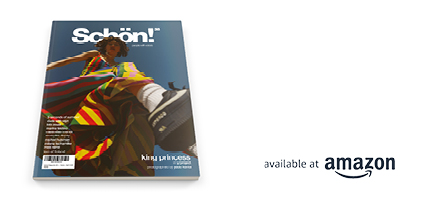 Get Schön! 34 | Sophia Lillis by Elizaveta Porodina
in print
as e-book download 
or on your mobile & tablet