Already in its 12th year, Riga Fashion Week is a hub for fashion talent, not only from Latvia, but across the Baltic states of Estonia and Lithuania. The 26th edition, which took place last month, featured – for the first time – designers from Georgia, while a collaboration with the Italian Embassy contributed to an even more international feel. The AW17 collections presented included womenswear, menswear and childrenswear. As well as 20 catwalk shows, there were also presentations, parties, a model competition and events held in the capital's coolest concept stores, BOLD and Imagehouse, where press and buyers got to see some of the collections close-up. Hot on the 'see now, buy now' trend, pop-up stores were opened for the two days directly after the event, where customers could purchase the AW17 collections fresh from the catwalks. Here's a rundown of Schön!'s highlights from the season.
It may be a high-street brand, but One Wolf's unisex ready-to-wear is anything but bland with its combination of urban functionality and creativity. Signature elements include raw denim and tones taken from urban landscapes, as well as classic black and white. The AW17 collection Lander took inspiration from space missions and a longing for earth, or home. This was interpreted through metallic and waterproof fabrics, utilitarian silhouettes and details such as numerous zipped and flapped pockets.
Meanwhile, may of the women's collections explored the contrast between masculinity and femininity through the juxtaposition of rough and smooth textures and hard and soft silhouettes. Narciss drew from the "magic and mysticism in the moment just before sleep", turning nightwear, such as silk slip dresses and lace, into daywear, but countered full-skirted brocade dresses with trenches in shiny leather.
Dalood's collection was also all about "dreams and mystery" and combining romance with strength. The softness of black velour and white satin and the delicacy of the brand's signature embroideries were contrasted by boxy jackets and fully laced, flat boots. Georgian designer Mariam Gvasalia's collection had a similar feel. Hand-painted prints, sheer fabrics and shiny satin sat side by side with simple sweats, padding and over-sized shoulders.
Anna Led's womenswear focused on simplicity and comfort, combined with elegance. Borrowing from the '90s, the collection included masculine coats, fluffy jackets and brightly coloured sportwear, but an air of sophistication was maintained with fine cashmere and alpaca knits, while the evening looks included long gowns in devoré velvet, black silk and muted shades inspired by the Baltic sea and the changeability of the Latvian seasons.
To provide a fitting close to the fashion week, NóLó put on quite a show by taking us back to our (rather naughty) college days. Badly behaved models struck provocative poses whilst passing secret notes and taunting their teacher. The university theme was explored in many forms, from the Victoriana of an imagined Oxford, to the cheerleader costumes of the USA. Masculine elements "stolen from your boyfriend's wardrobe", such as hoodies, blazers and parkas, were paired with georgette, patent eco-leather and fur and accents of red, fuchsia and wine.
Finally, let's not forget the kids. They are certainly spoilt for choice in Riga, where childrenswear brand Paade Mode presented a collection inspired by both the winter woods and world heritage. Liberty prints, Portuguese flannel cottons, Japanese merino wool and Italian alpaca, mohair and jacquard all contributed to a hand-crafted and highly individual feel. Aristocrat Kids also layered textiles to great effect. Entitled Royal Treasures, the collection featured unique hand painted prints filled with the flower bouquets and birds of Versailles and Vienna. Delicate lace and silk, luscious colours and golden embroidery ensured that these little treasures certainly looked the part.
Find more information here.
Special thanks to LIVE RIGA
Words / Huma Humayun
Follow her on Twitter.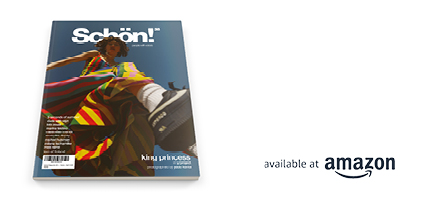 Discover the latest issue of Schön!. 
Now available in print, as an ebook, online and on any mobile device.