La Triennale di Milano has presented the first ever retrospective dedicated entirely to Rick Owens: Rick Owens. Subhuman, Inhuman, Superhuman. Or rather just "Profoundly Human", because everything the multi-faceted American designer has showcased since launching his eponymous line in 1994 could undoubtedly be considered a wild display of humanity.
"The world that I propose to people is not meant to impose or insist. It's not a manifesto, it's a proposal," Owens once said. There is, in fact, nothing violent or dogmatic in his collections, even in the more extreme ones. Even when he brings on the catwalks elements which could be considered provocative —like the infamous display of genitalia in his Menswear Fall/Winter 15 collection, Sphinx— he always does it in such a pure, wild way that the proposal is more likely to be heartbreaking than shocking. A declaration of love to human nature moved by the desire to turn the world into a better place but also taking inspiration from its faults and limits.
And purposely so."I wanted to take what a dismissive world might mock and create something fine, empathetic, kind, and inclusive," he says of the exhibition. "If I could ever so slightly blur the rigid parameters of what is considered beautiful or acceptable in our generation, I will have fulfilled any potential I had to make any positive contribution to this world."
His groundbreaking and boundary-pushing approach to fashion remains unparalleled. Take for example his Spring/Summer 2014 collection, Vicious, where a group of athletes fiercely hit the catwalk instead of the models and step-danced their way through the show. Mostly black women, at the dawn of the constitution of the movement Black Lives Matter. Rick Owens, a white American man, paid his tribute to these women by inviting their anger and their force on the oh-so-fancy stage of the Paris Fashion Week. The result was, of course, amazing. The garments of the collection framed the strong features and expressive faces of the performers genuinely enhancing their riotous beauty because this is what Rick Owens does: hunt out beauty from its most unusual hiding places.
The beauty of women's strength and power was also the protagonist in Owens' Spring/Summer 2016 catwalk, Cyclops, possibly one of the most poetic shows ever seen. This time the focus was on motherhood and sisterhood, on women supporting other women, caring, nourishing, nurturing. Women becoming other women by giving life to unique creatures. Performers strapped models on their bodies giving a new meaning also to the strap itself: not an object of restrain but an object of love.
And so on until his most recent Spring/Summer 2018 show, Dirt, in which Owens expressed his views on climate change and nuclear threats by bringing his conceptual fashion to the next level, abandoning all schemes and replacing them with visionary, sculptural creations. "I have romanticized discomfort as much as I can", the designer admitted backstage before the show. But, as always, together with his eternal search for beauty in the roughest places, he brought on stage a message of hope: Models carrying what were then referred to as "fertility bags" and the use of a clean, almost spiritual, palette, irradiated an idea of rebirth.
Romanticizing discomfort could actually be the perfect way to describe Rick Owens' fashion repertoire and, more specifically, his first ever retrospective for Milan's La Triennale, where items from Vicious, Cyclops and Dirt are displayed —together with many other art pieces. The director of the fashion department of La Triennale, Eleonora Fiorani, wisely gave him carte blanche and allowed him to showcase his world and his vision however he considered fit. So for this exhibition, Owens is the author of his own narrative —curating garments, accessories, graphics and publications that he selected form over twenty years of his career. Additionally, he also chooses some pieces from Prehistoric, the furniture collection he designed inspired by his wife and muse Michele Lamy in 2013.
Owens also created a site-specific installation for the clean canvas of La Triennale. "I wanted to take what a dismissive world might mock and create something fine, empathetic, kind and inclusive," he recounts. Composed of concrete, lilies, Owens' own hair and sand from the seaside in Venice "where I will someday be buried", the sculpture runs throughout the show and serves as a metaphor of the eternal primal creative drive that pushes humanity forward for better or for worse.
Rick Owens Subhuman Inhuman Superhuman is open at La Triennale di Milano until March 25th, 2018.
Words / Sara Kaufman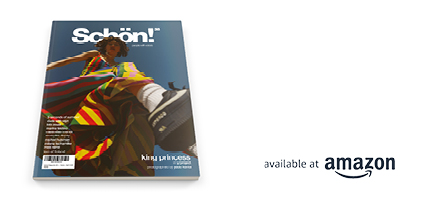 Discover the latest issue of Schön!. 
Now available in print, as an ebook, online and on any mobile device.