Milan has long had the reputation of being conservative, but not this time. This year, the Milano Moda Uomo shows and collections have proven that Milan still got it. From big names to debuting brands, the event presented us with marvellous Milanese innovations. Certainly, the Italian designers have stepped up their game this season, taking inspiration from competitors in London and Paris some went back in time whilst others decided to create their own version of existing trends.
Reportedly thinking about oceans when creating his spring 2019 collection, Dorian Stefano Tarantini's M1992 makes environment take centre stage in his new pieces — fittingly, considering how fashion is being considered one of the main problems when it comes to pollution and global warming. With a '90s Hollywood-inspired style, the collection was classic yet modern with the introduction of asymmetric tailoring: baggy plain looks featuring a loose style filled the runaway dominated by total black and white and light patterned looks.
DAKS also went back in time. Wanting to revisit the brand's heritage and history, Filippo Scuffi decided to represent elegance in its purest form. His keen eye for detail and passion for sartorial garments helped to create eccentric pieces with the power of silk materials, pastel colours and flower patterns. Deep V-necks for both men and women transported us right back a disco summer in the '80s.
Back in Dsquared2, creative directors Dean and Dan Caten showed us who the bad guys are. Exploring every possible variation of the mix, this SS collection was strong, dominant and extremely wearable. Featuring men sneakers, khaki colours and a range of puffy jackets, the dominant looks were sporty yet extravagant — faithful to the brand's core values.
Pour Les Hommes, Tom Notte and Bart Vandebosch went back to medieval times. Like dark knights, the armoured lineup was detailed to perfection: from quilted leather to dark coloured sporty trousers. The colour palette was subdued: with bottle green and black dominating as well as adding a touch of bordeaux  — a daring and innovative colour choice for the brand. Featuring tailored suits, black eyewear and leather accessories, the garments were refined and well thought through the collection.
Standing up for success — quite literally — this year's Diesel Red Tag collection was outstanding. With a strong use of dark and light denim, the garments seemed to be suitable for all generations. Striped blouses with delicate accents of yellow, pastel blues, whites and reds were worn over skinny khaki and blue jeans. To round off the looks,  red long flags reading "for success" were the main accessories. Denim total looks were also a blast for both men and women, proving Diesel's very own sense of style.
Represent Clothing decided to stay in the present with its SS collection. Picking up on the sportswear trend, siblings George and Mike Heaton represented their own version of the popular vogue. Featuring casual suiting, side bags and adorned accessories, the brothers showed their English roots in the Italian fashion capital. The looks mixed patterns and strong bright colours, making the lineup pop up.
Making their women's line debut, designers Lors Messina and Simone Rizzo brought their self-described "effortlessly cool" brand to Milan Men's Fashion Week this year. Named Sunnei, after their Italian version of 'sunny', the brand, who came to life just a few years back, is laid-back and put together at the same time. For a brand specialising in luxurious t-shirts, the collection was much more: a simply relaxed lineup of stripped, clean, pastel coloured garments, standing for being "careless and free".  The palette was mostly faded reds and blacks, put together with camel dominant pieces. 
Find out more information about Milano Moda Uomo (Milan Fashion Week Men's) here. Don't miss our backstage report on this season's catwalks.
words. Irene Chirita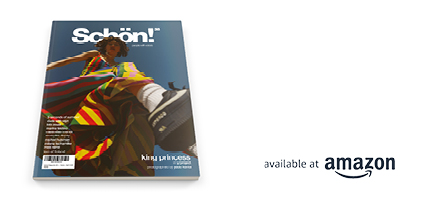 Discover the latest issue of Schön!. 
Now available in print, as an ebook, online and on any mobile device.