Born in Paris, and raised in New York City, 23-year-old Salomon Faye has grown to be one of the rising stars of NYC's underground hip hop scene. Including some major collaborations from Wiki from Ratking and Diana Gordon, his most recent EP, Stimulation, has gotten him the most attention within the past couple of years. Including tracks Alchemy and WTF, his EP Stimulation takes on race, stereotypes and the future of hip hop itself. In addition to music, Salomon has modeled for Adidas and Paul Smith campaigns and is currently writing his first book. Premiering Unlimited, Schön! uncovers the complexities of a rising talent.
Music came about as the first and original vocation. "I was just always the nicest MC at school," he relates. "I remember performing a new rap for class in third grade. And I was already writing before then. I was 15 when I did my first song and video in Paris."
Among his current musical influences, Faye names legends such as Lauryn Hill, Tupac, Nas, and DMX, then adds, "My expression, my brand; everything in general is about bringing people's attention to their own power within. And redefining life based on their own creative standard." Faye is currently signed to an independent label in Brooklyn called Illuzion Entertainment. "It's an independent label and artist collective. It was a movement I started when I was 18 and it's been growing since then. We make art and music for social change and healing."
In a year of social turmoil, with his work, Faye brings up racial constructs in lieu of current events taking place now in America. "Race is a tool that has been used to divide and conquer rather than unite. Life is different from the ideas of life that we sow. I'm just inspiring people to look in and strip themselves from all of the definitions that are preconceived— so that people can begin defining for themselves. Be the change you want to see in the world."
Alchemy addresses Salomon's values of refining self consciousness. "People say that Alchemy was on repeat for a year— and that my songs have changed their lives or point of view. And it confirms to me I should be doing what I'm doing." Taking artistry and its potential to open worldviews beyond the accepted status quo, Faye brings social and political issues to light with Stimulation. A main scapegoat is money: "Anybody who is in it for money is not in the position to lead. Money is one of the traps that has everybody stuck right now," he explains. "People are blinded to their own power because there is this illusion that power comes from money, when it doesn't. It comes from labour."
Reinventing a sort of renaissance notion of artistry, not only has Salomon been writing for his upcoming album, Book of Salomon Faye, but he has also been working on research. In addition, some of his current reads include the Bhagavad Gita, I Ching, Book of Changes, and Tao Te Ching. Exploring ancient Hindu scripture and Chinese books of oracles in his spare time, a focus on Eastern philosophies sets his work aside from the paradigms of Western writings. "Don't write to reflect write to Create, a Conscious Creator in the act of Creating is the sacred way of the warrior."
Exploring themes of nature in contrast to a harsh NYC reality, Salomon's new music video, Unlimited, features the chorus, "I wish I was a bumble bee / searching for a nectarine / I wish I was a baby boy / so my heart was pure with joy." Produced by Illuzion Entertainment and in collaboration with model, Karmay Ngai, and NYC hit brand Gypsy Sport— Unlimited is a work that demands to be individually interpreted. Basking in a sort of jovial innocence, the track explores parallels between youth and wilder aspects of human identity. As Salomon adds, "I feel like our need to define everything is what hinders us as a people."
What with real and relatable music videos, and a committed desire to raise awareness on current events, Salomon Faye is a rising talent. His mission transcends the basic preoccupations of human interactions. He concludes stating his mission is to "seek greatness and becoming the greatest version of selfless self for the evolution of humanity in a cosmic race." Watch this space.
Discover Stimulation here.
Words / Valeriya Tyurina
Follow her here.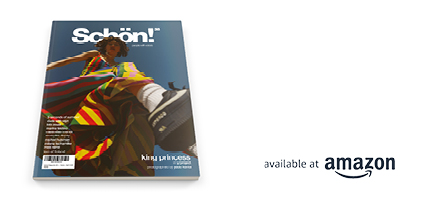 Discover the latest issue of Schön!. 
Now available in print, as an ebook, online and on any mobile device.