On Thursday, November 2nd, London will accommodate once again an originative fashion group exhibition entitled 'Posturing: Photographing The Body In Fashion'. Co-curated by London-based fashion curator and archivist Shonagh Marshall and art buyer and photographic editor Holly Hay on their first venture together as creative duo Ground Floor Project. Made possible by The Outnet, the exhibition sees a diverse selection of seminal work by celebrated photographers such as Coco Capitán, Tyrone Lebon, Johnny Dufort, and Charlie Engman, exploring the role of the female body in contemporary fashion photography. The exhibition will feature the work of 19 distinguished photographers for varied top publications such as Vogue, AnOther, i-D, Interview, or The Gentlewoman, alongside specially commissioned editorial images. Posturing lends the spotlight to the body movement, as seen through five thematic sections — casting, styling, location, props, and art direction —, deconstructing and examining the diverse processes and inspirations behind the images. Formed by photographs from 2010 to 2017, the exhibition decodes the origins of a new aesthetic that continues to develop today whilst offering a behind-the-scenes look at the development of the final piece. Schön! spoke to Shonagh and Holly ahead of the exhibition to get a rare glimpse at their ambitions and aspirations with this 3-part initiative.
How did the idea for the exhibition come about?
Holly: Shonagh had noticed this approach to the body in fashion imagery that saw models posed in the most extraordinary positions and in this very domestic setting. Shonagh and I are such great friends we started talking about it and how these type of images were also being embraced by advertising. It felt like the perfect project to work on together and great time to really look at the work and present it as a movement, I suppose.

How does this project differ from previous ones you've worked on?
H: This is a world apart from anything I have done before. I have never worked on anything in the physical space before. My job is commissioning new imagery so the excuse to work with Shonagh and these photographers to celebrate their archive and print and frame these works, has been such an honour.
Shonagh: It has been such a lot of fun and so different from the exhibitions I have done before. As opposed to working with an institution, Holly and I have worked independently to put the exhibition together. We partnered with The Outnet as the sponsor and they have allowed us complete autonomy, they have just been such a dream to work with. The exhibition subject itself is quite different as it is a thematic group fashion photography exhibition, which doesn't happen very often. As a curator it felt really exciting to create an exhibition where the work is so contemporary, we hope it inspires conversation.  

The exhibition features 19 photographers and 42 images, how did you set off to make the selection?
H: We started with around 150 or so images that I had pulled together form the artists that I felt had this very dedicated approach to the body and pose. Shonagh then whittled them down and started adding the curatorial layers to stitch everything together. After making the initial selection of images we started speaking to the photographers, sending images back and forth to get a final edit that truly exemplified their process of shooting the body in fashion.
S: Holly and I worked in such a creative way to select the images. Holly has such an incredible knowledge of contemporary fashion photography this exhibition wouldn't have been possible without her mind. When she pulled together the initial wide selection of around 150 images many of the photographers I hadn't hear of before. We were both looking at the work through such a different lens, I was judging it on whether it would stand up to being printed, framed and mounted on the wall, the composition, the way the body displayed the garment and how this could be scrutinised as a part of the theme.
What is the main aim and message behind it?
H: To put a marker on this work. This approach and period in fashion photography will be looked back on in years to come, it has changed the conversation.
S: There are few different layered messages. The overarching curatorial narrative is around the way the body is positioned and how this alters our viewing of the clothing, which is aesthetic. Then the work is grouped into sections charting out the different departments on a shoot: styling, casting, hair and make-up, set design, location and finally the layout on the printing page of the magazine. This was to look at process, all these elements coming together to produce the final image. It also draws attention to the fact that each of these are subverted, something always slightly amiss within this group of images.

How did you spot this trend and why did you guys decide to focus on this fashion aesthetic?
H: You will see it everywhere now! It's funny how that happens when you start noticing something. We wanted to do something very contemporary and with photographers that are still taking pictures every single day. This show doesn't draw any conclusions about what the future looks like, we just want to start a dialogue about it.
S: I have worked on two exhibitions in the past where I have gathered a lot of knowledge of fashion photography. Hair by Sam McKnight, which charted McKnight's forty-year career, so I was looking at fashion photography from the late 70s through to today. The other was Isabella Blow: Fashion Galore!, so shoots from the 1990s and early 2000s. On Instagram and in fashion magazines, I could see something really different happening in terms of the body within contemporary fashion photography, it felt like a move away from the sexualised, glamorous body. Poses instead were absurd, surreal, witty – so I opened up the subject with Holly and we took it from there.

This is your first exhibition together, why did you decide to collaborate on this particular one?
H: I have never worked on an exhibition before but these photographers are the people I work with and commission every day. It felt like the perfect combination of Shonagh and my backgrounds. We couldn't have done it without each other.
Why did you decide to split it up in these five thematic sections?
H: Shonagh did such a lot of research on the body and how we could draw out the stories in the pictures. The final inspiration came from the call sheet of a shoot and all the elements that come together to create that final image which could not happen without all of the parts of the puzzle.
S: We found out so much about the photographer's process that this felt like an amazing way to tell those anecdotes. Also as I was saying before all these elements come together to create the final image, nothing takes precedence. Within a fashion image, this warps its very function.

What can we expect from the next two chapters of this collaboration? Are you excited by anything in particular?
H: We are commissioning a new artwork, a film for Miami Art Basel from an artist featured in the show. It will extend the life of the project and show this approach to the body through movement but also bring it back to character. To make something brand new that continues our discussion is so exciting.
S: We are then making a book with publisher Self Publish, Be Happy which will put this group of work into context through commissioned essays which we are going to launch at Art Basel Hong Kong. I think this is a really amazing opportunity to place these images within history, and further interrogate contemporary fashion photography.
Lastly and on a slightly lighter note, if you had to choose one photograph from the exhibition as your ultimate favourite, which one would it be?
H: I couldn't possibly; I am ridiculously attached to so many and even more so now I know the stories and intentions behind them.
S: I absolutely love them as a group; they really compliment one another whilst at the same time they are all very different. I feel the same as Holly I couldn't possibly pick a favourite.
'Posturing: Photographing The Body In Fashion' opens on November 2nd and will run until November 12th at 10 Thurloe Place, SW7 2RZ, London.
Words / Sara Delgado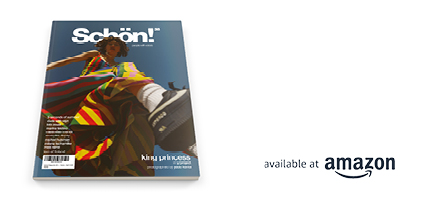 Discover the latest issue of Schön!. 
Now available in print, as an ebook, online and on any mobile device.