As Schön! continues its coverage of Portuguese fashion, we report back on the aptly named Portugal Fashion: a four-day event that kicked off in Lisbon and continued in Porto earlier this month. Set up in 1995, there's no doubt that the project, which aims to champion national fashion both at home and abroad, has gone from strength to strength. The spring/summer 2017 edition provided plenty of evidence that there's a wealth of design talent, as well as an established manufacturing industry, in this Iberian land. Here's a rundown of some of the collections that caught our eye.
Alexandra Moura has for some time been one of our favourite Portuguese designers. Born in Lisbon, Moura has shown collections both here and at ModaLisboa, as well as at London Fashion Week this September as part of Portugal Fashion's initiative to promote its designers internationally. This season, she reinterpreted the idea of the Victorian jewel and antique, hand-painted brooches through delicate embroidery on tulle, but romantic details such as bows and ruffles were combined with high-tech elements. Brocade and jacquard – also key elements in her AW16 collection – reappeared, but alongside more urban, torn and frayed denim pieces. The result was an irreverent but accomplished collection aimed at confident men and women who appreciate something a little bit unique.
Another designer who previously caught our attention is Central Saint Martin's graduate Susana Bettencourt. Specialising in knitwear, Bettencourt is known for fusing technology with craftsmanship, for example in digital interpretations of traditional lace techniques from her native Azores. The title of her collection Flashback refers to the summer childhood memories that (together with the Verne Panton graphic aesthetic) inspired it. This was translated into organic, easy-to-wear shapes contrasted with strong, colourful stripes and striking jacquard patterns.
The multi-talented Estelita Mendonça (he has been a model, make-up artist and recently contributed to the design of Volvo's V40) impressed us with a menswear collection inspired by a very topical subject: the plight of refugees. Inflatable boats and life jackets were refashioned into garments and accessories in black, white, beige, tangerine, canary yellow and sky blue. Towelling appeared alongside waterproof fabrics and t-shirts displayed provocative slogans.
Designers Manuel Alves and Jose Manuel Gonçalves have been successfully working together since 1984 and their collaboration Alves/Gonçalves is one of Portugal's most established labels. The starting point for their SS17 collection was the simple shirt, which was developed into a more complex set of garments with asymmetric, oversized and close cut silhouettes teamed with ruffles and voluptuous sleeves. Classic fabrics, such as lace, net, georgette, chiffon, silk and cotton, were combined with more technical finishes, while a base of black was mixed with botanical or geometric patterns in pinks, blues and white with metallics dominating. Metal belt buckles and high boots added a bit of 'street' to the sophistication.
The BLOOM project, which was launched at the 15th Portugal Fashion in 2010, promotes emerging talent. Several of the designers now showing on the main stage, including Estelita Mendonça and Susana Bettencourt, debuted their designs on the BLOOM catwalk in previous years.
This season, we were most impressed by Porto-born Beatriz Bettencourt, who first showed at Portugal Fashion as part of ESAD's graduate showcase only a year ago. Like Susan Bettencourt, her SS17 collection Retrograde referenced a childhood nostalgia – this time for the relaxed, sporty styles of the '70s. Oversized pieces in striped or plain poplin and a variety of knits were presented in a colour palette of indigo, white, beige, orange and red ochre. Armholes were absent and a naïve 'B' logo was used as a detail in pockets, cuts and seams. Aimed at an active and practical woman, the collection conveyed an upbeat and humorous take on vintage style without forsaking a contemporary edge.
If you can't wait for next spring, see our exclusive shoot featuring the autumn/winter offerings of some of Portugal Fashion's hottest young designers here.
For more information, click here. 
Words / Huma Humayun
Follow her on Twitter.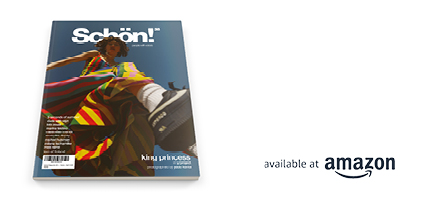 Discover the latest issue of Schön!. 
Now available in print, as an ebook, online and on any mobile device.