The British Film Institute's London Film Festival really is a smorgasbord for cinephiles, with everything from romance to road movies, drama to documentaries and horror to historical epics. The good news is it's a public as well as industry event, so you don't need to be a VIP to catch your favourite actors and directors before their latest films come to a movie theatre near you.
There are far too many cinematic gems to mention here, but highlights include the touching true-life tale told in Film Stars Don't Die in Liverpool. It's 1981, and ageing Fifties Hollywood screen idol Gloria Grahame (Annette Benning) is appearing in a small play in Lancaster when she collapses. Rather than contact her family, she chooses to reach out to former (and much, much younger) lover Peter Turner (Jamie Bell). She convinces him to take her home, where she is nursed by his caring mother (Julie Walters) and –  through a series of flashbacks – we relive Gloria and Peter's love story. Both funny and heart-breaking, this film will challenge your preconceptions about 'cougars' or 'toy-boys'. Both Benning and Bell deliver standout performances, although Walters has a sneaky habit of stealing the scene whenever she is on screen.
Antonio Lopez 1970: Sex, Fashion & Disco is a fascinating documentary about the illustrator instrumental in transforming the New York and Paris fashion scenes in the 1960s and '70s. Through old video footage and the recollections of his contemporaries, including photographer Bill Cunningham and American Vogue Creative Director Grace Coddington, we learn how the talent, energy and sheer sex appeal of Lopez drew together a group of young people who changed the face of fashion and became household names. It's quite possible that he was responsible for discovering models such as Jerry Hall, Grace Jones, Jessica Lange and Pat Cleveland, and even influencing the young Karl Lagerfeld's collections. This documentary is an absolute must for all budding fashionistas.
If you prefer your cinema on the grittier side, don't miss the latest offering from writer/director Lynne Ramsay (We Need to Talk About Kevin). You Were Never Really There follows Gulf War veteran and former FBI agent Joe (Joaquin Phoenix) in his current career as a "gun for hire", as he puts it – although "hammer for hire" would be more accurate. Joe's specialism is retrieving the young victims of paedophile sex rings and punishing their persecutors, if required, in quite a brutal fashion. But, this isn't a blood bath, nor is it strictly an action thriller. Although violence, or the threat of it, is always present, the film is more of a study of a man plagued by his own memories of abuse. Phoenix is mesmerising as the lead, but watch out also for Ekaterina Samsonov as Nina, the young girl he is determined to rescue.
Catch these and many more great films at the London Film Festival this weekend. Find more information and book tickets here.
Words / Huma Humayun
Follow her on Twitter.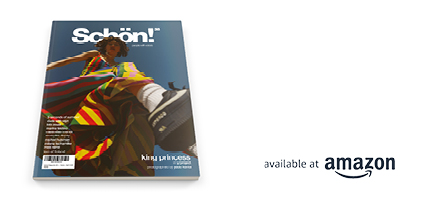 Discover the latest issue of Schön!. 
Now available in print, as an ebook, online and on any mobile device.