Under Olivier Rousteing's opulent touch, Balmain has been propelled into all sorts of lime lights. Joining forces with the institution that is NikeLab, for the second designer collaboration in the Summer of Sports series, a drop has taken sporting and fashion industries by surprise: when football meets fashion, you can predict that the fusion will stir up a storm.
Olivier Rousteing has become a reference point in the industry for a young, emerging generation of designers taking the helm. A-List fashion royalty, social sensations, sporting wonders have all adhered to the new dress code of Balmain. When NikeLab chimes in with Rousteing's work, you know it's a big gig. Teaming up to reinvent the sportswear look, the NikeLab x Olivier Rousteing collaboration brings a spectacular luxury active range. Who better than Premier League Liverpool's Daniel Sturridge to model the pieces – especially with Rousteing's off-pitch football looks, inspired by the athleticism and dynamism of the sport. The pro-footballer sits down with Schön! as we launch some of the shots exclusively, discussing what combinations of music, fashion and sport produce: swagger.
The images look spectacular – how did the shoot go?
The shoot was great, it was a good vibe on set. It was good to be taking time out from playing football, and get my fashion on.
How does a fashion shoot compare to your usual job?
It's different, you kind of have to go into a different mode, because it isn't really your expertise. You try and switch yourself off from being a professional footballer, do a few poses, and you try to be as comfortable as you can.
How did NikeLab approach you for this project?
They said, initially, that it was in the know that I was a massive fan of Olivier's work and of Nike so it was a very easy one for me to want to be involved. I am very privileged to be a part of the shoot and to see the line before it was released.
Do you have a favourite piece from the collection?
I really like the T-shirt and shorts combination. I thought that was amazing. The black and gold looked really nice.
You're a boot man – how do the Nike x Olivier Rousteing ones rate?
There were a lot of different ones. There are some Hypervenoms that I really liked, and those were probably my favourite ones from the shoot.
Is there an iconic boot or a collector's line that you hold on to?
I don't like to change too much. Once I wear a boot I like to wear it as long as possible. It probably takes until I have a hole in them, then after that I change… [laughs]

What are your favourite spots for sneaker shopping?
It depends really! I like to go to Nike Town mainly, I think that's the place just because they have the Nikes that I want to get, so that's probably the one place anywhere that I would go to or I would probably order them online as well. That way I can see what drops quickly and then I can get my order in before they come out.
I would hope you have that kind of privilege!
I have the hook-up man, so I have to make sure I abuse the hook-up while I have it!
 [laughs]
Of course! So what would you say your relation with fashion is? You have been named the "hipster footballer", you're regularly in the Top 50 Best Dressed… people look up to you because of your style.
I enjoy going to the shows, not just because of the fashion but I like the textures and the tones of the clothing, and how it fits and for myself. And why am I into fashion? Probably just from growing up from childhood really and seeing you know back in the days, when Versace, Armani and all the mad patterns on the Moschino clothing were big.
Also, back in the days when people would wear trainers like the Airmax Nikes which we used to call one-tens and all those types of digs. I liked the merge and street wear and very flash. In terms of they way I dress, it's probably a mixture of where I've got to and where I've come from.
You wear a lot of young designers as well obviously, so you like to mix it?
I wear a lot of young designers! Just because I feel that those are the ones that not many people know about. I tend to go for designers, or labels that are not necessarily out there, and even if they are well known then there are pieces that you know, don't have the logos everywhere, it's quite low key.
You mentioned that you're a Balmain fan, you like what they have done before, what looks or styles do you like from Olivier's work for Balmain?

Well, I love the denim, that's my favourite thing. I would say that the all black ones have to, for me, be key pieces in the wardrobe, I probably have two or three pairs of the Balmain or black jeans just because I wear them. I love the leather jackets as well.
You produce your own music in your own spare time – what do you work on? What's the kind of vibe of your work?
Probably a little bit of alternative R&B. Depends really on the vibe and on the day. Me and a friend, we tend to do everything. We don't like to be in a box and have a specific type of thing that we do.
Who do you listen to? Who are you listening to at the moment?
Obviously, Drake's new album has just come out, so at the moment I am listening to that. I listen to dance soul music a lot of soul.
If you had to pick one track, as a kind of conclusion, what would your signature track be?
My signature track would probably be Kanye West, Can't Tell Me Nothing, just because the swagger and the tune. It's one of those songs where it's letting people know that you put all that work in, you don't want people to try and stop you swearing because, I don't want to hear anything. I just want to live my life and do me.
Discover the NikeLab x Olivier Rousteing collection here.
NikeLab x OR available from June 2nd. 
Words / Patrick Clark
Follow him here.
Photography / Mehdi Lacoste @ Visual Artists agency 
Fashion / Ianthe Wright 
Hair / Louis Ghewy @ The Book Agency 
Make Up / Anne Sophie Costa using Mac Cosmetics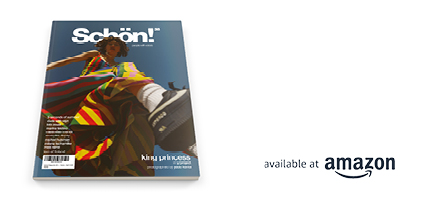 Discover the latest issue of Schön!. 
Now available in print, as an ebook, online and on any mobile device.