Designers continue to champion anti-Trump manifestos: liberal asseverations under the guise of textual tees continued their reign on Day 4 of New York Fashion Week. Prabal Gurung's emboldening display of female solidarity was exemplified in flattering, fluid shapes for all body types, Public School used streetwise styles to reinstate the dynamism and diversity of New York City; while Chloe Gosselin dedicated her footwear presentation to raising awareness for Planned Parenthood. 
In a sporty homage to the big apple and a diplomatic declaration to inequality,  Dao-Yi Chow and Maxwell Osborne of New York-based label Public School, urged the fashion world to make "Make America New York".  This timely and caustic slogan was proudly placed on unisex sweats and red baseball caps in a poignant call to action. Heightened by sartorial streetwise silhouettes in blueish plaids and deconstructed outwear with a vinyl sheen, topcoats circled in form, and were accented with metallic snaps. Burgundy bombers with matching mini skirts zipped and zagged: a prophesy of America's serpentine future. 
Interwoven braids powerfully professed that women must unite for Planned Parenthood at French designer Chloe Gosselin's shoe spectacular, where rusty velveteen pumps with crystalline embellishments matched Gosselin's plush political sentiment. Models in nude bodysuits sat in a circle joined together by hair follicles and footwear that showed ivory laser-cut heels, booties with python markings, and cobalt fur trimmed stilettos that tied at the ankle. Denim oxfords with leopard printed toes and transparent sides matched effervescent strappy heels in a similar silvery exotic print. 
Gentrified glamour in the form of dissected camouflage and netted underpinnings celebrated street splendour and heterogeneity at American designer Rio Uribe's Gypsy Sport spectacle. Enlisting the majority of his models from The Women's march in L.A  and varying other political protests around the U.S, Uribe's gender-fluid rally unfolded in the form of bold, tie dye vests paired with look-alike shorts, a sundered pinstripe pinafore and blazer with protracted sleeves, and pops of verdant velvet. The liberal anthology displayed unrestricted silhouettes emblazoned with patchwork seems and fawn flowing knits. 
An inherently beautiful and quintessentially English collection, Jenny Packham, citied platitudes of the British identity as a point of reference for her latest coronation of teatime frocks. Packham, celebrated her roots by consorting with London-based illustrator, Magda Archer, to design a kitsch tee that unveiled a corgi, coupled with a tartan flared skirt. Packham's trademark gowns with gunmetal crystal embellishments blossomed like English roses. The royal knockout was a pearled apricot biker jacket functioning as a double-decker cocktail dress, the youthful rollick, however, was a little more Elizabeth Hurley than Queen Elizabeth II. 
A live performance serenaded sable swollen coats with lush fur trimmed collars and sleeves at Vivienne Hu, for a wintery oeuvre of sultry sheaths and decadent outerwear.  Intermingling personality with professionalism, Hu (who left finance for fashion) offered earthen striped blazers with bold lapels and trousers with subtle patches that were too tight for the workplace but perfect for the holiday Christmas party. Her later looks abandoned corporate silhouettes for after-work cleavage accentuating dresses with billowing, layered skirts. 
Tomas Maier is a veteran creator who values and imparts luxury. Unlike most designers this season, Maier enforced his practical design skills rather than his political chops. The German designer's namesake label presented sleek, wearable granite and clay coats, artfully layered in knit and intensified with lurid colour block stripes. Rectangular cross body purses and earthen clutches mirrored Art Deco skyscrapers that accessorized flowing cap-sleeve heart dresses and twinkling sheaths were fastened at the neck using bows. 
Canadian designers Parris and Chloé Gordon are the North's greatest exports since Erdem Moralioglu. The millennial twosome and creators of label, Beaufille, design what they know: strong feminine shapes dusted with a refreshing, uncontrived, youthfulness. This season offering was an earthen collage — a contemporary papier-mâché of minimal forms created by cutting and pasting textured fabrics that included micro pleated silk, matte crepe, and virgin wool. Box pleated high shine satin skirts, complimented conceptual metallic earrings inspired by eclectic tribal pieces. 
Political and poignant, Prabal Gurung, orchestrated an effete declaration of tapered sheaths, viridescent furs, and tees affirming the "Future is Female."  With a front row full of style influencers and celebrity campaigners like: Huma Abedin and Sarah Jessica Parker, Gurung had a captive audience. The Singaporean designer appropriately used social media powerhouses to pioneer feminism down the runway: the first look, worn by model du jour, Bella Hadid, was a sumptuous Mongolian knitted creme coat with a hood garnished in fox fur. Gurung honoured womanish curves by casting plus-sized model Candice Huffine who sported a raven mid-length silken frock; affirming that for the future of fashion and the United States, a subversion of traditional beauty codes and testosterone lay ahead. 
A surrealist silvery parade of inflated kitsch topcoats with flaming wings and camouflage chaps draped with black laces at NAMILIA — a futuristic cavalcade of high-altitude outwear for modern freedom fighters ready to navigate the "Trumpocalypse". Berlin based designers Nan Li and Emilia Pfohl toyed with space age silhouettes that were bedazzled with slogans on bodices declaring "Join the Resistance" and "Ball Buster". Conceptual trousers with a NASCAR edge emitted a holographic sheen, while a phallic bustier was pulled taut at the waist with a safety belt, to suggest that it's time for the world to buckle up because it's going to be a very long ride. 
Words / Chloe Montana Rash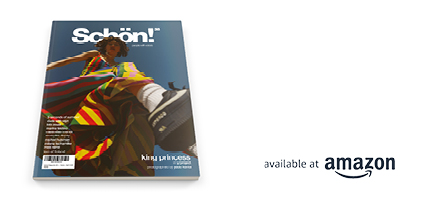 Discover the latest issue of Schön!. 
Now available in print, as an ebook, online and on any mobile device.