'Luz' (or light), the theme for the 49th edition of ModaLisboa, proved to be a fitting one. The sun came out in full force as a heatwave hit the city of Lisbon from the 5th to 8th of October. The fashion crowd made the most of the unseasonably good weather, descending on the Spring/Summer 2018 shows in all their summery finery.
On the first evening, we were treated as usual to a showcase of emerging talent in the form of Sangue Novo (New Blood), but this season's selection of young Portuguese designers was stronger than ever. From the 10 shortlisted to take part, David Pereira won the ModaLisboa Award for his collection Native. Androgynous silhouettes inspired by streetwear were given a touch of luxury in a palette of stone, putty and black, occasionally infused with a hint of saffron.
After graduating from Esmod in Paris, Pereira trained at Vivienne Westwood and KTZ, before working as a stylist and designer for French streetwear brand Tealer. He's currently responsible for textile creation and innovation at TMR fashion clothing LDA in Portugal. As well as walking away with 5,000 Euros, Pereira will benefit from the award by gaining automatic entry into next season's Sangue Novo and by honing his skills at a summer course at the Domus Academy in Milan.
Unlike many fashion weeks, ModaLisboa does not simply divide its designers into emerging and established but recognises that there are many stages in between, and that is where the LAB initiative comes into play by providing a platform for designers and brands a few collections into their careers. One of our favourites is innovative label AWAYTOMARS, a truly collaborative venture, where anyone can join in by submitting ideas and designs for each collection. This season, 718 people from 85 countries participated, and the brand also collaborated with renowned photographer Gleeson Paulino to interpret this global diversity.
Another LAB designer we've had our eye on for a while is Nair Xavier, whose impeccably slick, but colourful, menswear never fails to impress. For SS18, she drew inspiration from the "ancestry, heritage and cultural survival of Afro-descendant people", most notably in the vibrant reds and blues of the Maasai tribe.
Of the more established designers, Ricardo Andrez stood out with a collection based something very specific: the Japanese ship V.N. Gaia, which was stranded – carrying more than 5,000 cars – on Madalena Beach in 1988. The garments reflected the artificial environment created by this incident. Glimmering green-gold or petrol blue metallics resembled oil slicks on water, while the monochromatic prints and bold reds of the racing pit sat alongside the sandy shades of the shore.
While undoubtedly diverse in their inspirations and intentions, these collections shared a modernity that was certainly in keeping with ModaLisboa's mission when choosing the theme 'Luz', i.e. "a light that is recreating itself in the energy, imagination and talent of new generations, reflecting a new way of seeing and interpreting the fashion world".
You can find more information about ModaLisboa here.
Words / Huma Humayun
Follow her on Twitter.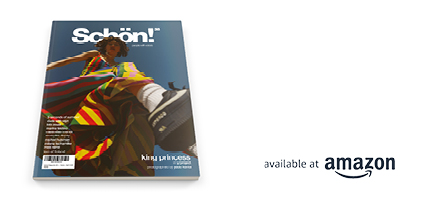 Discover the latest issue of Schön!. 
Now available in print, as an ebook, online and on any mobile device.