Besides being one of the world fashion capitals and retaining vestiges of a glorious artistic and architectonical past, Milan also boats an extraordinary modern and contemporary art scene and, undoubtedly, the best period to explore this vibrant cultural aspect of the city is during Milan Art Week. Every year, between late March and early April, the city hosts MiArt, Italy's largest international art fair.

While the fair only lasts three days, the whole week features a thick agenda of artistic events, performances, talks and presentations involving Milan's main museums, local art galleries as well as a large number of nonprofit organizations. The international art crew gathers in the city to admire the works of both upcoming and established artists, collectors buy, galleries sell and bystanders inhale the city's artistic potential. From Milan's art week, here are Schön!'s highlights (some of which will be on show for the next few weeks).

MiArt 2018 was made up of 184 galleries from all over the world and works dating from the early 20th century until our own era — whether in drawing, painting, photography, sculpture or design objects form. With additional talks from over 40 international art experts, this year the fair was divided into seven sections. Particularly interesting were the "Emergent" section, a selection of galleries focusing on works by young artists, "Generations", 8 pairs of galleries invited to create a dialogue between the works of two artists, "On Demand", where galleries featured site-specific or interactive works; and "Object", a section dedicated to experimental design and decorative arts.

Carsten Höller's solo exhibition, "Animal Works", at Massimo de Carlo caught our attention, as did Eva Kot'átková's work at Meyer Riegger. Equally as impressive were Emily Jones' "Half-Earth" performance at Spazio Veda, the experimental works of Lisa Dalfino and Sacha Kanah, together with the hermetic paintings of Valerio Nicolai at Clima Gallery, and Kaspar Müller's special initiative presented by Galleria Federico Vavassori. For those who like to be more in touch with their art, Federico Tosi's detailed bronze sculpture within the collective show at Galleria Monica De Cardenas and Elisabetta Cipriani's wearable art, a collection of jewellery commissioned and designed by selected artists, were standouts. 

With a minimalistic style and a raw, realistic attitude, the work of Teresa Margolles on "Ya Basta Hijos de Puta" focuses on the complexity of contemporary society and the crude acts of organized criminality, which are ripping the world apart, especially in the artist's native Mexico. This exhibition, on show until the 20th of May in the spaces of PAC Milano, requires a strong stomach. With a background in forensic medicine, Teresa Margolles worked for over ten years with SEMEFO (Servicio Médico Forense), an association founded in Mexico City.

The artist witnessed in person the war between drug cartels, the constant struggles with institutions and the consequences on the population and on urban spaces. She collected pieces from the streets, from hospitals and from morgues and transferred them to exhibition spaces. Objects, materials, bodily fluids, testimonies… everything combines to trace a dramatic, yet painfully beautiful image of a broken society. Teresa Margolles' work boasts multiple collaborations with trans people, whose struggles are double in the eyes of the Mexican communities. The exhibition featured a performance staged by Sonja Victoria Vera Bohórquez, a trans woman and sex-worker in Zurich, as well as a tribute to Karla, a trans prostitute killed in Ciudad Juárez in 2016.

In over forty years spanning his artistic career, American-Venezuelan artist Matt Mullican has developed a vocabulary and a sign system that act as a classification method for reality as a whole. He subdivides the universe into five categories, each corresponding to a different level of perception and represented by a different colour.  Entering "The Feeling of Things" – the largest retrospective ever dedicated to Mullican's work – is pretty much like entering the artist's vision of the world as the space is divided into five areas, Mullican's so-called Five Worlds. The red area relates to the world of psyche and subjectivity; the black area is dedicated to the world of communication; the yellow, focuses on science, art and culture; the blue corresponds to the world of everyday life; and finally, the green area refers to the natural world of matter and the elements.

Each area contains a vast quantity of artworks in a wide range of media – ranging from sculpture to installation, photography, drawing and painting. Since his work aims to be a representation of the universe, Mullican draws inspiration from pretty much anything. His artistic language is close to that of graphic signs and symbols but, on the one hand, he reduces people to stick figures and, on the other, creates canvases and collages overlaying the most diverse iconographic elements, from film and cartoons to Hindu and Tantric reference.  The exhibition is on show until September 16th at Pirelli Hangar Bicocca. 

Young Italian artist Alessandro Di Pietro presented "Felix", the last of a four-episode narrative exhibition series. This final chapter investigates the figure of the antagonist who, on this particular occasion, is not seen as a nemesis of the main character and does not necessarily have a negative projection. Instead, it moves on a parallel channel. Di Pietro has entirely redesigned the exhibition spaces in order to present the physical and social features of the character. Technological elements lose their primary function by turning into "something to admire", embodying the vision of the world of someone who might, or might have not, entirely lost his pragmatism due to a love overdose since childhood, as the artist himself puts it. "Felix" glides along these spaces, in an era where feelings and emotions take the shape of artificial heat, electricity, measured time and decaying flesh. Impassible yet present, seemingly silent and motionless, he marks the surrounding with his identity.

Love combined with science and technology, or science and technology opposed to love? Nothing describes the general mood of the show like the quote from the adult swim show Rick & Morty used by Di Pietro in one of his works: "Listen, Morty, I hate to break it to you but what people call love is just a chemical reaction that compels animals to breed. It hits hard, Morty, then it slowly fades, leaving you stranded in a failing marriage. I did it. Your parents are gonna do it. Break the cycle, Morty. Rise above. Focus on science". The exhibition is on show until May 24th at Marsèlleria.

Artist and feminist activist Andrea Bowers presented her second solo exhibition at Kaufmann Repetto. On show until the May 30th, "Disrupting and Resisting" focuses on the protests held during the early days of the Trump administration, in particular, the Women's March in Washington and the mass protests held by #Disrupt J20 in attempt to shut down the inauguration ceremonies.

"Disrupting and Resisting", an hour and a half long documentary, honours the works of these two activist groups, similar in principles. Bowers purposely unites these two groups in order to highlight a strong and diverse alliance fighting against white supremacy, patriarchy and the suppression of freedom. Slogans from the Women's March, such as "Fight Like a Girl", are also used for other works of the artist and feminist issues appear throughout the exhibition – for instance, in a series of cardboard collage drawings, with images originally from historic political graphics reworked to represent contemporary matters such as diversity, immigration, intersectionality, trans liberation and the #MeToo movement.

The artist also focuses on the importance of words. A neon installation puts into flashing light the words the Trump administration forbid the Centers for Disease Control and Prevention to use: vulnerable, entitlement, diversity, transgender, fetus, evidence-based and science-based. A powerful message, especially within a country that is constitutionally committed to freedom of speech.
Torbjørn Rødland's "The Touch That Made You", hosted by Fondazione Prada and on view until the August 20th, brings together a selection of over 40 photographic artworks and three videos captured between 1999 and 2016 by the Norwegian artist. Rødland works with analogue photography, creating staged and detailed mise-en-scènes. As the artist himself said, the exhibition's title, "The Touch That Made You", relates to the analogical processes. "The touch of the camera, the touch of the light hitting the film, the touch of the liquids running over the film during processing," he states. "I'm linking that to the stickiness and intimacy of certain motifs – these encounters between two individuals or between objects and bodies."

The first impression of Rødland's work seems to be of commercial, formally clear, images. But, taking a closer look, all pictures present something "inappropriate" within them; something that clashes with the mainstream, glossy idea of beauty. Something that might as well give a general sense of discomfort, or even repulsion. Yet, at the same time, they create a strong intimate feeling: anatomical parts, everyday objects and natural elements become ambiguous fetishes, portraits are soaked with unsettling emotions and landscapes somehow appear unreassuring.
To find out more information about Milan Art Week, click here. 
words. Sara Kaufman
feature image. Andrea Bowers "Disrupting and Resisting". Courtesy of the artist and Kaufmann Repetto Milano/New York.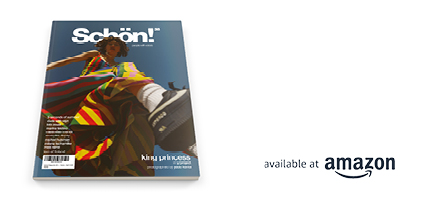 Discover the latest issue of Schön!. 
Now available in print, as an ebook, online and on any mobile device.