As tradition goes, Miami Art Basel took place at the Miami Beach Convention Center from December 7-10 this year. The 16th edition of the event featured highly impressive presentations from "leading galleries from North America, Latin America, Europe, Asia and Africa show significant work from the masters of Modern and contemporary art, as well the new generation of emerging stars". As the Floridian capital trades its sunny streets to become an immersive Art Gallery, the talks, exhibitions and performances continue to evolve to reflect the different multitudes coming together under the art realm. Here, we look at some of the highlight from this year's edition —one filled with neon lights, lively parties, pop culture references and unifying messages.
The kick off of Art Basel week in Miami this year started with the Red Dot Spectrum Show, "a modern and contemporary art show in the featuring an international slate of 75+ galleries showing 500+ leading artists" and one of the longest-running events of Miami Art Week. Over 40,000 people flowed in and went through all three shows with an opening night party vibe including several bars and DJ Keith Butler's music was heard around the large Wynwood area venue. "A Walk In The Clouds" curated by Noor Blazekovic greeted guests as they came in with over 2,000 fresh flowers suspended on fishing wire, immersing guests in blossoming beauty. Known for its upscale and urban works of art, providing collectors with prominent artists and emerging artists from the LaunchPad Artist Program to create a wide range of contemporary art. ArtSpot Miami also joined Red Dot Spectrum for the fifth year running with forward-thinking modern and contemporary art.  

MCM presented a well-curated Art Basel kick-off party at the Sun Path House for the launch of their new limited edition collection, "The Magical Memory World Tour Collection",  in collaboration with Berlin's KÖNIG SOUVENIR. A beautiful collection surrounded and celebrated by beautiful people in a beautifully designed house. Curated with Miami airport luggage carts carrying the new hard-to-get MCM bags set the perfect spot for photos for the elite guests. 
The PULSE art fair is an amalgam of over 70 galleries from all over the world, solo artists, "conversations". It featured a special focus for exhibitors in the South Tent to explore new visual and conceptual dialogues, as well "Point", an area specifically for non-profits and alternative models. Sculptures, paintings and installations with conscious messages were seen more than ever this year. Pulse Nightclub victims were remembered with a beautiful disco ball piece by Phoenix Lindsey-Hall bringing references queer club culture. Parra's "Sleeping Lady", Diane Landry's "Solo Knight", and Derrick Velaquez's "Untitled" pieces were just a few others that stood out visually. Ti-Rock Moore created one that had guests stopping in their tracks with a performance piece with a young African-American man on a large tower holding signs with strong messages such as "We all begin as women." 
A short beach walk took you to one of the best installations of the week, Es Devlin's Room 2022. Creatively curated, visually addicting and intriguing this standalone installation was more than impressive. The artist's surreal experience was inspired by the experience of waking up in an unfamiliar hotel room. It was the British set designer's first site-specific art installation in Miami, and first in a hotel.  Starting in a "normal" hotel room with a full wall size projection over what you thought was just a wall. After the video plays guests walk through endless hotel corridors that lead to an infinity room of lights and mirrors. "Hotels have offered an architectural metaphor for psychological and social systems in countless works of art, film and literature," said Devlin in a statement. "Like so many systems of civil organization, hotels work because everyone takes part in these invisible daily heroic acts of collective imagination. This work playfully explores what might happen if this combined imaginative force could be turned back and ingested by the system itself, and how it might manifest in its architecture."
With 140 international exhibitors from 25 countries and 60 cities, the Scope show is a beautiful collection bringing worldwide creativity under one pop up beach tent. Lauren Baker's neon sign "Everything Is Going To Be Fucking Amazing" and Beau Dunn's "Need Money For Art" shined bright.  Gold jewellery collection "Mordekai" by Ken Borochov as well as Philippe Shangti's "Luxury Pollution Car" photography were the perfect display of our society's current lux-modern obsession. Canadian contemporary painter Tim Okamura depicted African-American and minority subjects using a combination of graffiti and realism. Even pieces from the infamous Banksy made an appearance. 
INK Miami Art Fair showcased their galleries in transformed hotel rooms of the historic Suites of Dorchester hotel, inviting visitors to explore a wide range of works on paper, ceramics, digital media and more. Since 2006, the loyal following collectors has grown and although it is a smaller show the art brings in big masterworks. Artist Orit Fuchs from Tel Aviv had a room of her own where she has created a full range of mediums newly discovering a freedom and strength in women, love being her main theme. Filmmaker and mixed media artist Tai Taeoalli's gallery was impressively detailed and conceptual. 
Handpicking 46 galleries from 10 countries, Aqua Miami exhibited some of the strongest emerging and mid-career artists in the industry. Canadian Galerie LeRoyer showed self-taught artist Rock Therrien and his mixed media works depicting popular cartoon characters paired with equally contemporary neon signs.  The fair's signature relaxed vibe and energy coupled with their notoriety of always presenting noteworthy and vibrant international art programs with an interest in young and established galleries.
Last but not least, UNTITLED presented thought-provoking pieces that also made a striking visual impact. Carlos Cruz-Diez showed his exhibition, "Chroma",  a series of connected colour chambers to show the substantive nature of the light phenomena —the starting point of his artistic discourse. UNTITLED also partnered with Wynwood Radio for a live broadcast program of conversations, interviews, curated playlists and sound-based works.
The Hole presented a solo booth of works by Eric Yahnker, oil pastels on sandpaper pieces with subjects like Justin Bieber, Britney Spears, Donald Trump and George Washington, creating the perfect art commentary on pop culture. Jody Paulsen used kid-friendly fuzzy felt for portraits, intending to depict friends. Galerie Kleindienst held a solo show with new works by Christoph Ruckhaberle out of Leipzig Germany with scenes lying between realism and fantasy with dramatic contrasts of enamel.
Miami Art Basel took place December 7-10, 2017. Find out more about the fair here. 
Words, Video and Photography / Christiana Lucratif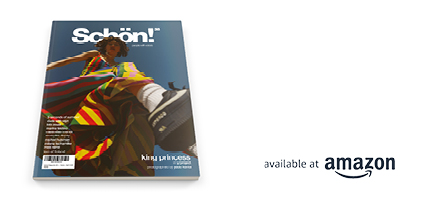 Discover the latest issue of Schön!. 
Now available in print, as an ebook, online and on any mobile device.