Breaking down gender boundaries and following the trend of LCM's grassroots street style, Milan's youthful punk energy was revived this season. Seem like an unlikely association of styles? Believe it or not – amidst a effervescence of tailoring, sartorial brilliance – Milan's scene is catching more and more creative waves with increasingly nineties grunge and punk influences. With a schedule that was considerably lighter in terms of shows – with Brioni opting to show during Couture, Bottega Veneta consolidating men's and women's into one show, and various opting for presentation formats – Milan seemed to be at a bit of a crossroads at first glance. Changes notwithstanding, sartorial strength will always be seen Milan. Schön! brings you the highlights of a weekend of shows.
First up on the schedule, Ports 1961 opened Milan Men's SS17 strong with intricate, obsidian floral embroidery as well as bold hashtag logos on black leather backpacks. Tying together the indigo naval jackets, leather sneakers, and golden embellishments were black, Amish styled hats. Creative Director Milan Vukmirovic brought an ethereal voyage air to the pieces – an explorer, dreamer, intrepid traveller for a modern day world.
Canali took the relay for Milan's Spring Summer 2017 season with contemporary, seventies-like elegance— in the shape of mid-arm length polos and relaxed fit trousers. Redefining the suit with the addition of printed neck scarves; faded tones of green, pink, and blue accompanied straight fitted leather jackets and modern briefcases to match.
Donatella Versace turned up the heat for SS17 as both men and women strutted down the runway, with flowing fabrics and unreleased Prince tracks accompanying them. In monochromatic, satin looks consisting of a cool beige, navy, royal purple, and forest green colour palettes — the men donned soft leggings, long jackets, and shining strapped sandals with black socks. Ever evolving, the Versace silhouette incorporated the brilliant new performance range, Versace Active athletic performance, creating a vibrant, dynamic and vivacious silhouette.
Pal Zileri presented a burst of colour and a variety of fabrics— as one look comprised red, mesh short sleeve shirt, tweed, green shorts, and a deep blue, shining tote. Tweed came into contact with silk — as seventies geometrical patterns were revived and leather suits were suave as ever. 
Vivienne Westwood is the definition of unisex this season, as it was difficult to tell apart the genders of the models let alone the genders of the looks. The colour scheme was very faded, with yellows, browns, blues and greens— in one look a loose leotardwas paired with black, sequined leggings on one long-haired male model, just as the illusion of a dress was printed upon a short-haired female model who in reality was sporting short sleeves and loose shorts.
Missoni was still unmistakable in SS17 Men's Milan fashion week, as the collection took you to somewhere colourfully cultural and hot – think Cuba in the seventies. With breezy linen and cotton patterned fabrics— psychedelic colours such as neon orange and blue came into the same looks as the dark purple and green tribal-like patterns on long sleeve V necks, carved brown belts, and colourful ties around the waist.
With a custom performance by rap artist Mykki Blanco, Marcelo Burlon brought the underground youth's summer scene alive with bright red logos, psychedelic snake prints, and surprisingly— pearl necklaces, and earrings to match. It works. The concept is not far off from the reality of the future of fashion and breaking down gender boundaries in the grassroots origins of our youth's streetstyle.
One of the most ready to wear collections this season, Dondup brought a youthful as well as practical vibe to SS17. Richly brown, suede jackets are brought together nicely with relaxed, pink and navy pinstripe suits. Strappy red sandals paired with bleached and ripped denim particularly stood out against the more traditional looks paired with all white trainers. Overall, a fresh, masculine and youthful take on summer ready to wear.
Suits have never looked as casually sexy as in Ermanno Scervino's collection for SS17. A knit white and red stripped long sleeve adorned with single yellow stripes at the ends of each opening is paired with silky navy and burgundy shorts, as well as brown suede shoes. Colours are untraditionally combined in this way throughout the looks mostly consisting of knit undershirts and blazers with satin finishes. 
Andreas Melbostad's vision for a tougher, more countercultural attitude was definitely reflected in this year's Diesel Black Gold SS17 collection. Melbostad hopes Milan's fashion scene is growing more creative. Nineties grunge was definitely the vibe of the show— as leather was looking very fitted in various skirts and sometimes sleeveless jackets held up by vertical belts on the female model. The male model definitely exudes a masculine air with more loosely fitted leather pieces and heavy, black boots.
MSGM made grunge sleek in its SS17 Milan Men's fashion week with accessories such as bright green pouches and keys hanging against various shades of denim. Tucked into the black, white and bleached denim were bright red, white and green knit sweaters with the same combination of stripes running across the middle. Cross-over styled fanny packs gave the majority of the looks a utilitarian feel just as the artful burns on the white trainers provided a semblance of aloofness.
Baby blue silk bomber jackets, pale pink cheetah print T's, and red and green statement clutches all stood out in Marc Jacobs Men SS17— palm tree and MTV logos could also be seen in the playful looks, yet we also observed more mature styles in a shape of a suits in navy velour and smooth white, along with bell bottomed trousers. Overall, the purposeful mismatch of mature and playful styles is the definition of experimental manhood and coming of age – all in a distinctly 1970s style.
Billionaire Couture is apparent— all the way from its luxuriously groomed and mature cast to its royal purple, crocodile skin leather jackets with matching luggage. Set on the billionaire, but perhaps also millionaire, audience— the collection consists largely of high-sheen black and colourfully patterned tuxedos along with crocodile print leather jackets and trenchcoats. 
Trussardi showcased its SS17 collection in Accademia di Brera's courtyard – choosing actors over models to create a circular, evolving narrative. In addition, Trussardi played with prints as each look exuded its own individual texture and energy. A bold fuchsia scarf stood out amongst faded blue-grey striped look paired with woven black shoes, just as a blue-brown snakeskin shoestood out in a similar look. Joggers and denim were camouflaged as trousers as Trussardi truly mastered the crossover between performance, art and theatre.
Words / V Tyurina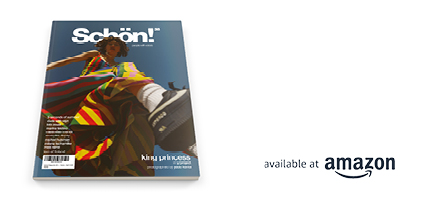 Discover the latest issue of Schön!. 
Now available in print, as an ebook, online and on any mobile device.