London-based disruptive startup PLATOON has been shaking up the music industry for quite some time now. Shedding light on artists like Jorja Smith, Mr Eazi, Billie Eilish, and Stefflon Don, PLATOON is revolutionising the music industry one artist at the time and their latest venture is the ultimate proof. Expanding into Africa to empower unsigned African artists, it unveils PLATOON Africa and the Cape Town Creative Lab (CTCL). Formed by South Africa-born entrepreneur and music veteran Denzyl Feigelson, the CTCL took place over a week as three artists from South Africa (Dope Saint Jude, Kaien Cruz, and Sipho The Gift) and three from Zimbabwe (Shungudzo, Bantu, and Dr Chaii) were all given the chance to record a new single for international release in a world-class recording facility.
"Our desire to consistently showcase the best talent has taken us all over the world, most recently, South Africa where we launched PLATOON Africa," PLATOON revealed exclusively to Schön!. "The phenomenal success of the Cape Town Creative Lab serves as a constant reminder of why we do things differently and how rewarding that can be, both to the artists and our passion for creativity. We're restless and hungry, always changing our methods and leaving no rock unturned in our desire to bring to light those truly talented artists. Over the next year, we'll implement even more Creative Labs and Songwriter Camps, as well as launching our next collaboration series. We continue to make high-quality content and engaging visuals, as well as pushing boundaries in the event space. We currently have a huge event coming up that's incredibly exciting, so keep your eyes peeled for more information soon." Whilst we eagerly await what's to come from PLATOON everlasting commitment to artists, Schön! caught up with the selected six to talk about their past, their future and present. Meet the first roster of the CTCL alums.
What has been the best thing about taking part in a project like CTCL? 
I think one of the incredible things about CTCL was being in a creative environment with like-minded artists and creatives. Being giving the tools to create and the freedom to express yourself is such a priceless gift. 
Can you give us an insight into the music scene in Zimbabwe from your perspective as an artist?
Growing up in Zimbabwe, the music scene was in its early stages, especially in hip-hop and pop. Every musician I knew did it on the side because they couldn't make enough money doing music full time. The good news is over the last five years that has begun to change and there are more and more artists that are now able to tour, release music and sell out shows. Not only in Zimbabwe but also in surrounding countries. There is still so much room for growth for the music scene in Zimbabwe but the talent and drive [are] there, and that's the most important thing in my opinion.
How do you juggle between being a producer for the likes of Jason Derulo, Maroon 5 and J Balvin, a songwriter and an artist? Do you ever feel one "role" takes over?
Oh, it's really, really hard juggling the two. They each take a unique mindset. I usually try to work on one thing at a time but, obviously with scheduling and all, that can be hard. I've mostly been focusing on my stuff. But it's good to take a break from my sound sometimes and work on other projects. [It] keeps me creative and prevents me from running out of ideas. 
Where do you draw mainly inspiration for your music?
I'm inspired by tonnes of stuff. But to sum it up, I'd say I'm inspired by culture. Food, stories, dance and movies that tell the story of Latin America, Africa and the Caribbean islands. 
Your single with Jonas Blue and ZieZie just came out. What are you most excited for people to see? 
Yes, Roll With Me came out three weeks ago and the response has been incredible. We shot a lot of the video in Zimbabwe and so I'm so excited to showcase my beautiful country and its joyful people. 
Now that both the single and video are out, what can people expect from you next? Anything particularly exciting you're working on at the moment?
I'm always working on music! [I'm] currently working on an EP, so that's probably what will be up next! 🙂
What has been the best thing about taking part in a project like CTCL? 
The best part has been connecting with the other artists. I feel like I really got to understand the creative process, from the inception of the idea right through to the finish. It is quite rare to go through that kind of intimate process with five other artists in one week, so I appreciate the bond it formed between us.
Can you give us an insight into the music scene in South Africa from your perspective as an artist?
The South African music scene is robust and diverse. There are so many kinds of music that exist, from Gqom to hip-hop to traditional Afrikaans folk. The industry is developing, but the scene is thriving.
You are praised for challenging the stereotypes of hip-hop, a predominantly male and heteronormative community. What are the main hurdles you face in doing so?
The main challenge is in making my audience understand me as a multifaceted artist and not a one-dimensional product. For the most part, it has not been very tough because my art is my strategy to accomplish this.
What makes you keep pushing further and motivates you to be your own voice in the hip-hop world?
I have a burning desire to progress. I believe that momentum is the ultimate success and that stagnancy is failure. So as long as I am pursuing my goals, I am happy. And that quest for happiness motivates me.
Where do you draw mainly inspiration for your music?
I draw my inspiration from other musical artists. I can draw from their lyrics, their passion, their performance or even from the diligence they display in their approach to production. Inspiration is abundant. I am sometimes inspired by the things I read, poetry, books or essays. Anything that moves me inspires me.
You will be performing at Afropunk later this year. Can we expect new music there?
I am so excited about Afropunk! Yes, I am releasing my EP in November, so I am excited to perform it live at the event.
What has been the best thing about taking part in a project like CTCL? 
It was incredible to be in a creative environment that allowed us to be completely free. Every idea that you had was a possibility. It was awesome to be in Africa, creating music with other Africans, and to know that it would be heard by the world. I made friendships that will last a lifetime. My main takeaway is the importance of being fearlessly African. 
Can you give us an insight into the music scene in Zimbabwe from your perspective as an artist?
Zimbabwe is filled with the most incredible talent with such a variety of culture and genres. The country has a very rich musical history and it's amazing to see how the youth interpret it and incorporate those sounds into modern genres. I try to do the same with my own! I think the Zim dancehall scene is really exciting right now! Artists like Jah Prayzah, Winky D, and Killer T are making some really dope music.
Where do you draw mainly inspiration for your music?
I get most of my inspiration from my life experiences and the experiences of people around me. I think everyone has a story to tell and it's so inspiring to watch and encounter people from different walks of life, different countries, and different cultures. I also love listening to old songs and watching old movies!
You are a Grammy-nominated producer and songwriter but have recently stepped out as an artist on your own right. What did you feel being your own artist had to offer than producing didn't?
I think artistry offers a different level of expression and freedom. It's awesome to be able to explore the things that inspire me and to make creative decisions that are led my the things I love. [Artistry] also gave me a chance to find myself as a person. Every experience, every encounter, every moment is a potential song. I think I have a story to tell and becoming an artist is allowing me to tell that story. 
How has the transition from behind the scenes been? Have you discovered something about yourself from the process?
I've found that I love growing. As an artist, you are faced with different challenges and different obstacles. Performing, singing, how people view you. I'm enjoying every minute of the ride and I think it's allowed me to grow as a person. 
What can people expect from you next — be it producing, writing or performing?
More dancing. More laughing. More good times!
What has been the best thing about taking part in a project like CTCL? 
The best part is probably just meeting amazing people in the industry and making connections that are probably going to last a long time. 
Can you give us an insight into the music scene in South Africa from your perspective as an artist?
The music scene in S.A. is cool, it's pretty small so you kind of reach the ceiling quickly in terms of collabs and stuff like that but there are a lot of crazy talents. 
Where do you draw mainly inspiration for your music?
Music is like therapy for me. I just sing and write about whatever I feel like and try not put pressure on myself. I listen to a lot of different music so my inspiration is always changing. 
How is it stepping out of Wolfpack to be your own artist? What differences do you find being part of a collective vs. on your own?
Being an independent artist is definitely harder but I like that I can go in my own direction now and stand as my own artist. 
You are only 19 and already making waves. What motivated you to pursue a career in music in the first place? When did you know this was what you wanted to do?
Music is the only thing that makes sense to me. I started playing the guitar at eight years old but never thought I could go into music professionally, not to be cheesy but I feel like it kind of chose me. 
What can people expect from you next?
More music definitely! Also more dope visuals. I have a lot of amazing things happening right now so I'm excited about the future. 
What has been the best thing about taking part in a project like CTCL? 
The Cape Town Creative Lab was a transformative experience for me in many ways. Most of all, it was immensely inspiring to share space and ideas with so many exceptional African artists and to feel so supported by the Apple and Platoon teams. There are so many sounds still unheard, and stories still untold, in mainstream music, and the lab felt like a great step in the right direction towards amplifying Africa's voice.
Can you give us an insight into the music scene in Zimbabwe from your perspective as an artist?
Many people assume Zimbabwean music is either traditional or some form of afrobeat; however the music scene in Zimbabwe, and throughout Africa, is far more diverse than that. Although traditional music is the backbone of African music, and one might even argue the backbone of all music, there has also been rock, and funk, and disco and so many other movements in the African music scene over the years. I'm so happy about the ways that listeners and curators are beginning to discover, and support, Africa's musical diversity, and hope that someday we are not only known for one or two genres, but for the brilliant storytelling that young and old Africans alike have contributed to all genres of music. For example, check out Mbongwana Star, an amazing Congolese electronic fusion band that recently played Glastonbury, as well as Wells Fargo, a '70s rock band from Zimbabwe that was censored by our colonial government for singing about freedom.
You have penned multiple tracks from top-tier global artists like Little Mix, the Chainsmokers and Jessie Ware. How do these differ from the tracks you write for yourself?
For myself, I tend to write from personal and political perspectives. I feel that my calling as an artist is to do my small part to open ears, and hearts, to what's going on in the world. But that's not why everybody makes music, and that's okay! When I'm writing for other people, it's my job to help them express more of themselves, not more of myself. Everybody needs to tell their honest story — no matter what it is — in order to create a rounded picture of the world through music. Artists have the power to be the unfiltered historians of their generations.  
Where do you draw mainly inspiration for your music?
Life is my inspiration. It could be something I'm going or went through. It could be a conversation with a stranger. It could be the news or the way the wind blows through the trees on a sunny day. Life never ceases to lift me up and break me down, and shock, and surprise and amaze me — so I assume I'll never stop being musically inspired by it. 
You appeared on the Fifty Shades Freed soundtrack with Come on Back. How was that experience —and the global exposure it consequently brought— like?
The song I wrote for the Fifty Shades Freed soundtrack was originally meant to be pitched to other artists, hence why it's so stylistically different from my other music. When presented with the opportunity to put it out for the film, I figured — why not?  — and reasoned with myself that while it's not as deeply political as Long Live the Billionaire, it is a song about sexual expression without shame, all wrapped up in a tasty disco riff. 
You released your debut single, incidentally Long Live the Billionaire, last year. What can people expect from you next?
I've just finished my debut EP, Wonderland, which I hope to release at the top of 2019. I made it in London alongside a phenomenal human and producer, Dan Carey, and can't wait to share it with you!
What has been the best thing about taking part in a project like CTCL? 
Personally, it was great for me to get a chance to focus on music wholly and fully for that incredible week. We met incredible people who were invested in seeing young talent nurtured through time and resources. We had access to studios, shoots and most importantly information and advice that's vital at this stage of our careers. 
Can you give us an insight into the music scene in South Africa from your perspective as an artist?
In my opinion, it's an interesting thing being a young independent artist in my country because the industry has been growing at a fast pace for the past few years. The world is paying attention to Africa as a whole and South is in the mix. So as an independent artist it's exciting to find my way and define my own success while pushing boundaries as we go along. 
Where do you draw mainly inspiration for your music? 
I draw inspiration from my spirituality and the relationship I have with God. I also draw from other art mediums outside music, the human experience and both the happiest and saddest parts of my life. All of that informs not only how my music comes out but how I see myself as a young man in my country. 
You were featured as Apple Music's New Artist Spotlight in February and are signalled as one International rapper to watch out for. Does a label like that give you validation or pressure you to live up to expectations? 
I think it gives me validation and confirmation that whatever I've been doing is being seen and it's reaching people after all. Sometimes as an independent artist making music in your dorm room or bedroom with the bare minimum can kind of seem like you're up against it all. Things like the Apple Spotlight feature nod was a big deal for me. It championed not only me but every independent artist out there doing something really cool with what they have.  
How important is it for you to remain independent?
I think it's pivotal for artists to remain independent for as long as they can. There are important lessons to be learned about this ever-changing industry and many innovations to be made. If anyone is going to change and revolutionise the way people see music and take it in, its probably going to be an independent artist. 
What can people expect from you next?
People can expect a video for Hold Up, one more single and ultimately an album from me before the end of the year. Its titled iNDiGO and I'm really excited for the world to hear it. 
To find out more information about the Cape Town Creative Lab, check out PLATOON's social platforms. 
photography. Wayne Reiche + Charlotte Baker
words. Sara Delgado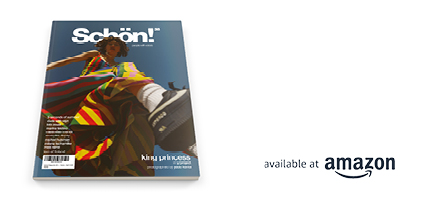 Discover the latest issue of Schön!. 
Now available in print, as an ebook, online and on any mobile device.