Photographer Riccardo Dubitante  and stylist Veronica Mazziotta prove that less is not always more in this textural Schön! online editorial. With pieces by Mr Fur, Department 5 and N.21, diaphanous fabrics are juxtaposed with liquid metals and sequins are dressed down with denim.
This Schön! online exclusive editorial was produced by
Photographer / Riccardo Dubitante 
Stylist / Veronica Mazziotta @ Hmbattaglia
Make Up and Hair / Rocco Santamorena @ Hmbattaglia
Model / Amanda Quieroz @ Elite
Photographer's assistant / Karim Andreotti
Stylist Assistants / Jessica Daolio & Yosephine Melfi
Manicure / Sara Alaimo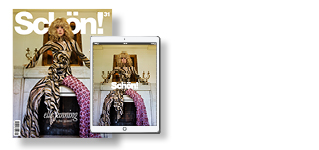 Discover the latest issue of Schön!. 
Now available in print, as an ebook, online and on any mobile device.