We kicked off a new LAFW event with plenty of gusto and fire as we dived into the great event that official fashion week Los Angeles has been waiting for. Combining Art Deco, Mission Revival, and Streamline Moderne Style, Union Station was the perfect venue to host designers that have been flown in from all over the globe to showcase the new generation of artists and their ideas.
Tokyo based designer Yohei Ono transports the audience to a modern age space station with an interstellar collection complete with whimsical prints and patches that is out of this world. Combining boxy cuts with contemporary fabrics, there is something sporty but still feminine in the almost military style that floats down the runway as the countdown to launch is heard overhead. Simple and sleek, touches of textured color gave the pop it needed to catapult each look right into the future.
Combining timeless elegance and modern silhouettes, Betty Tran births a modern woman who has the power to stop anyone in their tracks. Glitter finger waves compliment avant-garde gowns complete with waterfall trains to create a full fantasy figure. Sex appeal and sophistication are emblazoned in every stitch, summoning visions of a goddess of grandeur.
Highlighting the dark side of the season, masks made of black hair covered each face as layered leathers and textured woven pieces seemed to sprout from every limb. Organic and earthy, the almost hypnotic beats and dreamy melodies seemed to be an interesting juxtaposition to the ominous tone of the collection. The scene at Barbara Gongini concluded with bold blanketed black and white stripes draped from head to toe, transforming the heavily hidden faces into something even more sinister.
If Debbie Harry and David Bowie had a love child, it would be this Emma Mulholland dream come to life. Channeling that early 90's don't give a shit girl we all wanted to be, cool kid sex appeal oozes from each look as Freddie Mercury sequins and glam rock patches adorn matching separates and easily stashable outfits to hide from your mother after school. The whole thing screams teen rebellion in the best way possible, and makes us a little nostalgic for the times we used to be loud and proud and over the top for no reason.
Emerging from an explosion of fire, these matching minions stalked the runway in identical thigh high boots stomping furiously to the hellacious beats of the 80's glam gods and their heavy guitars. In perfectly structured shoulders and enough sequins to make a seasoned drag queen blush, these Karen O look alikes sweat sex from every pore. This was a hands down favorite of the night; who doesn't like sex, heavy metals and a splash of elegance to wash down with a heavy helping of high slitted skirts?
Mixing technology and street wear, this fresh designer duo Shigo took inspiration from the busy streets of their hometown in Hong Kong. Throwing pops of color into bold, graphic prints, the line was made to accommodate the fast paced lives of a full speed urban lifestyle in need of something new and refreshing. Transforming each face into their personal works of living graffiti art, moving people were airbrushed across cheekbones and eyelids channeling the underground creativity that breathes life into the metal jungle that surrounds them.
Mexican based designer Salo Shayo knows the appeal of austerity, and completely captures the beauty of the balance between architecture and allure in this captivating collection.Simple, clean silhouettes featured textured wooden prints and boldly lined faces curiously painted across portions of heavy fabric keeping perfect shape despite the movement.
Boldly emblazoning "My Pussy, My Choice" across brightly lit screens, we begin a journey deep into the minds of a pop culture pussy power acid trip fantasy. All latex and lights, each look was loud and fantastic, unique and imaginative, evoking excitement with each blow up piece or glitter cut out add on that spanned the width of nearly the entire runway. Penis purses curiously only made it all more cool and queer with its deviant attitude and debaucherous delivery.
Words / Mynxii White
Follow her here.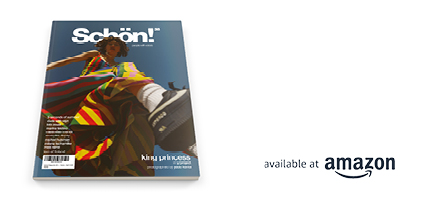 Discover the latest issue of Schön!. 
Now available in print, as an ebook, online and on any mobile device.