Wafia Al-Rikabi is talented R&B/electronica songstress who is proud of both her Muslim and Arabic heritage. The 24-year-old Australian singer-songwriter, known professionally as Wafia, was born to hardworking immigrant parents – an Iraqi Father and a Syrian mother. Wafia has been making music since 2014, originally so as what she called "a cool distraction from studying biomedicine." Incipiently covering songs and putting them on Tumblr, internet fans would contact her and request her to cover their favourite songs. A cover of Mario's Let Me Love You was recorded from her bedroom, eventually going viral. 
As a student, Wafia's father was a professional chef who owned restaurants – the ideal please for her to gig several times a week. "I had a sound system I would set up in there, and I would sing. People would walk by really quickly, pay no attention, but over a while, I would notice that the same people would come at the same time and watch me play, and eventually, I got booked for weddings!" Wafia explains the uphill rise of her ever-blossoming career. A self-proclaimed homebody, she has been consistently proactive with her career despite her premonition to stay home with family and close friends and avoid networking at all costs. A biomedicine graduate, Wafia finished school and dove straight into music, with already successful tracks after collaborating with different producers around Australia such as Throbbins and Ta-Ku. With wedding gig money in her pocket, she was able to fund studio sessions and production. 
Wafia credits her Middle Eastern parents for her work ethic, her father ultimately being the one who pushed her the hardest when she was struggling juggling studies and music. "This industry… it goes by so quickly so I just wanted to have [biomedicine] as a backup, I don't think there is anything wrong with being realistic, I could be spat out by this industry tomorrow, I have comfort and my Middle Eastern parents have comfort knowing that I could go back into medicine or research at any point," she explains in a warm tone. 
Currently touring throughout Europe supporting American singer and songwriter Børns, Wafia is a far cry away from her introverted homebody roots in Brisbane. The singer is instead entertaining audiences with her newest single of her upcoming EP and first foray into clubbier pop music category. The track 'Bodies' was written as a way of healing. Last year, Wafia's Syrian family was rejected from entering Australia and US President Donald Trump was promising a Muslim Ban during his election campaign. "Before the war in Syria [a few years ago], my mother wanted her family to come to Australia, where she's lived since she was married. There is so much pride that comes with being from any of those countries in the Middle East, you feel really connected to the land, and so my family never wanted to leave, and as things worsened and things were really bad…my mum was calling the immigration department daily trying to get help. After being denied, the day we got the final 'no' was the day 'Bodies' was written," Wafia recounts. 
At the moment, Wafia finds it important to be more vocal about her Muslim heritage. "I think it was something that I kept to myself and in my home. I never lost it, I just compartmentalized it, and it's something I only deal with at home and with my family," she explains in depth as she shifted her perspective. "I grew out of that, because now more than ever, I feel like I preach about visibility for other people, and I need to take ownership of who I am, and the person that my faith, my identity… I want to bring that out a little more, and that's obviously not in my lyrics, but I am really glad that I can talk about it now, as a personal goal, as an accomplishment, so it is personal and a duty to represent," she explains. Wafia could have easily gone into a darker area for writing such a song, but she kept afloat. "I wrote a song just to make myself feel happy that day. I wanted to dumb it down so that on a very surface level you can listen to it and be like 'oh, this about being in a nightclub…I think people associate that with sex, and sweatiness and stuff,  I can have a play with what people go to first." She explains writing a pop song was much different than her usual process. "It was really fun for me to experiment with blatant pop as well. I had never done that in my music before and it was the perfect song to do that with. I don't know how my songs are going to end up in the future [once I've written them]." 
The music video for 'Bodies' itself is equally thought-provoking. Every visual frame becomes more progressively arresting than the last. Wafia herself and director Alli Coates tackle race by presenting the cohesion of the human body in all forms, along to what is hidden as an upbeat pop song. From two bodies wrestling, blow up dolls,  propaganda on black and white TV's, to a makeshift protest in a club, and Wafia with a megaphone chanting to a crowd; each image is well-placed. The educated viewer would understand the point Wafia is trying to bring across. "I didn't want any depictions of violence, I didn't really want anything aggressive –  just wanted it to be really poignant – but also not to exclude anyone," and that also is seen in her and Coates' choice of casting. "We realised casting was really important. I was really making sure I had a really diverse cast. I'm not a Caucasian woman, you know? I feel underrepresented in the media a lot, so making sure that other people that felt underrepresented were also in the music video. Making sure it was really well rounded was something we worked on for months," she recounts. Wafia and Coates wanted "images that were essentially captivating but never offensive because I am not here to be the loudest in the room or trying to be offensive, I'm just trying to make a point across. I feel smarter when I'm doing things that are accessible, with a message." And that definitely shines through. 
Methodical, soft-spoken, and one to see the finer details in a bigger picture, Wafia's degree in science is certainly a massive part of what makes her a particular songwriter. "Having a background in science means that everything has to be methodical. When you look at how to do a chemical reaction, there is a list of steps. That's how I go about it in my mind, and it's always better to have meeting [in songwriting and production] whether that translates to other people, I don't think about it too much, for me, its got to be conceptual and have a point to it at the end of the day." That being said, Wafia has worked with incredibly mathematical and methodical producers in the past, and she wasn't the biggest fan. "Their auto drives were the patterns and making it mathematically correct. I want to bend the rules – the people I work with are the misfits of it all." 
Despite her growing success, life on the road is somewhat of a struggle for Wafia as she is so far from her friends and family and immediately thrust straight into work mode and on stage. Appreciative and thankful to do what she loves every night, she can't help but think about that first swim of the summer back home, which she has yet to take. Once her European tour comes to a close, she has a moment of calm before the storm. Her upcoming EP, VIII, will be released on January 19, 2018, and soon she will be back on the road with festival dates and her first Dual Headline shows on tour. Guess she won't be needing to fall back on that degree after all. 
Click here to listen to Wafia's first single of her upcoming EP, VIII, out on January 19, 2018.
This Schön! online exclusive was produced by
Photography / Kate Biel
Photography Assitant & Fashion  / Gabriela Forgo
Words / Estefania Hageman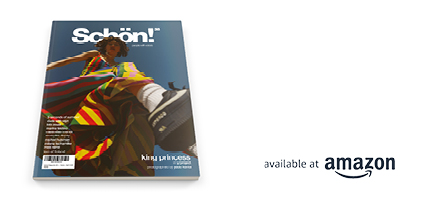 Discover the latest issue of Schön!. 
Now available in print, as an ebook, online and on any mobile device.