Powerful yet fragile, vōx appears as a goddess on a sinners' land in her veiled looks. When on stage, the singer's mesmerizing aura makes you forget the world around you, leading you to focus solely on her captivating voice. She is gentle. She is wavy. She is the calm inner voice inside you. The Los Angeles-based artist focuses her music on her deepest thoughts and is courageous enough to sing about them out to the world. Having overcome depression in her younger years, vōx uses her passion for music to speak up about mental health and her way of dealing with such issues, all the while giving hope through her hypnotizing melodies. Not afraid to show her vulnerabilities, her songs are empowering anthems for not only her listeners but also herself. From performing in churches to being one of the participants of this year's Red Bull Music Academy in Berlin, vōx is thrilled to expand her horizons and reach many others outside the States. We catch up with the mesmerizing artist to find out what lies under the veil and her upcoming music drops.
You usually perform veiled and it has become kind of your trademark look. Could you talk a bit about why is that?
Veils are historically used to cover someone sacred or significant. At the same time, it's protective, and the symbolism of obscuring who I am physically when I perform is important to me.
Your debut EP, I Was Born, features songs about "coping with anxiety and discovering the power within yourself". Could you talk a bit about the experiences that have influenced your music, and how?
One of my most significant influences was my isolated teenage years. I felt very alone and I struggled a lot with depression and suicidal thoughts. The music that I listened to was like my lifeline. The catalyst for writing my own songs was the hope that I could help others who are struggling. More specifically to I Was Born, creating the EP and thus realizing that vōx was within me helped me discover a power I never knew I had.
What influences your creative process when writing music?
The music I'm listening to and the visuals that are moving me are definitely vital to my process, but mostly when I write I want to dig deeper into myself. I always want to share my most raw experiences and through that allow others to be less afraid to share themselves.
To celebrate its release, last May, you performed a show at the Pico Union Project in LA — a very peculiar location. How was the experience of singing your songs in a church?
Yes! Pico Union Project is the oldest synagogue in Los Angeles. The experience was very healing for me. Growing up in the church, I didn't feel like I fit in. I was too weird. I was too sad. I wasn't listening to the right music or writing the right music. Performing in churches was my way of reclaiming that space on my own terms.
I Still Care is a harmonious song about your interpretation of seeking others' acceptance, and the video, a one-take film, captures your vulnerability, and yet, gives strength to its viewers. Could you talk a bit about elaborating on the idea behind this video?
The music video has a lot of layers to it, which I love. Everyone in the video are also LA artists. Are these fellow creatives (literally) adorning me and lifting me up or are we all just playing our parts pushing for our own spotlight? I like that it toys with both of those narratives simultaneously.
You used to make music under your own name, back in 2012, but then changed to 'vōx' as your stage name. What made you change it? Did it signal a grander shift?
I changed my name initially simply because the new project was nothing like my previous work. But as I've grown into vōx, it's become a much bigger change and more positive shift than I ever could have imagined.
You are invited to Red Bull Music Academy in Berlin for their 20th anniversary later this year. Are you excited about it? What do you see coming next?
I'm super excited! I really think the work Red Bull does with musicians is incredibly inspiring. They're an amazing support for independent artists. I haven't had a chance yet to perform as vōx in Europe, and Berlin is one of my favourite cities. In the immediate future, I'm releasing a few hip-hop covers starting at the end of June. I'm also currently working on new originals and collaborations with other artists that I'm excited to start sharing next year.
vōx's first hip-hop cover will be dropping soon. Check it out here. 
This Schön! online exclusive has been produced by
photography + direction. Brooke Nipar
fashion. Keyla Marquez
talent. vōx
make up. Amy Chance
words. Irene Chirita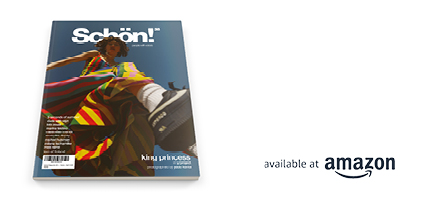 Discover the latest issue of Schön!. 
Now available in print, as an ebook, online and on any mobile device.