Meet Tom Odell: English singer-songwriter and general Renaissance boy, that at only 23 years old won the BRITs Critics' Choice Award in early 2013 for his debut album, Long Way Down. The singer star returns for the release of a sophomore album, Wrong Crowd. As we wait for it to hit the airwaves, Schön! takes time to uncover the man behind the mask. Beginning writing age 13, Odell has always lived music, continuously travelling to London from Chichester to play open mic nights. Odell's upbringing was one of the stage – singing live, resisting any lemons that life (or audiences) gave him. Today, Odell has risen to Elton John and David Bowie comparisons, being one of the youngest artists to receive a BRIT as well as Ivor Novello award for Songwriter of the Year. For his new album, Odell has announced his tour will take place in select intimate venues all across Europe. In the flesh, Odell is a humble, private celebrity, choosing to focus on the artistry of his songs— selecting smaller venues for his tour, cultivating the intimacy between artist and spectator. 
You've said heartbreak makes for the best songwriting material— are there any artists you look up to that you feel have mastered the art of pulling inspiration from heartbreak? 
I think there are a lot of great songs that come from that pool of sadness [laughs] but I said that quite a long time ago actually. I think I maybe changed my mind a bit.
What do you think now?
I think there are so many different things that can inspire you— it doesn't necessary need to be heartbreak. I think specifically with my upcoming album, it draws from a lot of visual inspiration directed at growing up and fitting in.
People often compare you to legends such as David Bowie and Elton John— if you had to pick, which artist's style do you feel most influenced by?
That's like picking your favourite kid or something! [laughs] I love them both very differently but also very equally. Elton, specifically, has been very supportive of my career and hugely influential when I started playing the piano. 
Why Wrong Crowd as an album title?
I think it just represents all of the songs the best. I think that Wrong Crowd represents an inner turmoil. Less of outward— more inward. It all sounds very ambiguous… but I think that's the most I know [laughs]. 
Do you ever read fan mail?
I do yeah. I haven't done it for a week because we literally haven't stopped, but yeah it's lovely getting that. It's always very sweet. 
What would you say is your overall relationship is like with your fans? 
Well, I think the ones you usually reach out to are the ones who maybe have a question about something. Some nice things my fans often do is they recommend books— or art exhibitions and films to watch. And I think what's really nice is quite often people will send the book for me to read. Or people will share stuff on twitter recommending things. The book I'm reading at the moment is a book that a fan gave me to me, actually. 
Which is it?
It's called The Moviegoer, by Walker Percy.
Would you say your most popular songs are your favourite songs?
No, I don't think so. I don't feel like I've released enough music to really determine that yet. I think with songs, it's weird, but you never necessary love one more than the others. Because if you write them, you write them for a reason so— I don't really hate anything I write. 
But you must enjoying performing some more than others?
That's definitely true. I love performing Wrong Crowd, the title song. I love singing Somehow— I'm really proud of that song. On the first album I loved singing Can't Pretend, but then it changed because recently I quite like singing this song Hold Me, which is from the first album as well. So it sort of goes in waves. I think the worst thing is to overplay songs— if you overplay them you start getting sick of them.
That's true, and you've said you write hundreds of songs before you choose only a select few, are there any songs you regret not pursuing further?
Like a hundred [laughs]. There's like a hundred I regret not being on the album.
Just release 10 more albums then…
I could do. Well I thought they were good but there are certain limitations. You can only put so many songs on an album, or maybe you can. Maybe I'm missing the trick and you should just put 100 songs on an album. But I think that is still over the top. It's like a director making a 9 hour movie. The director might think it's a great idea but I don't think anyone else would think it's a great idea [laughs].
Perhaps the appeal to add more would be to be able to spread the message better… how important is spreading your message to your audience? Do you ever worry you will get misinterpreted?
Oof… that's a difficult question. I think that ultimately you want to have as much control as you can, but to a certain degree you do lose it. People always interpret things in different ways. And people are always going to listen to different bits of the song. So I think it's nice when people interpret it in their own way. But I think the most powerful song is when everyone listens and it seems to share a feeling. A feeling that perhaps is always on the tip of everyone's tongue, but which no one ever manages to say. 
Wrong Crowd is released June 10th on Columbia Records
Interview / V Tyurina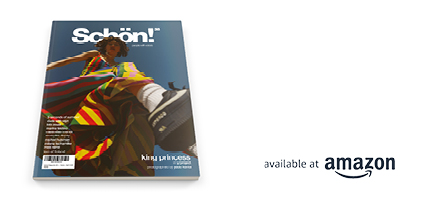 Discover the latest issue of Schön!. 
Now available in print, as an ebook, online and on any mobile device.