Sam Lewis, aka SG Lewis, rose to critical and club-goer acclaim with 2015's slow-burn hit 'Warm'. Since then, he's become one of the most exciting acts in the British electronic music scene; steadily racking up live dates whilst delving deeper into musical process and craft on each new release. Drawing inspiration from an eclectic mix of artists, from The Neptunes to Bon Iver, he produces technically tight dance anthems with a refreshingly introspective edge. This particular brand of EDM is considered and careful, a syncretic amalgamation of a plethora of influences, yet packaged in subtle, minimal beats. This measured approach infiltrates all facets of the young musician's creative output and is being stretched to its fullest potential on his much anticipated three-part album. With two parts still to release, we sit down with the prodigal producer to speak about forthcoming plans, club culture, and being astounded by Ben Klock.
Who are your main musical influences?
The Neptunes are probably my biggest musical influence. That era in the late '90s, early 2000s of hip hop and R&B was so incredible. Aside from that, James Blake, Bon Iver, Frank Ocean and Anderson .Paak are all huge influences sonically.
How did you get into electronic music and, specifically, when did you start producing your own music?
When I was around 16 years old, Dubstep was blowing up in the UK (before it became the huge EDM mutation of itself) and everyone was listening to it at school. I had played in bands throughout school, and was studying Music Tech at A level, so I had a curiosity as to how it was made. I watched hundreds of YouTube tutorials about how to create the sounds, which taught me a load about sound design. It wasn't until I moved to Liverpool to study Sound Engineering that I really became immersed in club culture and electronic music on the whole.
You rose to acclaim with track 'Warm' in 2015, would you care to talk about the story behind this?
A few summers ago, I was fresh out of a bad break up and living at my parent's house. My way of dealing with the breakup was throwing myself into making a load of music that summer. My close friend Sophie Cooke (better known as Frances) came round for the day, and we were working off a makeshift studio set up in my parent's attic. We spoke a bit about the breakup, and poured some of that into writing 'Warm'. We wrote the song, and recorded the vocals the same day in the attic. A month later, Sophie had signed to Capitol Records, so I wasn't allowed to keep her vocals in the song. Instead of getting it revocaled, I pitched down her voice, and re-wrote the instrumental around it. I sent it back to her team, who agreed to let me use the pitched down vocals, but wanted to keep her name off the record. It's still a song very close to my heart.
Playing DJ sets is also an important aspect of what you do, what would you say is the best DJ set you have ever played?
I think the best DJ set I have ever played was maybe at Bestival in 2016. It was the first night of the festival, and the tent was completely packed out. All of my friends were in the crowd, and so were my mum and dad — I played one off my own tracks called 'The Masque', and saw my dad on my friend's shoulders, dancing around. I couldn't stop laughing.
How do you think club culture is changing in the UK?
I think club culture,and the music that shapes it, is constantly evolving. I think there are always positives and negatives to that evolution. One of the negative changes is the impact of technology — any record can be ID'd on a Facebook group within 5 minutes if someone films it. This means that there is much less mystery around the records DJs are playing, and means that there are more DJs playing the same big records. But that can also be spun into a positive too — DJs have to work harder to dig deeper and find unique records now, and that could elevate the music being played to a higher level than before.
Do you have any formative club experiences?  
Walking into the theatre of a club called The Masque (at the time) in Liverpool. I was 18 and had never been to a proper club before. I walked into the main room, where Ben Klock was playing— absolutely blew my mind.
We hear that you're working on a three-part album. Would you care to talk more about this project?
That's correct! The album is split into three parts: Dusk, Dark and Dawn— which represent the three different stages of a night out. I became fascinated by the purpose of music, and the environments in which different genres are listened to. I wanted to split the album into these three different phases, and create three separate moods that all accompany the different stages of a night out. 'Dusk' starts off the night, and is heavily influenced by Disco, West Coast Hip Hop, and 80's Synth Pop. 'Dark' is more intense and higher energy, drawing influence from Hip Hop, house and Techno, but is also more ethereal in feel. 'Dawn' is the most introspective of the three — the comedown in energy, and the music that accompanies the quieter moments of a night out.
How has your approach to music production changed as you have progressed as an artist?
I think I have become a more capable musician in the last few years, so I think that my production has developed into a hybrid of electronic and real instruments. For instance, the bassline on [my recent single] 'Aura' was just me playing a bass guitar. Using real instruments in my production also helps the songs to lend themselves to the live shows better.
Your recent tracks, not only 'Aura' but also 'Coming Up', seem brighter and less introspective than previous work, would you agree? What would you say is the reasoning behind this?
The reason for that is all to do with the concept of the album. 'Dusk' represents the start of the night, and the music tries to capture the excitement and energy of the night ahead. There will definitely be darker and more introspective moments on 'Dark' and 'Dawn'.
What more can we expect to hear from you in the coming months?
A lot of music; the three-part album, remixes, and some pretty cool collaborations too… and loads of shows.
Part one of SG Lewis' three-part album 'Dusk, Dark, Dawn' is out now.
This Schön! online exclusive was produced by
photography. Cameron McCool
talent. SG Lewis
words. Megan Wallace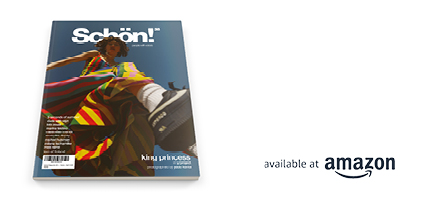 Discover the latest issue of Schön!. 
Now available in print, as an ebook, online and on any mobile device.