Running until mid-June, Performing for the Camera will be featured at the Tate Modern. Exploring the relationship between photography and camera engagement, beginning with the history of the inception of photography in the 19th century, this exhibit traces photography's roots all the way to the recent development of the 'selfie'. Curated by Tate Modern's senior photography director Simon Baker, the display contains 500 images spanning over 150 years. From the theatrical performances of Charles Ray, to the innovative self portraits of artist Lee Friedlander— Performing for the Camera illustrates that photography has always been a performance art from its inauguration. 
Schön! sits down with artist Romain Mader, a Swiss photographer who truly embodies the idea of literally 'performing for the camera'. In his fictional collection called Ekaterina, Mader uses real-life subjects whose natural movements he interprets using his own artistic perception. 
Having studied photography in Lausanne, photographer Romain Mader is currently completing his fine arts masters in Zurich. Mader first came up with the idea of becoming the centerpiece of his own photography by posing with women at the Geneva car show for his project called, 'Moi Avec les Filles'. Originally, the project's purpose was to merely show-off to his friends that he could be popular with women. However, Mader also strongly believes that it is 'too easy' to mock others, and so by taking self-portraits he can more inquisitively explore the awkwardness of his own vulnerable state.
In a similar project in which he was the star, Mader speaks on his work entitled, Des Nouveaux Amis. "I just went to Deauville, France, and pretended I had no friends on the beach," Mader explains, "I just wanted a new collection of friends." As a result, Mader chatted to some tourists on the beach, asking them to pose with him for his project. When asked if he had actually formed friendships with any of the subjects, Mader says that he's never heard back from them and that, "they are like disposable friends I guess!"
Mader is specifically drawn to the documentary-like, journalistic aspect of photography. In his most recent work, Ekaterina, exhibited at the Tate Modern, Mader constructs a tragedy inspired by sex tourism. "When I work I make a story in writing and take the pictures to fit the narrative. Sex tourism in the Ukraine was covered a lot but I wanted to fool people with a story that could be real," explains Mader. The story illustrates Mader's journey to Ukraine in order to find a wife. After he finds a wife, Mader marries her in a utopian-like city, in which beautiful, blonde women all await western husbands. 
"The first time I went to Ukraine I took pictures of the streets, the people and the advertisements where there were beautiful women on them, and found it very interesting how much we use the body of women to sell anything," notes Mader.
Fascinated by Ukraine's portrayal of women along with the exoticism of the country itself, Mader returned to focus on his documentary. "I find it very strange how people ask how my wife is doing, I didn't think the audience would actually believe the story, but of course I wanted it to look real. Honestly I didn't think it would have that much success," Mader tells us.
In addition to generating individual work, Mader had also been collaborating with Nadja Kilchhofer on commissioned projects. In 2013, Mader and Kilchhofer collaborated on a documentary, which followed the life of an aspiring young model. Later, as Mader was working in a workshop, he met artist Francois Burland; a sculptor fascinated by war engines and space ships. Along with Burland, both Mader and Kilchhofer began collaborating in order to create the piece, Atomik Magik Circus. Mader's vision was to be able to tell a story he believed to be closest to the truth of global current events.
"We created this Utopic world, based on the Mars 1 mission, where we can all survive in another planet and leave the earth," Mader explains.
Currently, Mader is planning on heading to Spain, specifically to the Malaga region, where he plans to take pictures and figure out his next project. Even though Mader's story is fictional, his illustration of staged photography truly acknowledges the idea of our everyday routines and performances. Performing for the Camera is a unique exhibition that celebrates the natural body movements of our photographed lives— all captured by variously brilliant artists with sincerely compelling visual messages.
See Performing for the Camera at Tate Modern.
Interview / Aurore Groult
Photography / Romain Mader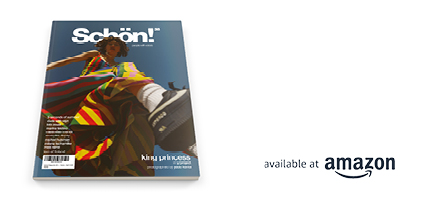 Discover the latest issue of Schön!. 
Now available in print, as an ebook, online and on any mobile device.