Hailing from her native New Zealand, Robinson has spent the last two years of her early twenties working alongside producers and songwriters like Fred Gibson and Daniel Ledinsky — both popular for working with fellow pop and dance artists like Ellie Goulding and Rihanna. Robinson has already made waves in the music streaming world with her popular song 'Nothing to Regret', (with over 26 million streams and counting), now, she is ready to take the rest of the world by storm. Touching on topics such as the day to day loneliness that comes with having work commitments, Robinson as an artist manages to nail a perfect blend of fun, celebratory, positive, and poignant in her body of music as she continues to develop her sound. Schön! caught up with the artist on a photo shoot in London.  
Tell me about growing up in New Zealand and when you decided to pursue music. How did you find it as you grew in your career?
I feel very lucky to have been able to grow up in New Zealand. I think my childhood was full of making my own fun, lots of outdoors activities and making lots of music — I feel like those things really sculpted who I am today.. because I came from a small town in New Zealand and if I had nothing to do, my biggest focus was writing, singing and playing the piano.
So much amazing art, fashion, and music is coming out of New Zealand and at such a rapid pace now with social media (of course) how does it feel to be a part of this special wave of artists making their waves around the world? Especially with your streams all over Spotify globally — how does that feel?
It feels so amazing to see so many amazing New Zealand people getting so much recognition for their amazing work. I think everybody thinks of New Zealand as being very far away from the rest of the world, geographically speaking, but with the use of social media and the internet… it's wonderful how many people are getting recognized. I always think to myself how amazing it is that people from places I've never been to are able to listen to my music.
Congratulations on breaking 26 million streams, by the way — how does the future of music feel to you? How has it changed since you were growing up?
Thank you so much! I think there are so many different styles and types of music coming out, which is so cool to see. I've always felt like there should be no boundaries or rules when creating, as that can put a box around things and I feel like the future of music to me, looks free! I think people will find new ways of experimenting and creating new sounds. Just look at how production has developed even over the past 10 years! I think the future of music will only grow in new ways but one thing that will tie music together through all of the time is emotion and feeling.
Music is a very hit or miss experience when it comes to finding the right producers and collaborators, how has your experience as a young female artist been, with rooms filled with older producers, as well as with male collaborators and experienced artists?
Music is totally hit or miss writing with others, as you just never know what kind of energy you'll have with someone else and whether or not you'll connect. Songwriting is so personal, so when it works, IT REALLY WORKS, and when it doesn't, it's hard but every session is still great and contributes towards that WOW session. All the people I've worked with have been wonderful. All very supportive, and open which is so important. I looked back at one year I'd had and realized how few women I'd worked with, compared to men. It made me realize how crazy that is, knowing how many incredible women are making incredible music and I'd worked with so few. I make a very conscious effort to make sure there's a balance now.
Tell me about the first time a music session was really fluid and you really felt a "This is it" moment.
It was my session with Daniel Ledinsky and David Sandström. I think we all connected really well as people and just felt so much love in the room! I think of them as real-life superheroes… they make you feel like you can do anything… and that is a really special thing and I believe when you feel like that, you go above and beyond what you think you can do and be in a headspace where no idea is too crazy.
You have a sunny disposition in your music and your music video for 'Nothing to Regret' is uplifting, funny, and positive. What are your intentions when writing music? Are you aware of what the result may be?  
I think my intentions are to always be honest and vulnerable… which can sometimes be hard opening up to someone (a co-writer or producer) who you've just met. The production and video for 'Nothing To Regret' are very happy and upbeat but the story-line is rooted in loneliness and uncertainty. It was important for me to portray this juxtaposition between the melodies and production… I love the fact people can dance to it, but it's still something emotionally charged. I think being in the studio, creates some kind of bubble, so for me, I don't know exactly what I've created until I step out of that bubble and review it a couple of days later.
Songs like "Crave You"lament on what it's like to fall out of love — what are other therapeutic ways you channel falling in or out of love with your art? Do you find it necessary to put it all out there as an open book?
I think music is such an expressive outlet, as are many forms of art. Artists create because feelings can be intense and keeping them inside can build up and become worse. Writing a song and outwardly projecting these emotions can be very freeing and hugely therapeutic. Being able to make art, and help and inspire others is also really special. To be able to make someone feel as though they aren't alone is a beautiful thing.
Have you found a distinction between your stage or musician persona versus how you are with your friends, or is there no need for a separation?
I'm still on a journey, a journey which I am really enjoying finding myself in! It's so different being immersed in writing sessions because you're confined to that space… however playing live, you need to take in and project a different type of energy and let so many people in rather than just a few people in a writing space. I think my real self is very energetic and upbeat so I want to make sure I bring that across in my live show… guess it'll mean a few more cardio sessions so I can jump around and not need breath recovery haha
Your music is both evocative and hypnotic — who or what are your musical influences?
Thank you! That's a wonderful thing to say. I really look up to so many people. I love Jeff Buckley, I think he's beautifully haunting and so captivating as a person. I love Kanye West, I do think he's an undeniable genius. Bon Iver is so inspiring to me as I feel like he's really showing us his soul… I feel like he has created something so out of this world, it's incomparable. I really love SZA and Emily Warren, who I think is one of the greatest songwriters out there and so many others!
What's your songwriting process like? Musical arrangements? Instruments? Lyrics?
It is always different. Sometimes a word, a melody or something as simple as a chord progression. Lyrics and melody go hand in hand, I believe the melodies make people listen and the lyrics make them stay. It's when they both intertwine perfectly with each other that I feel like "this is something"
Your music videos definitely have a certain type of aesthetic… how do you normally come up with ideas for your videos? Do they need to connect somehow or do you see them as two different art forms?
Often, if I'm really feeling the song when I'm writing it, I'll envision visuals for it in the session. I think they can both connect OR be two different things as for people watching, it will always mean something different for them anyway. I always find it amazing working with directors, as I'll have an idea and they use that idea and put different twists on it. Seeing the visuals for my songs through other people's eyes is really amazing as it gives the song new life! Visuals are really important, so they have to connect to me in some way or make sense to me but I don't think they ever have to go along exactly with what the song is saying. I believe the music video can do that or be different and give it new life and meaning.
What can we see next for you and your music? Touring schedule? Collaborations?
Lots more writing, and more music! I'm really getting into the live shows now which I'm so excited about. I can't wait to show you what I've been working on!
Robinson's latest single, 'Nothing to Regret' is out now. Listen to it here.
This Schön! online exclusive has been produced by 
photography. James Deacon
fashion + words. Estefania Hageman
talent. Robinson
hair. Tomomi Roppongi using Bumble and Bumble
make up. Libby James using NARS
retouch. Richard Bowhill
location. BRUCE Studios, London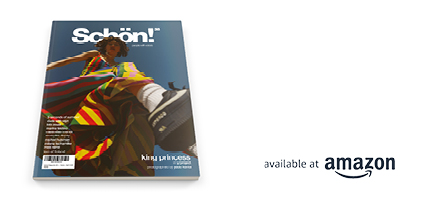 Discover the latest issue of Schön!. 
Now available in print, as an ebook, online and on any mobile device.