She stroke international attention with her heart-warming song For Peace In Syria: meet RIKA, the UK-raised, Serbian-Indian pop sensation firing up the charts and diffusing the world of music. While uniting jagged baselines with enchanting vocals, the rising star embraces her mixed heritage to the fullest and continues to spread awareness for justice and solidarity amongst individuals across the world. Schön! chats with the philanthropic and lively young talent to discuss music, stardom and her latest releases, No Need and On My Way.

As a British, Serbian-Indian rising star, what is your perception of the status of the music industry today?  
Well, I think it's amazing how many genres have cross-pollinated each other and how diverse Pop music has become. It's really interesting how [the pop genre] doesn't have a strict sound anymore and how it can be [moulded into] anything you like. It allows for a variety of interesting collaborations and calls out for diversity in the scene.
For Peace In Syria has gained international attention due to its powerful message. How do you wish to continue to inspire those around you?

My music is all about making someone feel something. It's an awesome way to connect with people. If I reach out to one person and make them feel something with my music, that's good enough for me. Music is such a powerful device and such a universal language.

Did you expect the For Peace In Syria video to go viral? How did you react to its success, especially at such a young age? 

I didn't anticipate it going viral, actually. My whole focus around that was simply to reach out to [Syrian] kids [in order] to make them feel like they aren't alone. When the video almost hit a million views, it really touched my heart. I was really grateful [to see] all the comments and messages I had received, especially from [those in] Syria. This whole piece was just to raise awareness for them. 
Are there any artists that inspire you and help pave the way to convey the message you hope to get across in your work?
Artists who really want to tell their own story and [aren't afraid to be] vulnerable with their audience are really inspirational to me because that's one of the hardest things to do in my opinion. For example, both Ariana Grande and Jessie J were super vulnerable and spoke on personal issues in their most recent work- like Ariana's anxiety on Breathin and [how] Jessie J isn't able to have kids on Four Letter Word. 
What is your main source of inspiration?

I believe anything can be inspirational: nature, people you know or even a movie you've seen; London itself is very inspirational. I was born and raised here, and it's made me really appreciate how diverse it is and how you can pull inspiration from anywhere.

Given the jagged baselines and powerful rhythm to your recent releases, do you eventually plan on introducing Indian-Serbian elements to the pop genre? 
I am currently writing and producing songs that can connect with a wide audience internationally, but I'd love to experiment with Indian/Serbian sounds and samples in the future.
The music videos for On My Way and No Need have been so vibrant and impactful. Did you play any part in coming up with the direction and outfitting for these productions?  If so, can you give us an insight?
Yes, totally! For No Need, I bought all the clothes and the video was actually shot in my old high school! I love and need to be involved in all aspects of my work. The visuals are just as important as the sonic aspect of anything I release- I just try to go for something that looks cool and interesting.
If you had the opportunity to spend the day with any celebrity, who would it be and why?

Omg, I would love to hang out with Zendaya for a day. She literally has the best taste in fashion! We need to shop 'till we drop! [laughs]

What has inspired you to kick-start your career in music?
From a very young age, I've always felt connected to music, and I always wanted to be a singer and songwriter. I'm very blessed to have a supportive family and team who believe in my creative vision and help me to better myself while moving forward.    
Given your rising career, what has been most intriguing about being an artist in the music industry?

Just being surrounded by different creatives. Everyone has a different way of working, and I always learn something new or something helpful in every recording session I go to.
What has been your greatest challenge to date?
One challenge that I've overcome is my impatience. Patience is a virtue and being creative takes a lot of it. It's okay to have writer's block sometimes. I've learnt to always push through and to try again tomorrow.
Are there any lessons that you take externally to apply to your work as an artist?

I take singing lessons for vocal maintenance, rather than actual tight stuff… It's important to keep your vocal [cords] healthy! 

Is there a specific genre of music you've always wished to work with or have been keen on exploring?
Music is really so diverse right now, so I'd love to experiment with loads of genres: like taking more R&B elements and blending them with Pop. I tried to do that with my crane track On My Way as the melodies are quite R&B, but it works really well with the high energy synths. There are no boundaries at the moment!
Can we expect to see more from you for the rest of this year? Any major projects in line?
Nothing I can reveal as of yet, but lots of exciting things down the line! Follow me on my socials @rikaofficial to keep up and hear about it first…
photography. Thai Hibbert
talent. Rika
words. Amanda Breeze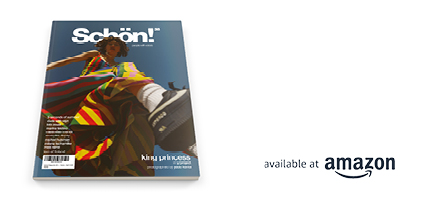 Discover the latest issue of Schön!. 
Now available in print, as an ebook, online and on any mobile device.