Some may say punk is dead but, if it is, Amy Love and Georgia South are here to revive it. Known for their stage moniker, Nova Twins, this London-based duo is flaunting powerful baselines, rage-filled screams, and a refreshingly distinct and nonchalantly empowering yet unapologetic attitude. Faithful to punk's genesis, their bold DIY approach is seen not only in their clothes but also their music videos. Having spent most of 2017 supporting Prophets of Rage, they unknowingly infuse punk rock vocals with funky baselines and grime soul, certainly a testament to their talent —they might not do it on purpose but it sure sounds great and, unarguably, there's nothing more punk than that…
You both come from musical families, what are your first memories of music?
Georgia: My first memories of music is me learning how to play the piano. I also remember the day I ditched the piano and picked up the bass and never looked back… I found my true calling…
Amy: My family is less musical, although my aunt used to be in a band when she was younger. She was the one who encouraged me to do music at a young age. I have a lot of early memories, one of them being 5 years old, dancing in front of the mirror, singing my heart out into a brush. Original, I know, but it's a fond memory.
How did Nova Twins come about? When did you guys decide you should become a band?
A: We have always been close family friends, and would often collaborate somehow, whether it was G playing for me or me jumping on a track for her. We would always set up our gigs together so that we would be on the same bill. Eventually, we just thought instead of trying to always find an excuse to work together, why don't we just become a band? So that's what we did 3 years ago, on my birthday, March 20th to be exact, and something just clicked.
G: We've been friends since forever, one day we thought why haven't we written a song together? So we did. It was called Bad Bitches and the rest is history!
What inspired your band name?
G: 'Nova' came from the idea of a supernova explosion in space, and it's Latin for new beginnings. 'Twins' is because we're very in sync.
A: For a few months we started with the worst band name ever, then eventually thought of Nova Twins. We liked the idea of Twins as it resembled our connection, we always do weird shit like, say what the other one is thinking, it gets creepy at times…
You are born and bred in South East London. How has London and South East influenced you musically?
G: There's so much culture here: different scenes, art and creativity. People love to express themselves. I think growing up here influenced the amount of eclectic styles and genres that go into writing our songs.
A: I'm actually born and bred in Essex. 
What usually inspires the music you write?
A: It can literally be anything. G's baselines inspire the tone of the concept, friends and experiences,  and even fantasy goes into the songs. It's easy to write about what you know. We don't really like to give ourselves boarders, anything goes although we are yet to write a love song… not sure how that one would work!
G: How I'm feeling at that time definitely inspires what kind of feel I write. Whether it's more fizzy and energetic or if I'm a super moody thug mode. Also if we really enjoyed playing a crazy section of one of our songs live, we'll write something even heavier as we know it will be super fun to gig out.
At first glance, grime and punk seem to be worlds apart but you guys seamlessly combine them. How did that fusion come about?
G: I think grime is the new punk. It's a genre that wasn't manufactured, it's super authentic and they speak only their minds and don't conform to what trends are out. That's exactly what punk did back in the day! We don't think of ourselves as a grime punk band, but I guess there's definitely influences that both merged into our sound. It happened without us thinking about it.
A: At first glance perhaps, but they are from the same seed. It just happened. I think you get the punk intensity from the vocals and our DIY ethos has a part to play but the bass behaves like a living organism that has a mind of its own. It can sound grimy one minute but it will evolve into something completely different. 
You have been touring a lot this past year. How has that been?
G: It's been beyond insane. It's weird thinking that some songs we wrote in our bedroom can take you around the world!
A: 2017 has been the best year for us, it was the first time we travelled as a band, in fact.. it was the first time for a lot of things for us as far as "band experiences" go. We don't have a label or anything, so we take it day by day, not knowing where we will end up next. It can be scary at times but life keeps on surprising us with new adventures and opportunity, It's a rollercoaster and you learn a lot along the way, but you have to take that leap, it will always pay off. 
Have you got a favourite experience or anecdote from your tour?
G: Probably having the whole of Prophets of Rage playing American football in the arena in front of us while we had to sound check… It was intense enough thinking about the gig we had that night, but then we saw Tom Morello standing in the middle of the arena watching us while I had to sound check my bass acapella… you can imagine the intensity… They were all the nicest guys ever, it was a sick night.
A: When Tom Morello said we were one of the best bands people are yet to discover. We were freaking out! Our headline in London at Camden Assembly and Paris headline shows were pretty special too.
You have been praised in the past for your raw and grimy sound. Do you think this shines through better performing live or in the studio? 
A: We are a live band, the music developed in a rehearsal room. Our favourite thing to do is to play live, that's where it gets really interesting for us. The studio is fun but it's not always easy to capture our sound on record the right way. 
G: Deffo live… Playing live is where we come alive… It sounds so much more powerful.
You've said in the past that you don't make music for the record industry, but for you. Could you elaborate on that?
A: We meant that people in the past would want us to be a certain way, more like The Vamps or something and we just decided to make music that we think sounds good, not based on the potential of our look. If you are looking for a lighter sound, then go elsewhere.
G: I feel like some bands and labels make and put out only music that is on trend. They mould themselves to sound like other bands, whereas we just make music that feels good to us when we write it and it's a bonus if whoever gets on board understands our vision! We have so many supportive and diverse people coming to our gigs, so we enjoy sharing music with them rather than thinking about what the industry thinks about us.
Not that you need them, but do you have any collaborations lined up for the future? Who would be your dream collab?
A: Not just yet, still waiting for Missy Elliott and Jack White… ha! Although Princess Nokia would be an amazing collaboration too!
G: My dream collab would be Pharrell Williams or N.E.R.D. I've been a fan of N.E.R.D since I was little, I think we'd work well together!
Visuals seem to be pretty powerful in your work, whether through personal style or your music videos, which have a unique DIY feel. How important are visuals to you in this day and age?
G: Visuals are really important as they project what message you are sending out before anyone hears any music. It's another way to express yourself and your ideas. We love directing our music videos and playing around with making different sets. It's always a laugh making them.
A: I think our nonexistent budget got us into being more self-sufficient. We can't afford top video makers and clothes, so we make them ourselves. It forced us to get to know ourselves a bit more, and trust in our own visions. I think it's important to love what you want to put out there as you are the one who has to live with it.
Can you tell us about your clothing brand BAD STITCHES? Why did you decide to set it up and what does it mean for you creatively?
G: We've always customized our clothes as a hobby. It escalated one Halloween when we had a gig and didn't have anything to wear that was clown-like, so we made these crazy outfits which escalated into our all year round stage style and has now turned into our everyday clothes. We feel nova in our clothes, so we wanted other people to feel like it too! We have started with a small collection of denim jackets which will be restocked early this year!
A: We make and customise all our stage clothes, and people would often ask where did we get it from. So we thought we would make a small amount available. It's really small right at the moment as the music comes first and we are busy with writing but when we get downtime we will add a few cool jackets and T's are coming soon. 
You have just released your second EP, 'Mood Swings'. How has the process of putting it out been?
G: We started touring it around France and the UK as soon as it came out and it had a great response on tour! We're writing loads at the moment and are excited to release new stuff this year too!
A: It was a crazy process getting the record together, I won't go into the ins and out's but there were horror stories. The worst in terms of band experiences in studios. Anyway, moving on, we managed to pull through and loved making the video for Mood Swings, it's my favourite video.
What inspired the title 'Mood Swings'?
A: It was the single of the EP and summed up pretty much how we were feeling. We always embrace the whole spectrum of our moods, whether it's good or damn right ugly. No one is perfect but that's what makes us unique.
G: The leading track on the EP is called Mood Swings and when thinking of a name for the whole EP we just thought that title related with every song. It's a very hot and cold EP, a rollercoaster of emotions went into it.
How does the EP differ from your first?
G: It sounds a little more electronic, but nothing has changed in the set up since the last EP, it's still just all coming off our pedal boards, no synths are used, we have just gone deeper into our pedal boards and found new interesting sounds to use which makes the bass sound super electronic at times which I like.
A: There's a different atmosphere to this EP. We experimented with different sounds, tempos and melodies, which added a new dynamic to record as well as the live performances. Mood Swings and Strange Town are good examples.
You've said in the past that you enjoy the idea of putting out EPs rather than albums. Could you tell us why? 
A: I like the freedom with EP's: you can change the concepts, have different themes… Who knows? We might decide to bring out an acoustic EP… Unlikely, but you get the idea. We are still relatively new, when we release our album, which we will, people need to be ready for it. 
So is a debut album in the works?
A: Who knows? More music will be coming either way… 
G: Honestly, we don't know. If it feels right, we'll put out an album but, at the moment, we love the idea of little bursts of bodies of work that people can get to know.
Lastly, what can we expect from you in 2018?
G: We're buried away in the studio writing and releasing new stuff early this year! Also, we are going to be touring Europe again later in the year. Can't wait!
A: More adventures, gigs, music… We are also heading out to America in the summer, which we are really excited for as it's on our tick list! 
Listen to Nova Twins' second EP, 'Mood Swings', here.
Images courtesy of Neil Anderson, Matej, Chris Low and Sanaa Abstrakt.
Words / Sara Delgado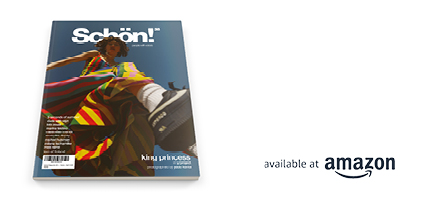 Discover the latest issue of Schön!. 
Now available in print, as an ebook, online and on any mobile device.