London-based interior designer and illustrator Luke Edward Hall has captured the attention of adoring Instagram fans and commercial brands alike with his playful, exuberant and colourful designs. Whilst attaining a prestigious degree from UAL's Central Saint Martins, Edward Hall established his own line of homewares and fabrics, gaining favour for his painterly prints and cushions that add his own offbeat spin on the combined influences of Jean Cocteau, the Bloomsbury group and The Aesthetic Movement. A string of hugely successful projects has led to his most recent venture, 'The British Collective'; a pop-up boutique at the recently extended Bicester Village, designed by Edward Hall and showcasing his carefully curated homewares, clothes, books and other covetable goods. The space embodies Edward Hall's impeccable and eccentric taste and signals towards an overgrowing empire.
Do you think art school was a necessary part of your career path?
Definitely – as a teenager, I knew that I wanted to go to Central Saint Martins and I actually ended up studying menswear fashion design there, after carrying out a foundation year and changing degree courses once. I really enjoyed my time at the school – it allowed me to experiment and work out what I liked. These days I work across interiors and fashion and I'm glad I have experience of working in both industries.
Where do you think you got your excellent eye for art and antiques from?
Whilst at university I set up a website with my boyfriend and our best friend – we'd source antiques, clean and fix them if necessary, then photograph and sell them online. It was good fun but also interesting because we certainly weren't experts, just passionate about old things! We learnt more and more over time though, after spending all our weekends at fairs and markets.

How would you summarise your aesthetic?
I'd say my colourful aesthetic is informed by a love of history, an appreciation of beauty and a sense of playfulness. I'm inspired by stories, especially ancient Greek myths and legends and tales from folklore. I'm a romantic at heart, quite nostalgic, and I suppose my drawings, fabrics, ceramics, interiors – they're all about telling stories.
How do you stay inspired and productive?
I read lots, listen to music, try to and travel as much as possible. I love London but I get out to the countryside as often as I can – seeing fields, trees and rivers will always refresh me.
Do you try and imbue your work with messages and meaning, or would you describe what you do as purely aesthetic?
I've often been inspired by the Aesthetic Movement – a 19th century art movement that combined fine and decorative arts, and promoted the idea of 'Art for Art's Sake'. Having said that, I'm also interested in queer art, and as a gay artist, I like to think there is a sense of freedom and permissiveness in my work that I hope comes through.

Do you see your art as reviving more traditional techniques or crafts that have been neglected?
I work with a brilliant potter up in Scotland on my ceramics and yes, it is nice to feel that we're working in a traditional way. All of my hand-painted pieces are handcrafted – they're either press moulded or thrown on a wheel. My printed ceramics, fabrics and cushions are all made in England, and again it's rewarding to know that I'm supporting British manufacturing, even in my own small way.
Working with large companies, how do you keep your own style and tastes in place when trying to work within the demands of a brand?
With The British Collective boutique at Bicester Village, I was more or less given free rein to come up with a concept for the interior, which was wonderful for me as a designer. With projects like these, it always has to feel like a genuine collaboration between me and the brand or company. I try to only work with people that I feel an actual connection with and that I know will allow me to be truly creative.

What influenced your design of The British Collective at the newly expanded Bicester Village?
The boutique's interior design was inspired by the classic English country house look and interiors from the 1970s. I'm a huge admirer of David Hicks – I love how he used brave, clashing colour combinations in his work. The designer Madeleine Castaing has always inspired me too – she often used fabulously patterned carpets in her interiors. For the British Collective, I really wanted to install a patterned carpet; I chose a historical design and gave it a new bright pink background.
How do you balance creating art for the sake of enjoyment, and art for professional purposes?
I have started working on drawings and paintings for a small exhibition next year and I have to allow myself some time each week to concentrate on these pieces, otherwise I'll spend all of my time on commissions and other projects, which of course I enjoy, but it's definitely important to get the balance right. It's just about managing time really, to make sure everything can be done as well as possible and in good time.
Bicester Village's pop-up Christmas shop, The British Collective, designed by Luke Edward Hall is now open for a limited time only.
Words / Daisy Schofield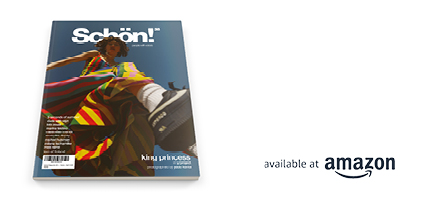 Discover the latest issue of Schön!. 
Now available in print, as an ebook, online and on any mobile device.