Music that is "honest and truthful" is a state of mind for Latrell James. The Boston multi-hyphenate raps, sings, writes and produces hip hop with old school sentimentality — songs that actually talk about something real. But he is not stuck to the past. The sound he engineers is fresh, bouncing off R&B-infused melodies and exceptionally sincere lyrics. Unlike many other rappers, his songs aren't bragging rights for women and fast cars, it's working a 9-to-5 and being black in America that concern him. It's what makes him so relatable and made us want to know more.
"I'm the product of the environment in which I grew up in," James raps on his record The Button. "Boston is a melting pot of culture," he tells us, "the dichotomy of the communities forces you to be diverse." The proximity of poverty and Ivy League colleges taught him early on the persistence of inequality and you can hear it in his music. A lot of his songs remind us that his path was not a given — with the odds stacked against him, even his decision to pursue his love for music as a kid was an act of defiance.
Yet a lot has changed since James used to steal his brother's OutKast CDs for school bus rides. The turning point was in middle school when a friend turned him on to some music production software. "I knew right then I wanted to create music. I begged my mom for the program and would create every day after school. It consumed me." He polished and honed his craft and, twelve years later, James was properly introduced to the world via his debut album Twelve. Entirely self-produced and performed, it was a daring introduction for the self-taught James — a feat he puts down to the times. "I see the technology advances with streaming as an asset," he reveals. "It allowed an independent artist like myself to have direct access to [my] fans and statistics."
Back then, Twelve set the bar that any artist would gladly not stray far from. But not Latrell James. For three years, he did not release any new music. "The hiatus was honestly for one reason. My parents both were going through some major health issues at the time. I'm very family-oriented so I prioritised making sure I did everything I could to possibly help them. Family first, I wouldn't even be doing music if they never supported my dreams." Despite the break from his solo career, making music never stopped, with James continuing in the background producing tracks for the likes of Brooklyn's hip hop collective Pro Era as well as rapper and comedian Lil Dicky. During that time, James even engineered the upbeat Good Goes Around jingle for the popular Cheerios campaign. "I really found my voice in the last three years. Something clicked and I really understand how to approach a track now. I'm more concise. I'm [wittier]. Everything's upgraded."
Fast forward to 2018, James drops his song Okay: an honest soundtrack to the times that are radically different from three years back. If the cover art — an illustration of the White House — doesn't say enough, his lyrics have a clear message. "Rule number one, don't trust no politicians, okay?" The Dylan Fout-directed video gives a vivid take on the racial divide in American society now, where a "Make America Great Again" poster can sever friendships and serve as a terrible beacon for violence and hate. "Politics at this moment are fracturing this country," James says candidly, "I think as an artist, you have a voice. You should be vocal about things you believe in."
Using his music to stand for something bigger is what we've come to know James for and he's made it his mission to give back: by being active volunteering and teaching after-school programs on music production to local youth. "The main reason I mentor is because of the lack of mentors I had. I always wanted to have someone I could organise and walk through my thoughts with […] I'm just trying to fill a void that I see is lacking in the community." Using his self-awareness and incredible talent, Latrell James is paving a way not only for himself but for anyone chasing the same dream. Emerging from a retrospective respite, the rapper is now ready to drop more work and take his music throughout the world. "I want to tour honestly. I like meeting new people," James tells us. "Maybe I should put out this work so I can. That's the goal for my music." We'll certainly be on the lookout.
'Okay' is out now. Watch the music video here.
photography. Bianca Catbagan
talent. Latrell James
words. Sarah Osei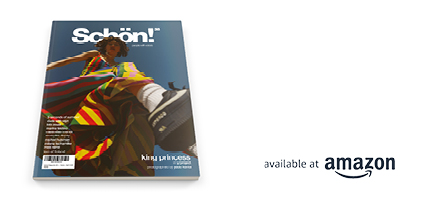 Discover the latest issue of Schön!. 
Now available in print, as an ebook, online and on any mobile device.