Nigerian Afro-House artist Kah-Lo holds the sound to the summer. Her music is perfectly curated for the clubs and festival season with its infectious rhythms, pounding beats, and a distinctly Naija influence in her lyricism. Aside from delivery similar to '212'- era Azaleia Banks there's no one on the charts with Kah-Lo's sound. Afrobeats is wildly popular in the UK and across Europe yet there are few artists fusing West African elements with a House sound. The appeal in Kah-lo's music is her catchy hooks, bouncy bass lines, and simple tongue-in-cheek wordplay that catches the ear. In Kah-Lo's vibrant track 'Fasta' she sings: "this that tune that I know you wanna hum" and her confidence is justified. She first popped onto our radars with the Riton hit "Rinse & Repeat" back in 2016. The song went on to earn a Grammy nomination for best dance record. Today she releases the playful music video for her latest sun-tinged anthem with DJ Riton 'Ginger.' With an album on the horizon and the visuals for the track dropping today, Schön! gets to know the girl behind the hottest dance tracks. 
Where did you grow up?
I grew up in Lagos, Nigeria. It was pretty great. I loved my childhood and it's the inspiration behind a lot of my songs.
What were you listening to back then?
In my teens, I really liked alt-rock like Fall Out Boy, Simple Plan, My Chemical Romance. I also liked R&B from the whole wave of artists that blew up around 2005 like Chris Brown, Rihanna, Ciara and Ne-Yo. My soundtrack would be a whole mix of songs from them all.
How did you start out making your own music?
I always loved music but I'd say my first beginning started with performing in front of classmates in school and composing songs in FL Studio on my laptop.
Is there a story behind your stage name?
When I decided music was really what I wanted to do with no plan B, I decided I needed to rebrand. I couldn't think of a stage name because I didn't really have any nicknames. My sister always called me Frida Kahlo, because we loved her after watching her biopic, so I decided to go with that and put the hyphen to make it my own.
Were your friends and family supportive of you entering the industry? 
My close friends, yes. I understand now that my family was only coming from a place of genuine concern. You always want to see your loved ones win and unconventional career choices can seem risky.
Do you think your Nigerian heritage influences the music you make?
It influences everything because it's who I am and it's literally ingrained in me.
What are some misconceptions you think people have about your hometown, Lagos?
Too many! I'd say the main ones that irk me are that we can't speak English or that we all live in huts and pet lions in our free time because that's just ignorance spewing.
Where do you like to go and have fun when you're back home?
I feel like it changes all the time, but I like to go to the clubs, bars and restaurants. All of which can turn into clubs at any given time.
How do you feel about Nigerian music becoming so popular internationally?
I love it! I just hope it's genuine recognition and not just a trend because that tends to happen with underground genres in mainstream culture. Then again, mainstream culture is trend-based. It's just exciting!
Are there any fellow artists you're excited about?
Mr. Eazi, Odunsi, Bella Alubo, and Nova. 
Most of the current big Nigerian artists are known for Afrobeats – what drew you to dance music?
Riton encouraged me to do the monotone rap I was doing over dance music and that's all it was really. I've grown to appreciate the genre.
You achieved a career milestone when your track with Riton, 'Rinse and Repeat', was nominated for a Grammy. How did it feel?
It was unreal! Still feels a bit unreal, honestly.
Next step is the upcoming album. What can we expect from 'Foreign Ororo'?
Lot's of fun and club vibes!
What's the meaning behind the album name?
Ororo means cooking oil in my language. There's a video out there that implies that to cook a washed-up whale, you can't use regular ororo, you have to use foreign ororo because it came from overseas. 
Do you have a favourite album track so far?
I love the ones that are a bit more emotional because I'm a sap most times contrary to popular belief.
What do you want your fans to feel after listening to the album?
I want them to feel gingered.
What's up next for you?
Solo projects that are yet to be determined.
Kah-Lo & Riton's latest track 'Ginger' is out now.
photography. Daviston Jeffers
talent. Kah-Lo
words. Shama Nasinde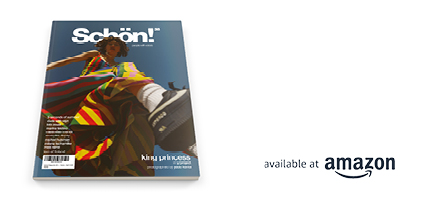 Discover the latest issue of Schön!. 
Now available in print, as an ebook, online and on any mobile device.