He's graced campaigns the world over, had his face on countless covers, has had the globe swooning at his feet, among many other successful projects. And that all at only 25. Schön! sits with model Juan Betancourt whilst he's on his way to international superstardom, for a quick shoot-off of questions and answers. Hear it straight from the man himself.
Which was your first show and were you nervous?
My first show was in Paris actually, I was so excited but at the same time really nervous. It was for Jean Paul Gaultier and they made me walk with shoes with 8cm heels [laughs]. I practiced a lot and in the end everything was perfect!
You live in Barcelona, but you're from La Havana. What do you miss the most about home?
My friends; I'll never make the same friendship as the ones I made when I was a child in my little Havana!
How was working with Tom Ford?
Amazing, unbelievable, unique, perfect! 
Which are your favourite brands?
Tom Ford, Armani, Dior.
Do you have any pre-runway rituals?
Not really, just chilling with the crew.
What do you enjoying doing when you're not travelling around the world for modelling jobs?
Relaxing in Miami with my family and friends, enjoying the good weather and do lots of sport.
What's your regular grooming regime?
I use a fresh cream in the morning and wash my face before going to bed.
Are there any designers you would like to work with but haven't yet?
Dsquared2.
If you didn't have your modelling career what would you be doing now?
I'd be working as a personal trainer.
What do you like the most about your job?
Meeting lots of people, seeing new places and trying a lot of different food.
Who are your male style icons?
David Beckham.
Which is the male fashion trend you dislike the most?
It is still going to be a secret! 
How was your tennis match with Rafael Nadal for Tommy Hilfiger?
It was super funny! Playing tennis is one of my favorite things in the world so I enjoyed it like a child. Rafa is an amazing person too, even better than a player.
How was receiving the Prix de la Mode by Pantene with Marie Claire Mexico?
A dream come true, I always wished to go to Mexico. I have a lot of friends there and it is a beautiful country. Receiving an award is always amazing, it pushes you to keep working hard into your passion.
How does it feel to see yourself in huge campaigns when you're walking down the street for example? Are you used to it or is it a bit curious?
Itt still is a bit curious but i like it. I like it when my friends send me pictures of myself on the street, it's funny and my mom and grandma always get pretty excited!! [laughs]
Any exciting projects coming up?
A lot actually but I can't say anything yet ?
Words / Claudia Manca
Follow her here.
This Schön! online exclusive has been produced by
Photography / Franck Glenisson
Styling / Laetitia Plantier
Model / Juan Betancourt
Make Up / Franck Glenisson for Make Up For Ever Paris
Hair / Cyril Nanino for Sebastian professional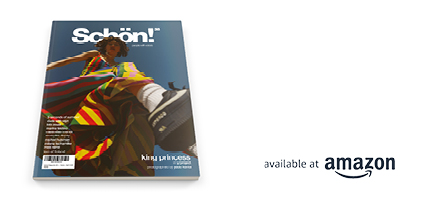 Discover the latest issue of Schön!. 
Now available in print, as an ebook, online and on any mobile device.