Joy M'Batha is a firecracker ready to take the music scene by storm. Her image is self-assured and unapologetic, whilst her sound is a free-spirited take on electro hip-hop. At the tender age of 22, the bold starlet has blazed a promising trail for herself back in Sweden, earning a string of nominations at Sweden's most coveted award ceremonies and participating in a popular talent show. Much like the way M'Batha portrays herself through her music, she is fun, open and honest with Schön!, revealing her therapeutic stint in Thailand recording new music, how she flourished from a troubled past, and exactly what fans can look forward to next.
Who did you listen to growing up? Which artists take you back to childhood?
I loved Eminem and the Slim Shady LP growing up. I don't think I understood the lyrics but I really liked the flow and probably enjoyed listening to him because I wasn't supposed to, "I just don't give a fuck."
Did you come from a family of creatives?
My grandpa Azaria M'Batha is an author and painter from South Africa. Being creative is so important to me. Sweden is so grey and 'lagom' (not too much and not too little.) I want everybody to know that anything is possible if you do what you want and not what anybody else wants for you.
Do you think your upbringing shaped you into the artist you are now?
In every way possible. I grew up with a big family and having everything. As a teen, I lost it all. My mum being bipolar [and] getting into alcohol addiction. My stepdad – since I was three years old – taking his 'real' blood-related daughters leaving me and my younger sister on the streets. Then to my mum taking her life four years ago. I don't wish my worst enemy what I've gone through but it made me the strong and hardworking woman I am today. For that, I'm very thankful.
Have you faced any challenges being a woman in a male-centric genre? Or have you felt largely embraced?
I've felt very embraced actually. Being a young, loud, black girl in the business is in fashion right now. Feminism is bigger than ever so it comes very easily. The hard part is staying interesting.
What would you say the Swedish hip hop scene has that its UK and US counterparts don't?
I actually prefer the UK grime scene. Its flows [are] much more fun. The Swedish hip hop scene stays more grounded. Maybe that's a good thing? I like crazy and over-the-top [but] Swedes are often too scared to go there because of 'jantelagen'. It's a rule that says "don't think that you're somebody." I know I am so that doesn't apply to me. Production and music wise I think Sweden is on top though. Taking over the whole world and shit.
Do you have any plans to venture into the English music market?
Of course. I actually started out in English but switched it up after realising the folks here wanted to hear me in Swedish. Now they know I can slay the language, maybe it's time to go back?
And your new EP, how has the recording for that been?
Fun but weird. Recorded a couple of the songs in paradise, Phuket in Thailand, but I was so depressed at the time. Turned out really powerful. It's easier for me to write when I'm sad for some reason. In the beginning when I started making music I just took my diary and gave it beats.
What sound can fans expect?
I'm singing a lot more. I don't wanna corner myself into a genre. I don't even like to be called a rapper or a hip-hop artist. Making music is my therapy and I don't want my fans, or admirers as I call 'em, to be disappointed that I'm not doing what they expected. I'm doing this for me and one day I wanna do this, the next day I'm singing opera, or you'll see me in the movies. I wanna create all kinds of stuff. You don't know what you like until you try it.
Are there any artists who are inspiring you at the moment?
Brooke Candy. Fucking love her aesthetics. Big up.
What about your dream collaborations?
Too many to count but I really hope I cross roads with these amazing people one day: Romare, RAY BLK, Goldlink, Bon Iver, James Blake and Erykah Badu. Total slayage.
You've got a reputation as a vibrant performer. What do you love most about performing live?
Feeling free. On stage, no one can get to me. This is my time and I can do whatever I want with it – and people are listening. Crazy.
There's no one on the music scene who looks like you. Do you have any style inspirations?
Not at all. I don't follow trends and I don't care too much about fashion. I love clothes and fun styles though. Secondhand [clothing] and everyday people inspire me the most. Especially the people at Walmart. People who don't care and wear what makes them happy.
What's the most valuable lesson you've taken from your career so far?
Don't forget where you come from!
Lastly, what's next for you?
I just featured in my first big TV show and will appear in one more this fall on national television. With them, I'm releasing two songs and after that my third EP. Life is really good right now and I'm just enjoying the wave.
 Joy M'Batha's new single 'KRLKN' comes out tomorrow, October 27th. Keep up-to-date with  here.
This Schön! online exclusive was produced by
Photography / Albin Rydholm
Fashion / Amanda Balire
Talent / Joy M'Batha
Hair / Moona Narancic
Make Up / Jessah Amarante using Artis Brush, Akar Skin, and Kevyn Aucoin
Photography Assistant / Billie Perfors
Words / Shama Nasinde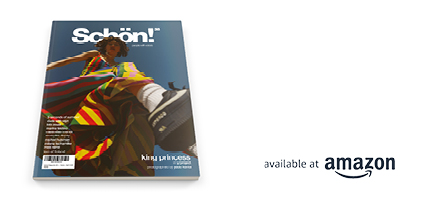 Discover the latest issue of Schön!. 
Now available in print, as an ebook, online and on any mobile device.