When most people think "pop star" they assume image takes first priority— however, no one can deny Jason Derulo is a triple threat. In addition to his chiselled physique, and 70 Million plus records sold worldwide to this day, Derulo is a contender for one of the most sought after talents in the singing-songwriting industry. Not to mention the fact that the man can literally sing opera on command. Derulo's talents were realised when he first saw Michael Jackson performing on TV at four years old. "I saw him perform for the first time and I was hooked. I wanted to see all of the videos, mimic dance moves— and it became an obsession."
Singing, dancing, and performing since the age of 4, Jason Derulo is more than just one of pop's current number one hit makers. Building on a solid foundation in classical and musical theatre training, at the mere age of 26, Derulo has had 11 platinum records that he has combined into one Platinum Hits album.
When asked if he always knew he would become famous, Derulo responds laughing— "You know what— I did. I thought I would be performing in front of major crowds way before it actually happened. I remember giving myself deadlines like, 'if I'm not famous by the time I'm 11 I'm quitting'. And then when that time came I was like, 'Alright, I'll give myself a couple more years'." And a couple of years later, Derulo was hitting clubs at 16 years old and maxing out his cousin's credits card in order to build a hype around his mixtapes when he passed them around to DJs. "I was too young to be in the club in the first place," says Derulo, with a smile, "but at the end of the day it was all about creating some kind of hype." And it worked, when he somehow managed to get Pitbull to hop onto one of the tracks. But it wasn't until his first single 'Whatcha Say' came out in 2009, when Derulo felt like he could stop adding years to his fame deadline. 'Whatcha Say' hit number one, and it was a defining moment for the then 19-year-old Derulo.
Sure enough, hit after hit later Derulo finds himself busy writing and performing 24/7— often sacrificing time with his family. When asked about his biggest fears, Derulo explains that it is missing out on special moments with loved ones. "My family is super tight — anywhere you see me, you'll see me with my family," says Derulo. The reason why Derulo is constantly trying to find a balance between work and play is because slacking just isn't in his nature. "I think the hardest thing is trying to maintain the level of work ethic. I think most people become complacent when they reach a certain point— but the work never stops. So I've always been the hardest worker in the room."
And nobody can say otherwise— far from a one hit wonder, Derulo actually began his career writing music. Actively in charge of the concepts and melodies behind his infectiously catchy hooks, Derulo explains that even though writing and performing are 'two different worlds'— he can't have one without the other. "My life has a dope balance because I'm able to go back and forth. I think my life would be a little too one-sided if I had to choose one or the other. Because there's nothing like being on tour and getting that wave of energy from the crowd— it's incredible. But at the same time there's nothing like building something from scratch. Having a blank slate— going in with an idea and then the next thing you know the whole world is singing those songs. So they are both necessary to me."
Extremely active in the lives of his fans— Derulo says he thinks that fan mail is "the greatest thing on the planet". And whereas most celebrities stay away from paying too much attention to social media— Derulo is grateful for it. "Fifteen years ago we didn't have the option of really tapping into the fans with the click of a button. I think that's so incredible so I stay on it." However, wherein go for instagram or snapchat— Derulo prefers a new app called Live.ly, which allows you to stream yourself live. "If I'm streaming for 30 minutes, more than 1.5 million people will join so that's really the new wave for me." Some stars can be inconsistent when it comes to interacting with fans, however you can tell Derulo truly lives for his supporters as his voice audibly lights up when he starts talking about his fans. However, Derulo's music isn't just for fans— it is also directed at supporting charity. Founding a charity called 'Just for You' along with his mother, Derulo hopes to continue to expand the scope of the organisation, which targets supporting hospitals for earthquake-ravaged communities in Haiti.
Philanthropy aside— Derulo's most recent music video for new single, Naked, has been the basis of some controversy. Although, Derulo squashes rumours by explaining he was paying homage to D'Angelo's Untitled video— not imitating it. As Lil Wayne says, "some call it biting, some say it's enlightening". When asked about the inspiration behind the single, Derulo responds, "The actual song is about truth in being completely naked. There's no mask: this is the truth. This is me at my rawest form." However, when confronted with the fact that he was technically only half naked in the video, Derulo blushes, explaining he was obliged to cover 'some parts'. And he isn't the only 'naked' one featured in the video— K. Michelle makes an appearance in a steamy bathtub. Alongside shady lyrics about ex-girlfriend Jordin Sparks, "Yeah I broke up with my ex, I ain't talk to her since / The only time I need the sparks is when I light up my spliffs". When asked why he chose K. Michelle as his video vixen, Derulo has only wonderful things to say about the fellow R&B singer. "She's a beautiful women inside and out, and she is somebody who is very real. She's the same on and off camera. So I thought she was the perfect all around girl for the situation." 
Watch out for Derulo's Platinum Hits album debuting today. When quizzed on why he is releasing a 'best of' type album at such a young age, he lightly reminds us that "11 platinum songs is quite enough for one platinum hits album!1 Rightly so. This compilation of his best works to date certainly doesn't signal the beginning of an era of complacency. Derulo is back in the studio working on the next song that you know you won't be able to get out of your head. Stay tuned.
Jason Derulo's Platinum Hits album is available worldwide here.
Words / V Tyurina
This Schön! online editorial was produced by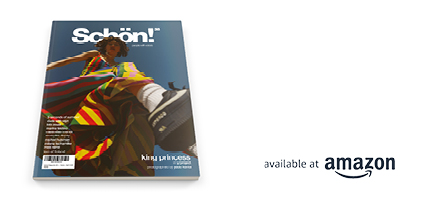 Discover the latest issue of Schön!. 
Now available in print, as an ebook, online and on any mobile device.