A charismatic writer, visual artist and genius behind the camera, Nevada-born Franz Szony is full of surprises. Having the desire to create at a young age, the artist fuses his love for poetry with his visual work, which takes his audience on a whimsical journey to say the least. After mastering his craft over the years, Szony has begun to merge his visual art into the world of music, which has led to his first music video release for his song Petunia. Schön! sits with Szony to discuss the process behind his artistry and his latest release for his music video Petunia.

How did you gain an interest in combining your visual work with music?
Music has always been something I've wanted to create, I suppose now just seemed like the right time. I've been writing poetry for at least 10 years, mainly as a way to get my thoughts onto paper, [which works as] a guide to my visual work. My poetry floats around ideas of symbolism, mythology and purposeful ambiguity. Although I've expressed these thoughts visually to the best of my ability, I've found that through [music], the same words have a completely new feeling. Truthfully, I was afraid to make music for many years until I realized that whether it's visual or musical, it's all storytelling.  
Can you give us an insight into the concept development of the video for Petunia? How did you find the right team to work with?
The video shot for Petunia was based off several of my photographic pieces, each scene representing one of my works from within the last 8 years. I had an amazing team that helped me create this, as they understood my vision and executed it as close to my storyboard as possible. Art-directing a film while being the main subject at the same time was certainly not easy, but my director and DP really understood what I wanted. Although there is symbolism throughout the video, my favourite scene appears over the lyric "to be perishable is the greatest luxury." I call it the "death-bed" scene, surrounded by giant roses and exhaling a red cloud of ectoplasm. 
Although Petunia takes inspiration from one of your photographic creations, was there a specific inspiration that helped fuel this work to happen?
As Petunia was the first song I ever wrote, most of the lyrics came from a place of silencing my insecurities and fears of starting this new "song journey" since I've never had a formal music training. The lyrics started to form a series of questions, which was ultimately used for the chorus. Believe it or not, when the petunia flower was introduced in 15th century England, it became the symbol of "demonic powers and Satanism." That said, this song is essentially about releasing my inner demons.  
Your work is very innovative and experimental. Are there any outlets you take inspiration from that you apply to your work?
Why thank you! I suppose like most artists, I'm inspired by nature, history and my own personal experiences. I'm a maximalist at heart, so I've always been heavily influenced by everything that is not current. My point of reference seems to be anywhere between Rococo and the 1960's.  
What was your favourite part about working on the video for Petunia? What has been your greatest takeaway?
 The video was shot over three days, mainly because each scene had such a large setup. Due to several weeks of planning and building prior to the filming, I was somewhat exhausted and in a mental haze by the time we started shooting. However, I will say that this was a good thing because there was so much on my mind that when the camera started rolling, I was able to zone-out and entirely live in the moment. Although I love being on the other side of the camera, it felt really nice to perform in front of it.  
Apart from your musical and visual career, do you hold other passions?
My visual and musical work both take an immense amount of time, which is good because I truly love it. Apart from these, my passions? Hmm, I suppose just the typical things like flea markets, delicious tea, moon hiking and gorgeous men. I'm a simple fellow.  
Tell us about your creative process, are there specific steps you need to follow in order to achieve a desired final result?
The creative process has been quite different between my photographic and musical work. With my visual work, I can take what's in my head and get it onto paper without much interference. With my musical work, the process relies heavily on many people understanding the vision and making an effort to get into my head. There aren't necessarily specific steps with either, I tend to work on only one project at a time since I like to be fully immersed in it until I feel like it's reached a place of completion.
If you had the opportunity to work on any project as a photographer, which would it be and why?
There are still many people I wish to shoot. In a way, the images I take are all self-portraits. The subjects I photograph, especially the celebrities I've photographed, have all represented qualities that I feel or aspire to achieve. I'd love to photograph for Galliano, the Liberace costume archives and the Paris Opera. The opulence and flamboyance that remains in the world today is sadly quite scarce, photographing it is how I experience it best. I feel like I can own it and become it, even if it's only for a moment.  
What has been the biggest challenge in your career to date?
This question is somewhat reoccurring. It's a constant challenge to create art in a world in which almost everything seems to only hold value based off its commercialism and inner-politics. I love shooting commercial work, but I will always challenge the tipping point between art and commerce.  
Is your work solely based on your personal experiences?
I'd say so. My personal experiences allow me to create in the most honest way. However, despite my work starting with my own experiences, much of it has been amplified for "dramatic purposes." As for the visual aesthetics of the art, sometimes the "idea" behind the work can be idealizing, too. Art should always be seen through the same concept as, "objects in the mirror are closer than they appear."  
If you had a piece of advice to give to aspiring artists, what would it be?
Persist.  
You've been hard at work focusing on a number of projects of your own. What is most intriguing about your career as an artist?
Gosh, I'm not sure I have enough of a birds-eye-view to answer that. Sometimes, I don't take the time to reflect upon this, I tend to be onto the next project before the current one is finished. Perhaps, it will be the ability to deliver the same feeling through visuals as I do through music… can we rain check this question for another decade? I'll have a much better answer for you then.
Should we expect to see more from you this year? Are there any projects or specific goals you have in mind?
I'm beyond grateful to all the people who have supported my visual art and who continue to support my musical work. I will be releasing a total of 8 songs over the course of the summer, which I plan to perform live, hopefully in several cities. Earlier this month, David LaChapelle asked to purchase one of my photographic works… any other "goals come true" this year will be the cherry on top.
Keep up with Franz Szony here. Listen to his latest track, 'Pansy', here.
All visuals assets courtesy of the artist.
words. Amanda Breeze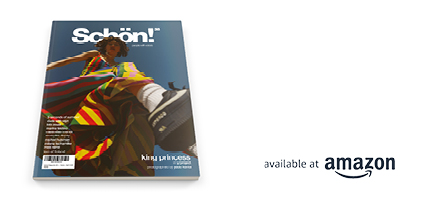 Discover the latest issue of Schön!. 
Now available in print, as an ebook, online and on any mobile device.