Canadian producer Felix Cartal, a rising star of EDM music, prefers making music to fame. Hailing from Vancouver, Cartal first became interested in the world of EDM when he listened to 'Homework' by Daft Punk. "I don't think I understood the deeper cuts on the album at the time," he admits. "I was about 13 years old. Once Radiohead made 'Kid A', the line between rock music and electronic music was totally blurred for me and I started listening to a lot of different things." He was in a band at the time called Dysfunctional but also working on electronic productions on the side. Once the band disbanded, Cartal channelled all his focus on EDM music. 

His debut album 'Popular Music' was released in 2010. Between 2010 and 2012, he toured extensively throughout North America and established himself as a DJ with performances at EDC, Ultra and Tomorrowland. He continued to release a stream of singles and EP until 2012, when his second full-length album, 'Different Faces', which featured the hit single 'Don't turn out the light', was released. This song earned him his first Juno nomination. A chance encounter resulted in him being signed to Steve Aoki's label, Dim Mak, early in his career. Aoki reached out to Cartal on MySpace, one thing lead to another and before long Felix Cartal was meeting Steve Aoki for the first time while playing at his party at Cinespace in LA., leading to Cartal eventually signing onto Dim Mak.

A few more EP's over the course of the next two years cemented Cartal's position in the EDM scene in North America and globally, as well as making him a pioneer of the 'vocal chop' sound which can be heard in his 2013 tracks 'Young Love' and 'After Dark'. A master of reinventing his sound, Cartal went through a stylistic shift in 2016, best heard on his remixes with Selena Gomez and ALMA. Both of those tracks released to wide critical acclaim, topping the Hype Machine Charts and making Cartal a household name in EDM music.
His new single, 'Get What You Give', was certified gold and has also been nominated for a Juno Award, making it his second nomination. He confirms the nomination and acclaim was somewhat unexpected. "I never thought that song would do as well as it did on radio," he says. It was very surreal seeing it on the charts beside all of the other Top 40 artists. I don't really fit into that world of being a pop star, nor do I strive for it, so it was definitely a trip!" Given the steadily growing fan base, several accolades and innumerable times his songs have been streamed, being a "famous pop star" may not be as far beyond the realms of possibility as he may hope.

Cartal attended the University of British Columbia where he read English. As part of his degree, he spent a semester at Glasgow University in Scotland, a town that is known for its music scene. However, he wasn't influenced by the music scene there. However, he did enjoy playing at the infamous nightclub The Arches a couple of times, which sadly closed its doors in 2015. For an EDM musician, Cartal's lyrics are very thought-provoking, haunting and almost melancholic. Growing up in Vancouver, it is natural that his music is partly influenced by his home city. Cartal thinks that there is an "underlying gloominess to [his music], which may be inspired by the rain, but it's also hopeful. Similar to how Vancouverites know that once we get a sunny day it's worth it". Nowhere is this more apparent than in the songs of his new album, 'Stop Being Yourself'.
But Cartal work does not seem to stop. He has recently collaborated with Kaskade on the single 'Fakin' It' and with R3hab on 'Killing Time', a collaboration he calls "a total trip" as he was fans of both of their work long before he worked with them. "A lot of the vocalists I've worked with, I just reached out via Twitter, and we get in the studio together and just chat for the first hour," he recounts. "I have a massive notes folder with one-line song ideas, usually we go through them, and try and start something from there. Then it's purely collaborative, us trying to come up with melody ideas over a simple progression. After that day I'll work on the instrumental to compliment the vocal which can take anywhere from a week to three months".

Given his very busy schedule and a new album release, he recognises the importance of finding time for himself. A self-confessed foodie, Cartal is always looking for new restaurants. "I'm an adventurous eater so I'm always looking for something new." He also likes to run in his free time which keeps him focused. But, is focus the key to making EDM music stay relevant? He feels it's more important to connect with the fans than trying to stay relevant. "I consider the people who support me a second family, I wouldn't be able to do this for a living without them," he says. "And on top of that, just try to write songs that are as honest to you as possible, people can tell if they aren't."
Felix Cartal's new album, 'Next Season', is out now. Listen to it here.
This Schön! online exclusive has been produced by
photography. Trevor Brady
fashion. Carlee Wallace
talent. Felix Cartal
hair + make up. Meredith Lacosse
fashion assistant. Roxy Jack
words. Eshika Haque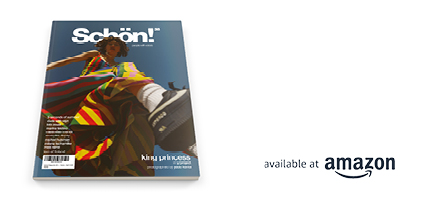 Discover the latest issue of Schön!. 
Now available in print, as an ebook, online and on any mobile device.