Venice Beach songstress Evalyn is on to something big. Just last month, she released EP Salvation, which boasts tunes that are catchy and —true to its name— also feels 'bigger than us'. With bold anthems and vulnerable lyricism about life and liberty, Evalyn taps into that millennial angst that has us equal parts hopeful and nostalgic. Nostalgia can be sad and it can be optimistic, Evalyn's record gives us both. It's a promising body of work for a young artist, complete with the retro visuals of your dreams —take a gander at her Instagram, you will not be disappointed— like the grainy video for her single Angels, which evokes an aesthetic that feels part Americana, part David Lynch. Her EP is huge in scale —lyrically, sonically, thematically— but who's the girl behind the big voice? We get to know Evalyn as she talks to Schön! about her intoxication with "the big bad city", cult imagery and what Salvation means to her.
Could you give a brief introduction for those who don't know Evalyn yet?
Oh, sure! Hi, I'm Evalyn. I live in Venice Beach, California, and I'm an indie pop artist. In the past, I did a collaboration with these rad cats Louis the Child called Fire and released a song of my own called Filthy Rich that some folks dug. I'm a fan of classic rock, road trips and the cosmos.
Great introduction! When did you find music, or has it always come naturally?
I started singing in church. Growing up a Catholic altar girl, I would get bored in mass and the only thing getting me through was rocking out to those worship songs. As I got older, I got hooked on every kind of music. I was a fiend for it and eventually picked up a guitar. It was a natural progression.
Being from Venice Beach, how has California-living influenced your sound?
California has such a special sound to me. Every place here has its own feel —from Venice to Joshua Tree to Encinitas to San Francisco. I don't know if it's the history or all the unique souls who come here in pursuit of happiness, but it's really interesting and it's there if you listen. So, in every way, California and all the little worlds and artists in it are constantly influencing my sound.
What particular experiences have shaped your music and made you into the artists you are now?
I think that listening to my parent's records growing up was more formative than I even realized. Now when I work on material, I often go back to my favourite albums from that time period and reference production or melodic elements. But really what's influenced me is just growing up, being a young person in a big city chasing crazy dreams with wild people and riding the wave.
Your single Angels released earlier this year is actually about Los Angeles and the accompanying visuals are very retro and nostalgic. What made you want to capture the city in this way?
The director, Oliver Salk, and I sat down to talk about my fascination with cults and the cult imagery of some very famous Los Angeles groups where I was drawing my inspiration from, particularly the Source Family. He had the wild idea to use 8mm film for the entire shoot and take listeners into this world of paralleling classic Los Angeles '60s-'70s culture with the way young people still seek their tribe here in the city of angels.
It's precisely the most interesting aspect of the video, the very groovy cult that comes together in it. Can you explain a bit further?
I think there's something about Los Angeles that draws unique people to it. It's always been a characteristic of this city, it attracts people to it who are seeking something different. It's a high stakes place. So in that way, a lot of people here are in this L.A. worshipping cult and playing with that idea throughout the project has been really fun. We drew from imagery from a lot of famous L.A. cults as well as the Manson and Source family.
Your music is honest, bold and sometimes cheeky — who are your musical influences?
Thank you! I'm a junkie for lyricism and have always been really inspired by female artists who can pull you into their world with their words like Patti Smith, Courtney Barnett, Florence Welch, St. Vincent and Lana del Rey. I am also a massive David Bowie fan and have a Ziggy Stardust tattoo on my right middle finger that my little brother gave me. But all in all I'm constantly inspired by new stuff, I'm a total freak for music discovery so my influences are usually anything that makes me really feel something. My latest obsessions: Big Thief and Son Little.
You recently released your song Big Bad City and it sounds like an anthem. What is the story behind it and who are "the kids in the big bad city"?
Without giving too much away, Big Bad City is about being in love, and the greed of wanting it to work out for all the wrong reasons. It's about fleeting youth and feeling alive as you're speeding on the PCH or running down Hollywood Blvd or jumping in the ocean late at night or driving to Vegas on a whim. It's being surrounded by people, but being completely alone. It's stumbling into parties, driving through the Hollywood Hills to watch the lights, dancing all night, running out of money, crying and sleeping on the floor. Because the promise of true love is elusive and addicting when you're young. But it often leaves you with a hangover and your heart in your hand. And the only thing to do is get back on the 10.
Your music captures the times and being young. Tell us about your musical process.
When I went to make Salvation, I was tired of how I'd been existing in the hustle and bustle of the L.A. industry so I wanted to do something different. I called up one of my very best friends, who happens to be an incredible producer named nicopop. and we locked ourselves in his apartment for six months and went through every moment of Salvation together. It was the greatest creative experience of my life. We both had relationships come and go in those months, life experiences, hangovers, heartbreaks and we would bring it all to the room every day. We'd fall in love with a song and go out all night to celebrate and wake up the next day and keep working on it. We'd have friends over to play guitars or sing on tracks and end up all making dinner together and talking about the future and the past. This was a moment in our lives as young artists and I think a lot of that was captured in Salvation. Our hopes, dreams, desires, fears.
Salvation released this September. What's behind the name?
I have a fixation on things we worship —cults, religions, soulcycle, gurus, relationships, you name it… And I've been guilty of putting my faith in the wrong place. Deep down, though I believe that the only person who can really save you is yourself. So that's the meaning behind Salvation. Both a warning and a message of hope. You can save yourself.
How does it feel to finally have a complete body of work release just as the world is getting to know you?
It feels kismet because this is a body of work that I think truly represents me as an artist. nicopop. and I wanted to make an EP that we wanted to binge, that our friends would want to binge. Not something that was made to perform for an algorithm, but something with some guts and even if no one else loved it, it would be our favourite record to listen to. So if you dig this record, we're in the cult of it together.
Things are really falling into place for you this year. Was there ever a "this is it" moment?
Yes, two. The first was playing SXSW this year, which was an absolute dream come true. And the second was the day nicopop. and I finished Salvation and we listened to the whole thing laying on the floor of his apartment.
What can we expect from you after Salvation? A tour? Any collaborations?
I've got a few groovy new things in the works, but I like to surround myself with a bit of mysticism so you'll have to stay tuned.
Stream Evalyn's latest project, the 'Salvation' EP, now here.
photography. Lissy Elle
talent. Evalyn
words. Sarah Osei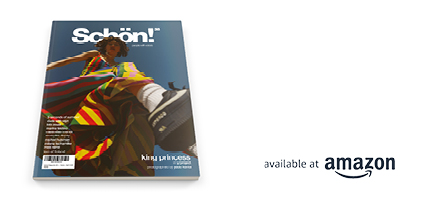 Discover the latest issue of Schön!. 
Now available in print, as an ebook, online and on any mobile device.