It has been almost seven years since E.L. James first had readers polarised in a highly erotic hype over the Fifty Shades trilogy. Now, we eagerly await the final film instalment, Fifty Shades Freed, which saunters into cinemas this week. And while many are anticipating how marriage and children will fit into the fiery passions of the lead characters, Schön! talks to Eloise Mumford about a different kind of love story.

Mumford has dedicated the last four years to playing Kate Kavanagh, the loyal best friend of the infamous Anastasia Steele (Dakota Johnson). But, prior to her breakthrough role in the sensuous series, Mumford experienced a comparatively innocent, down to earth upbringing. Homeschooled along with her two siblings, taught by her father, a marine biologist, and her mother, a teacher; Mumford well recalls some of her fondest memories from this time, which she spent surrounded by nature. "I grew up in the magical world of books and trees and microscopes and beaches filled with sea creatures to befriend and mountains constantly beckoning," she says. Her parents were cheerleaders for curiosity and creativity and instilled this spirit in her —an approach she has carried throughout her career.

Mumford openly pinpoints her upbringing and previous work as the rocket fuel to her portrayal of character Kate. "We are all sums of what we have been through, as humans, and the same is true as an actor. I carry with me every past job I've had and the lessons I've learned from those experiences to every new character and set," she recounts. Mumford pays particular homage to her work on the ABC television series The River and Rick Rosenthal's 2013 film Drones. She describes Sue Lawson, her character from Drones as "a boxer, a fierce fighter, and a joy to get to play." Seemingly, the fiery elements of her beloved Kate were already in the making and, fortunately, fans can expect to see these traits again in this concluding Fifty Shades chapter.
Although the third instalment has its share of life-altering moments, the core of Kate's character remains unscathed. "Kate never loses her strong moral compass, her toughness, and her fierce loyalty to her friendship with Ana," Mumford affirms, divulging that it is Kate's strong, unwavering loyalty towards Ana which resonates most with women around the world. It precisely this quality which she profoundly connects to in real life. "My female friendships have been the most important relationships of my life outside my family," she recalls. When she reflects on these friendships with such a genuine fondness, one can't help but see how she has magically woven this element into her acting role.

This underlying feeling of female empowerment was echoed on set as Donna Langley, Chairman of Universal Pictures, constructed a team of powerful women, including the director of the first film in the trilogy Sam Taylor-Johnson. This was a point which Mumford was also eager to touch upon. "It's a powerful thing to be a part of a project that is filled with so many strong women," she says. "I hope that soon this will be a baseline and not an anomaly —that there will be more and more stories written by women, directed by women, and told for women." Among those she admired most on set she describes director Taylor-Johnson as one being a truly fierce artist and attributes Dakota Johnson as leading Fifty Shades with both power and grace.
As the interview turns naturally to feminism and the women in Mumford's personal life, she playfully discusses wearing her feminism loud and proud through adorning her 'Mother F**king Girl Power,' socks, a fitting present from Amber Hassa, who styled her hair for the final two instalments of Fifty Shades. However, when asked to choose one woman who inspires her everyday, the response becomes more serious as she earnestly describes her friend Ruth, a fellow NYU drama school graduate, who decided to pursue psychology. "I am so inspired by her tireless hard work, her commitment to veterans and their mental health, and on top of all that, her ability to still be a phenomenal friend," she affirms proudly. It is crystal clear that Mumford a as great appreciation for anyone genuinely attempting to make some difference to the world.
When she analyses how this moulds into the job description of an actor, she openly admits that "even though I wanted to be an actor very very badly, I couldn't square my desire to help the world with this profession." Despite this initial offset, with time she has truly forged her own way to show compassion. "It begins with bringing humanity to the roles I choose…I try to choose roles where I can elevate the women who we are surrounded by…women who are smart, strong, vulnerable, kind, tough, REAL —and put them on-screen so we can see their stories told," she concedes. It doesn't end with women, though. Mumford awarely and acutely utilises her social media as a platform for promoting the likes of Habitat for Humanity, WWF, and various different relief efforts for victims of natural disasters. 
Reflecting back on how the past four years has altered her life, Mumford expresses nothing but sheer gratitude. "I can't believe it's been four years since I was first cast. I remember the moment I found out so precisely. I've moved across the country twice since then. I've fallen in and out and in love again. I started writing. I've acquired a lot more houseplants," she recounts. "I have grown in countless ways —and all the while with Fifty Shades as a backdrop. It's rare to have a job that feels like it lasts this long and I feel really lucky for that. I've become incredibly good friends with people from the cast and crew and I am so grateful to have had this family which continues on even now." Looking back upon her work in the previous two instalments, it is clear that she has portrayed the character of Kate Kavanagh as a loyal, enduring friend —adding another kind of love story to the Fifty Shades Trilogy. She humbly deduces that this was her goal all along: "to create an ode to dear friendships, a love letter to the power of women who have seen you through thick and thin."
Fifty Shades Freed opens in US and UK cinemas on February, 9th.
This Schön! online exclusive was produced by
Photography / Catie Laffoon
Hair & Make Up / Travisean Haynes
Words / Alana Flood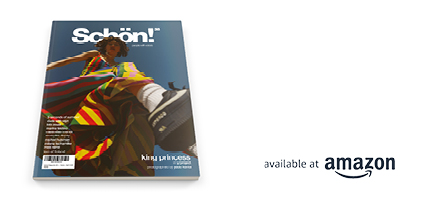 Discover the latest issue of Schön!. 
Now available in print, as an ebook, online and on any mobile device.