Diggy Simmons is the perfect embodiment of the so-called "multi-hyphenate" gen. At only 23, his acting career has taken off astoundingly with his appearance in Grown·ish; he has successfully ventured into fashion with the launch of his own clothing line, Chivalrous Culture; and wonderfully mastered his first love: music. With unparalleled finesse and a contemporary dapper style, Simmons' impeccable style is a reflection of his inner maturity since we first got to know him in MTV's reality show Run's House 13 years ago. We catch up with Simmons to talk about growing in the spotlight, getting into acting and his new single, 'It Is What It Is'.
Growing up surrounded by musicians, it did not take long for Simmons to realize music was something he wanted to pursue himself. "At 13, I was just writing and using it as a therapeutic outlet. I didn't have intentions of releasing anything," he confesses. "That escalated into me wanting to hear [my] sound and recording what I had written. I eventually showed some friends, they really loved it, and pushed for me to put it online. And now we're here."
Naturally, people often refer back to Diggy's family, namely his dad, RUN DMC front man Joseph "Rev. Run" Simmons, when discussing Simmons own success. But he was adamant from the beginning to never let his way be fed off anyone else's success. "I feel like I really lucked up when it came down to people respecting me as an individual and a creative," Simmons reveals. "Where I come from it is a part of my story naturally, but I'm thankful that it hasn't made people have a closed mind the art." Seeing him grow up in the spotlight in MTV's Run's House has, despite what most might think, proven to be a wholesome positive experience for Simmons. "It was a blessing for sure," he roundly affirms. "Aside from it being a family show, it showcased so much of what I was about as an individual. People saw my love for clothing, music, and the start of my fashion blog that I posted on for fun but ended up launching a whole career for me."
Now, this career has taken him to his newly released single, 'It Is What It Is', off his forthcoming full album. "It feels like it's the best mission statement I can give, for this album and what my life has been in my absence from music," Simmons explains of the track. "I've had a hard time putting forth my best effort and then being able to let go. Everything I would do not being good enough, overthinking it, and having too much invested in what the consensus would be once I execute it. I did that to the point of mental exhaustion, not creating, and removing myself from being in the spotlight at all. This song is me taking the mental shackles off and saying I accept who I am and everything I have to offer. I'm only in control of what I can control. It is what is."
And it is a lot: refined, real and replete with rhythmic cadence. Such is Simmons commitment to his new music that he traded coasts for four months, spending the entirety of these in a Los Angeles studio working on his music. "When I first got back into the studio, we already had production set aside from one of my favourite producers D'Mile, who executive produced my first album," Simmons recalls. "He ended up shaping the sound of this album as well. From that point of having the production, the message was the only thing I was focused on. I had to get off the most important things I've felt and experienced over this six-year span. Touching on where I've been mentally, life lessons, people I've experienced life with, my views on what I encounter, and everything in between."
After this period of hard work and self-introspection, Simmons is back in his hometown of New York for the summer — although with a pinch of California nostalgia. "I enjoyed LA to the point that I didn't want to leave, and now I'm working on being bicoastal," he reveals. "But now that I'm back in New York, I'm enjoying myself like I never have before. Getting to execute my ideas made home have a new energy. My plans aside from prepping for the album release are just chilling with friends, skating and biking around the city. Enjoying the weather."
"Most of my favourite rappers are from my city so my approach, my flows, beat selection, etc. will always be inspired by New York," Simmons asserts when asked about the Big Apple's influence in his sound. A sound that has long evolved since his debut album, 'Unexpected Arrival', was released in 2012 and that will see a greater shift with his forthcoming full-length album dropping this fall. "The album has many layers to it," Simmons teases. "I'm boastful and cocky on one track and can question myself and be unsure myself on the next — which is my truth, and the truth for many people I feel like. Life isn't all one mood all the time. That's something I feel like many want to uphold in the age of social media, but everyone's feeling everything." 
Such earnest honesty is highly appreciated, refreshing and almost unheard of in the industry, especially coming from an artist in their early 20s. Simmons maturity is crystal clear and it has taken more than a year since his latest release in any form: be it music or video. "I feel like with new lessons learned and new experiences, that gives me more to talk about, which gives more room for the music to evolve," he confesses. "With getting better at writing, it's like anything else. You figure out what feels the best and what works the best as you perfect your craft." 
Not that Simmons' quality was ever in a bad state, boasting collabs with the industry's most successful and renown artists such as Pharrell, Lupe Fiasco, Ty Dolla $ign, Yo Gotti, and Bruno Mars. When asked who his current dream collaborator would be, Simmons surprises us again. "Aside from some of my favourite rappers Kanye, AZ, Nas, etc. I thought about the other day it would be dope to do a song with Harry Styles," he says. "I enjoy what he's doing. I haven't done a song with a rock/pop artist. Not sure if he's done one with a hip-hop artist…"
That would be something we'd certainly like coming to fruition but whilst we wait for it to happen, we have Simmons' various other talents to rejoice in. From fashion to acting, Simmons' career has taken off in the last couple of years, appearing alongside Yara Shahidi in Freeform's sitcom and spin-off to highly acclaimed Black·ish, Grown·ish. "[My interest in acting] started off some years with a film I was approached to do with Kenya Baris called The Start Up," Simmons recalls. "It was loosely based on me, so getting into character wasn't as much of a challenge as roles I've taken on more recently. From that point, I've really enjoyed getting better with acting coaches and studying different films. Filming Grown·ish was an incredible experience."
"There's so much young talent in the cast, and the messages in the episodes are creating [an] important dialogue that should be had," he continues. "I'm very proud to be a part of it. When I have an audition to prepare for, or if I'm filming something, it gets my all. I'm not doing much else on the side. The project ends up meaning a lot to me even before I book a role. I have a short film that I began to shoot as soon as I landed back home from LA. I can't say much about it, but the cast is insane, and I feel like it's going to mean a lot to people. As vague as it may sound, I'm really excited to just have more fun." It certainly looks like Simmons' has a lot cooking up, and we'll be patiently waiting for our rations.
This Schön! online exclusive has been produced by
photography. Paolo Testa
fashion. Anthony Pedraza
talent. Diggy Simmons
grooming. Shannon Rodriguez @ Kreative Kommune using Embryolisee
words. Sara Delgado
fashion assistant. Alexander Pabon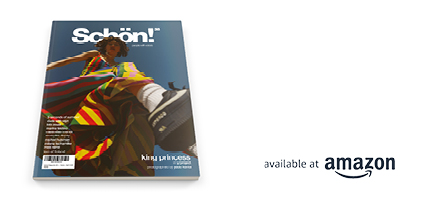 Discover the latest issue of Schön!. 
Now available in print, as an ebook, online and on any mobile device.