Translate the David Hockney-esque cover images of Cosmo's Midnight's latest album, 'What Comes Next', into sound and what you get is a highly danceable funky fusion of upbeat electro music drawing on elements of pop and R&B. Since winning the Future Classic remix contest for 'Flume – Sleepless,' the Sydney-based musical duo, made up of twins Cosmo and Patrick, have set out to collaborate with an eclectic range of artists, including award-winning experimental vocalists Kučka and Flume. As well as boasting of an impressive online presence – their stand-out single 'Walk with Me' featuring the supple vocals of Kučka has currently reached nearly two million views on Soundcloud – and receiving accolades from Pharrell Williams himself, the twins also started boosting their international presence thanks to their first truly international tour in 2017. "[We] can't say we ever expected it to come this far but we're definitely over the moon," they admit. When asked if they would change anything in their young music career in a second life, they admit they "don't think we would really do things differently, we just started making music out of high school and it sort of just ended up here. It felt really natural and [we] wouldn't want it any other way." Nor should they. With hotly anticipated performances across Australia as well as performances across Europe and Asia awaiting this year, their prospects look brighter than ever.
While the twins started making their own tracks in their teens, music already accompanied them from the cradle, at least subliminally. Growing up listening to the tunes their parents would play – namely funk, jazz, psychedelia and disco – has left an indelible mark on them, however inadvertently they may have woven these influences into their music. "Often these inspirations are subconscious," they admit. "But sometimes we look back intentionally and filter it through our lens as musicians."
Looking back to musical forerunners is something they haven't done only stylistically but thematically, too. As the artists are keen to emphasize that "a lot of our music is looking back with nostalgia for the past" – so much so that it's turned into some kind of recurring theme. Take the lyrics of 'Walk With Me,' for example. "You told me that you're waiting outside / Don't think you're around for goodbye / It felt like I went back in time," they read.
If nostalgia was one of their keys to success, then it's one which attests to their unyielding and self-confessed dedication to steer away from – or at least not follow – "current trends" and "just stick to what you enjoy and do best" instead. And while they hadn't laid their eyes on carving out a niche style in today's ever more competitive electro music industry when they first started off with their music; their style has, serendipitously or not, become an idiosyncratic one, nurtured off the beaten track.
Their fearlessness to go their own way is also mirrored in their unusual and persistent support for album making. Even though they confess that "[a] lot of people don't want to go near albums because it's generally safer and more reliable, from a career perspective [to produce single after single]", the duo artists would "find it really hard to not burn out creatively [by] sticking to a format that limiting." It's the creative potential inherent in album making that draws and excites them. "With an album you can explore so many sides to artistic and personal expression (mood pieces, soundscapes, instrumentals, interludes)," they stress, adding that "the ups and downs, the narrative and flow of an album [are] irreplaceable." According to their reckoning, "there will always be a time and a place for albums as long as music exists." With their freshly released debut album, 'What is Next', under their belt and a sold-out national tour booked to vent their new release live, they are definitely working hard to prove this statement true.
The joy behind making the album also comes from the myriads of opportunities for collaborations with an array of international artists, including London-born reggae and hip-hop artist Jay Prince, American rapper Buddy, Swedish singer and songwriter Tove Styrke and Melbourne-based vocalist Woodes. Collaboration stands at the heart of Cosmo's Midnight's creative process. It always starts outside the studio and sometimes ends outside the studio, if all parties involved fail to get on the same wavelength. "To write music with others, we have to connect on a basic level before we can get anywhere near the studio," they elaborate. "Sometimes it just doesn't click and we don't want to force it so we'll just call it a day." Or one of the twins will just step in as a vocalist, as Pat has done in one of 'What Comes Next''s tracks, 'Polarised'.
What comes next for Cosmo's Midnight is still a question mark but the artists reveal they're keen on doing a remix, which they haven't done in a while. Before that, though, they'll get to work on a more imminent project which they dub their "new frontier" – their upcoming international tour.
Cosmo's Midnight's album,'Walk with Me', is out now. Listen to it here. The guys will be touring the UK and Europe this September. Get tickets here.
photography. Jordan Kirk
talent. Cosmo's Midnight
words. Jenny Elisabeth Bär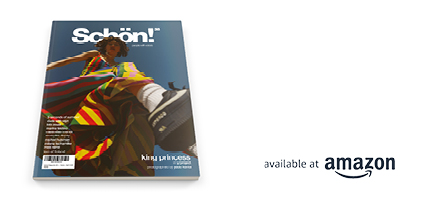 Discover the latest issue of Schön!. 
Now available in print, as an ebook, online and on any mobile device.