When Aussies make it global, they make it big. With his effortlessly shaggy blonde hair, laid-back demeanour, and an album on the horizon, Conrad Sewell is on course to follow Aussie pop predecessors Sia and Kylie with his with his new pop-soul single Remind Me. On home ground, Conrad Sewell knocked Taylor Swift off the number one spot with his single Start Again (winning Song of the Year at last year's ARIAs). On the other side of the globe, his melodic vocals topped UK charts on Kygo's Firestone, whilst his recent Avicii collaboration is set to blast at some of 2016's biggest events – the Rio Olympic Games and UEFA Euro 2016 – as Coca-Cola's campaign anthem.  In the meantime, Schön! chats to the promising singer-songwriter you ought to know.
You were born here and moved to Australia. How do you think Australia has shaped your sound?
I was back and forth most of my childhood. When the Spice Girls came out here they were still non-existent in Australia. I remember taking the first single back to Australia and playing it when I was eight. I fell in love with British artists like Craig David and Lemar, which I don't think I would've in Australia. When the [charts] started playing more rock music, I found the Arctic Monkeys and delved into the British rock scene. 
When did you start writing songs? Can you remember your very first?
I was about eight, it was called Girl. It was pretty terrible but was about falling in love with a girl on every different continent. I was just picturing the film clip of me running across the top of the globe or something. I had the highest voice in the world.
Your sister Grace is also a singer; her single, You Don't Own Me, reached top five in both Australia and the UK. Is music something that runs in your family?
Our grandparents were singers so there's something genetic there. There's a bit of an age difference between us so she was a baby and I remember singing to her. That was the only way to stop her from crying. As soon as she could talk, she started singing. I guess she grew up with me always in studios and trying to make it in the music industry so doors have opened earlier on for her. She's super talented. It's crazy that we both ended up in the same industry. 
You were discovered by music mogul Lyor Cohen, mentor to Jay-Z and responsible for signing Kanye West. How did your relationship come about?
I'm a big Jay-Z and Kanye West fan. I heard he was starting a label, he heard a couple of songs, called and said to come to New York. He said he heard a quality in my voice and wanted to sign me. He's very charming and hard to say no to. He's very hands on and an amazing person to team up with.
Last year saw you win your first ARIA for Song of the Year – what are your thoughts on your career's progression in a notoriously difficult industry?
I feel good. It's important that you appreciate those milestones. Those points in your career when you're like wow, that happened. I couldn't have dreamed about winning an ARIA, and now I've got that, I want a Grammy. There's something about the music industry. You constantly feel like you want more — unfulfilled in a way. I'd like to think I'll be fulfilled one day, but at the moment there's so much you can achieve. 
Your newest single, Remind Me, has a real gospel influence. Growing up, who were your musical influences?  
I listened to a lot of soul music from Sam Cooke, to Michael Jackson, Stevie Wonder, a lot of Motown and Queen. Just big voices. I love Simply Red, my mum listened to a lot of him. For Remind Me in particular, I just love gospel chords. I sit at a piano and those chords are the first ones that resonate with me. And I love anything that has a big choir.
Onto your style. Do you have any influences or a particular aesthetic you go for?
I love Brandon Flowers, Kurt Cobain, Marlon Brando, James Dean — anyone who's classic. I stick to skinny jeans, a great pair of boots, Saint Laurent because it's very Rock & Roll-esque. 
You're most well known in the UK for your track, Firestone, with Kygo. Is there a story behind the song? 
I wrote about falling in love in a festival. You meet a girl and you feel like you're running around this adult playground having the time of your life. I actually got the title from a tyre store in America called Firestone. I thought it was a big dance title. You see songs in everything sometimes – you can see a sign for a tyre company and that ends up becoming a good love song. 
On the topic of collaboration, you worked with Avicii on Coca-cola's 2016 campaign anthem. What was with working one of music's biggest DJs like?
It was really cool. He's a really nice guy, really normal, down-to-earth. I kind of wasn't expecting that. I just thought the biggest DJ in the world is gonna be a wanker but he's actually such a nice guy. It felt very natural working with him, like I'd know him for a long time. He's super talented.
Your album is in the works and there are a lot of exciting features – Clean Bandit, Naughty Boy, Birdy – how has the creative process been?
Songwriting is all about chemistry in the room, I've written with guys who have written number ones for big names in the industry and you wont get anything. Or you'll work with someone who's never had a hit before in their life and you write an incredible song together. I wanted to get a few producers on it from England to have that British vibe. It's almost done, it'll be out hopefully before the summer.
Who has been your favourite to work with so far?
I actually worked yesterday with this guy Levi. He did the Pillow Talk record with Zayn. He was a young kid but super talented. He was really fresh and unaware of his ability to make crazy music, so that was cool. 
How do you want people to feel after having heard your album? What can we expect?
It's very soul-pop. I wanted to make a record that had a bit of everything on it from ballads to more up-tempo. I have a lot of Michael Jackson influences. When I think of an unbelievable album I always go to Off the Wall. The way Off the Wall flowed, it had dance songs but it also had She's Out of My Life and big ballads. In no way would I ever try and recreate an Off the Wall – that's impossible – but I wanted it to have a little bit of everything because I do love a little bit of everything.  I'm really proud of it. It's one for the ages. 
Remind Me is out now. Discover it here.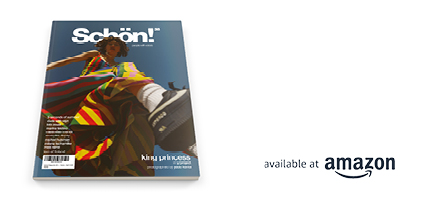 Discover the latest issue of Schön!. 
Now available in print, as an ebook, online and on any mobile device.