Hailing from California, Chadwick seamlessly fuses pop indie influences with downtempo R&B beats in his music, all with a generous splash of his unapologetic stance and electronic production. A singer, songwriter and producer, Chadwick makes his return to the music scene with the release of his latest single, Pacific. A member of the self-production team, his sound is often described as smooth electro-R&B, a term that Chadwick admits is "interesting" whilst nonchalantly breaking any genre boundaries that the label may incur. "I just think of [my sound] as sick beats with complex guitar arrangements over top with a good vocal top line," he explains. "I don't have any limitations when it comes to genre. I like every song to have its own vibe. I just want my own lane and to pioneer some vibes that haven't really been felt before."
A rare find these days, Chadwick is adamant to not only sing but also write and produce all his own music. "If I don't get to focus on the details, then I usually won't want to release it," he admits. "It's pretty essential for me to be able to dive into a production and know exactly what is going on and why. I'm super peculiar about all that." This drive can be seen marvellously in his latest track, Pacific — his first independently released single. The track is an unconventionally personal recount of Chadwick's relationship with the American East Coast. "I wanted a bop that smacks really hard but that at the same time resonates with my heart," the artist proclaims of the song.
Produced in tandem with 20-year-old Tank God — whom you may recognize from hits like Post Malone's rockstar or A$AP Rocky's Black Tux, White Collar —, Pacific is harmonious, smooth and ultimately, badass. "[Working with Tank God] was dope," Chadwick reveals. "He's got a great ear. It was validating hearing how much he dug the track. I think he shows a lot of long-term promise as a young producer. He definitely hit the lotto producing rockstar [and] I feel blessed to have collated with him."
Pacific is the first track off Chadwick's forthcoming five-track project, Seed, which will come out next year. "I'm still on the fence about doing an EP or an album," the artist admits. "[I'm] kinda starting to [think] I should just do the album. I have the songs and resources for it, so I could. Every song is a surprise and [there are] lots of collabs with programmers and producers that I think are dope." With the first already getting traction, it's only natural to wonder when the second will drop, and whether we'd have to wait until 2019 for it. But Chadwick reassures us this is not the case. "I'm going to be releasing new songs soon and I'm never [going to] stop," he teases gaily. As for accompanying visuals, it looks the wait is much shorter. "I just dropped this sacred geometry animation for the official audio video for Pacific," he says. "I can't wait to start consistently dropping new visuals. I love doing that stuff." Pacific signifies something much greater in Chadwick's career. "I wanted to build from an authentic place," Chadwick recounts of his return to the indie realm. "When I talk to labels, they'll see I already have an identity. [Being independent gives you] absolute freedom to do and say whatever you want, [although with] lack of resources."
"I never really took a hiatus," he continues about his seeming return to music. "I was just behind the scenes working on my skills and dynamics as an artist. I love music and I wanted to be good at everything: rapping, writing, singing, engineering, producing, etc. I didn't want to release some dinky track that doesn't stand out, I wanted to dig deeper then any artists I know." Pacific is certainly the track to send this message and take him from the West Coast to the world. "I want to travel everywhere," he says. "But I'll always live in the West Coast; whether in CA, Washington, or maybe even Hawaii." In the near future, Chadwick will be hitting the global stages from his L.A. home base with this project. "[I'm] booking [a] tour now in America and International. [I'm] so hyped." It surely looks like Chadwick is back in full force, with the ultimate desire "to witness my dreams become a reality and influence culture."
'Pacific' is out now. Listen to it here. Keep up with Chadwick's future releases here.
words. Sara Delgado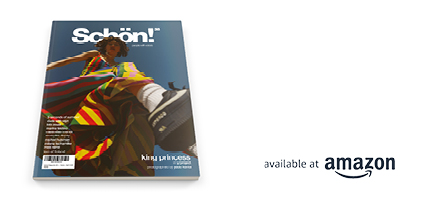 Discover the latest issue of Schön!. 
Now available in print, as an ebook, online and on any mobile device.