In a strange twist of fate, two of the world's greatest musicians once lived and created musical magic in the same building, separated by a wall and 200-odd years. Starting in 1723, composer George Frideric Handel lived at twenty five Brooks Street for 36 years. Over 200 years later in 1968 rockstar Jimi Hendrix took up residence next door at twenty three Brooks Street where he claimed to have seen Handel's apparition once. Now, both homes have been restored and opened to the public as the permanent exhibit Handel & Hendrix in London. 
In Hendrix's recreated bedroom there's the gentle intermittent strumming of a guitar, the phone rings, the furnace burns. A silk robe hangs near the door and an ashtray sits atop a wooden TV box set, Jimi and girlfriend Kathy Etchingham could saunter in at any moment. The realistic setup transports attendees to the '60s, it looks nearly unchanged compared to the now iconic images of the space shot by Barrie Wentzell for the Melody Maker in 1968. Schön! catches up with the man behind the images to discuss Jimi and one of the most magical times in music's history. 
You photographed Jimi on several occasions, can you tell me what he was like?
I heard Jimi Hendrix for the first time when I was in the dark room printing some pictures and I went "oh that's who everybody's talking about, oh he's going to be incredibly famous and great", because it was so new. You'd never heard that sound before Jimi played. I said to him at the flat, I said I was watching you the other week and you were playing this amazing stuff but it seemed that the guitar was playing you or you were playing the guitar and Jimi said "sometimes you get into a zone where you just open yourself up and I didn't know whether the guitar was playing me or I was playing the guitar". But it just happens that creative source where everything comes from in the creative world and you just tap into that and its like whoa it is playing you. You know this music comes from who knows where.
He was quite an amazing person, the best guitar player on the planet, I think and he was a really charming easy-going chap, didn't have a big ego. He was quite humble and self effacing, he didn't like talking about himself, he thought Eric Clapton, Pete Townsend and everybody else who played the guitar was better than him.
Some of your Melody Maker shots were used as as a reference point for the restoration, do you remember that particular shoot?
I think it was probably the end of February in 1968 with Chris Welch and I from Melody Maker went along to do an interview with Jimi in his apartment. Both of us can't really remember going there but I do have the pictures so I guess I was there.
I mean 47 years it's hard to remember what you were doing back then. But I remember Jimi just saying that Handel lived next door at one time and he thought he heard these great vibrations of music coming through from Handel's old flat next door and he thought "Oh, I must go out and buy some Handel music". So he went out and got Handel's I think it was Water Music and apparently that record was played to death.
Was it strange seeing the flat that way 47 years on? How close is the restoration to what you remember the flat being like? 
The Handel house people needed some reference to set dress the old flat and I guess I had a lot of pictures of the old TV set and how it actually looked and they've set-dressed it very much as it was. It brought back a lot of memories. I know it's 47 years later, but the spirit is still there and the ghosts of Jimi and Handel were around. It was a very strange experience going back to see that.
People often reference that period of time as one of the greatest times in music and you got to see that first hand…
It was a magical time; hard to describe unless you were there but it was a lot of fun and reasonably cheap you didn't need much money then. I don't think Jimi had much money then, the managers and the record companies took all of that.
I lived in Soho myself and he would walk around Soho and run in Jimmy Page and Eric Clapton and Ray Davis. All the record companies and the clubs were around there. In the evenings, you might run into somebody you'd interviewed a few weeks before and they'd say they either liked the article or they didn't…
I'm eventually putting a book together of all those memories and recollections with the pictures just before I shoot off the planet, to be able to put down for people you know historical facts. Just to prove this really did happen because there are many books and articles written by people who weren't there but as I was it's like from the horse's mouth I guess, I'll just remember it quickly, put it down, because that is important information. It was a lot of fun that ten year period I was working for Melody Maker and it was seeing artists start from the beginning. I did Elton John's first publicity pictures when he went solo and Genesis and to see the bands actually becoming hugely famous later, it was nice to be a part of that star making machinery really.
Discover the Handel and Hendrix homes here.
Words / Kristie Gonzales
Follow her here.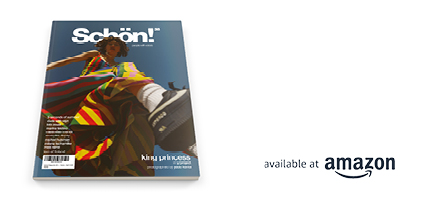 Discover the latest issue of Schön!. 
Now available in print, as an ebook, online and on any mobile device.