Known mononymously by her stage moniker Aurora, Aurora Aksne's spectral sounds have captivated fans the world over. A highly sensitive, empathetic person, Aksne's music resonates deeply with those who hear it — including celebrity fans like Katy Perry. Originally hailing from the small Norwegian city of Os, the singer/songwriter began sewing the seeds of her musical career at a prodigiously young age; picking up the piano at six and writing her first songs at nine. After uploading a song onto Norwegian Soundcloud in 2012, she quickly caught the attention of an agent and was approached to move her musical passions onto a professional platform. Since then, she's released the EP 'Running With the Wolves' and her first full-length album, 'All My Demons Greeting Me as a Friend'. Whilst Aksne's music has considerable reach globally — her debut album racked up fifty million Spotify listens — her Oasis cover of 'Half the World Away', used in a 2015 John Lewis Christmas advert, is what first drew her to the attention of British audiences.
In the intervening years, Aksne has toured the world, bringing her music to new audiences and opening herself up to new perceptions of the world. Perhaps this is what has led to the wider scope of her latest material, beginning with recent single 'Queendom' and eventually culminating in her forthcoming sophomore album, which empowers listeners to challenge the status quo. We sat down with the enigmatic musician to talk about her fanbase of 'warriors', why she loves performing for UK audiences, and her big plans for the future.
How did you first get involved in music?
I've always loved music from when I was a little child, but after a while, I realised there was no music perfect enough for my emotions, or that could say exactly the right words, in the right way. So I decided to try myself, and it made me feel divine and whole, so I never stopped! It's a tool, an escape and a way to learn about the world at the same time.
Who would you say are your biggest musical influences? Which artists are you listening to at the moment?
I'm listening to a lot to Enya. And I've always loved the anger and political views in Bob Dylan's universe. Now I'm listening to a lot to Leonard Cohen because he calms me down in a quite hectic time. 
Has your Norwegian background impacted upon the character of your music? You grew up in the small city Os; was it more difficult to become involved in music living in a city which is not as cosmopolitan as Oslo or another European capital?
It was quite easy for me to get into the music industry, so I wouldn't be the right person to ask. It kind of just happened to me! I didn't even do anything for it to happen. My manager found me through someone else, and it took a while before I even considered accepting the proposal of becoming an artist. 
Critics have praised your clear, emotive vocals. Did you receive any vocal training? How have you developed such a distinctive singing voice?
I have never trained in my life. Sometimes I think maybe I should, because if I'm doing something wrong then I would know before it's too late! I'm not even sure how to properly warm up! I warm up my body and soul before a show, but never my voice! But I do also like the natural place my voice comes from. From my belly. Like a nature call. 
You're perhaps best known to UK audiences for the cover of Oasis's 'Half the World Away' which you recorded for John Lewis's 2015 Christmas advert. Given that your version is notably different to the original, would you care to share how you approached arranging the cover? Specifically, in what ways did you put your own spin on the material and why was this important?
The purpose of the whole song was for it to bring up emotions, and I pictured the old lonely man on the moon, so it was quite clear to me that I wanted it to sound very near, and fragile since I did the cover specifically for the commercial. A song can be done in so many ways and do so many different things to a person. 
Your version of 'Half the World Away' is somewhat different from the rest of your body of work. How would you describe your sound to someone who had never heard it before?
My music comes from a different place to the covers I do. And that song was meant for a commercial, and my own work is meant for something entirely different. I would say I could fit in quite a few places. Pop, alternative, but at some times [my music can be] quite hard, and sad. Sometimes quite tribal. Storytelling but musical, and my future album is quite native; very inspired by the different cultures around the world. Back to the roots.
As a singer-songwriter, would you care to detail your creative process to our readers?
I never really know how to answer this question as a song comes to life in such different ways. Sometimes they linger in my head for a year before I even pour them out. Sometimes I write a song within the space of an hour and sometimes I see something happening and I know I have to preserve it, inside a song. But they all come from the same place. Curiosity. A way to explain the world and all the battles of emotions inside it. The dark side of humanity, and the sweet. There are so many wonderful things. 
You refer to the members of your fanbase as 'warriors'. Why is this? Would you say that you encourage your fans to be strong and empowered?
Yes! I just liked the idea of all these people calling themselves that. It's not so much that they are my "fans" but more that we are warriors together. A whole army of people who want to care about the world and everything in it. 
Your latest track 'Queendom', certainly embodies an empowered attitude. Is there any particular message you are trying to communicate to listeners, or any particular narrative you are trying to establish?
I wanted to make a new world where a few things that bother me with my current world have become the complete opposite. Women are the soldiers, the quiet ones are the choir, and the underdogs can become lions. The world is so diverse, but somehow it seems too narrow. I wanted this place, this state of mind, where we celebrate our differences. Where love is love. 
You have two upcoming UK shows in the Autumn. Have you played for UK audiences a lot before? How do they compare to audiences elsewhere?
I love the UK crowd! It's easy to see that many of them have been to shows before and it's like I'm dancing with another experienced dancer — if that makes sense? You get a lot of love. And you get silence and it's nice to see them blossom, but taking their time and how free we all are at the end of the show.
Due to your popularity on streaming platforms, particularly Spotify, your fanbase is scattered across the world. How does this impact the touring experience? What do you enjoy most about touring?
I enjoy the food. And I enjoy the different kind of smells and types of air. The people feel the same no matter where you go, but they all show their emotions in different ways, and that is so beautiful to see. 
Finally, do you have any other upcoming projects or events you would like to talk about? What are you looking forward to in the next few months?
I'm making an album. It has longer arms than my first one. I want to start a movement, to stir, because I can't do anything alone, only together with my lovely warriors. We can do so much good together and I have some big plans including the planet and how to save her before it's too late. Hopefully. Big dreams inside a tiny body. 
Aurora's new single, 'Forgotten Love', premieres today. Listen to it here.
This Schön! online exclusive has been produced by
photography. Morgan Hill-Murphy
talent. Aurora
words. Megan Wallace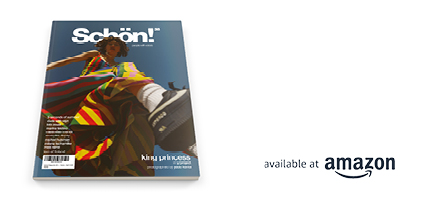 Discover the latest issue of Schön!. 
Now available in print, as an ebook, online and on any mobile device.