If you haven't heard electronic singer-songwriter Ananya Birla's name yet, it's likely you have heard her music. The stunning Indian dance music phenomenon has recently been certified platinum, with special thanks to Dutch superstar DJ Afrojack with her tune 'Livin' The Life', which was remixed with extreme success. When the singer is not running one of her two charities which employ over 600 people across several Indian states, Birla is also an Oxford University alum. As if those accomplishments weren't enough, she also holds the title of first Indian songstress with an English single to go platinum —making her an integral part of her nation's music history.
As a child growing up in Mumbai, the multi-tasker was a bookworm who enjoyed reading books and comics spanning from Wonderwoman to Homer's The Odyssey. It was around then where Birla fell in love with music —learning the Santoor [an old-school Indian instrument, resembling a guitar which is played on the lap] from a young age. "I have a lot to thank music for, it has been a constant companion through good times and bad," she confides. "People who see me perform live have this idea that I am really confident, but growing up I was quiet and introverted. I had friends, but I wasn't a 'cool kid'. [Music] allows me to communicate with lots of people in a way that feels comfortable and natural."
Before Birla's first song 'Meant to Be' went platinum at the end of last year, the Oxford economics and management graduate founded Svantantra Microfinance at the tender age of 17, a company that provides microfinance to women in rural India. Birla found the move from Mumbai, India, to Oxford, England a "shock to the system," she recounts. "I went from this full-on, vibrant and hectic place, filled with all types of sounds and smells to the quiet, cold, beautiful streets of Oxford. It took a while to adjust."
Birla incorporated her guitar and santoor skills into a musical career at uni; playing at local pubs and clubs and later working alongside producers such as Jim Beanz, famous for his collaborations with Nelly Furtado, Cheryl Cole, and Demi Lovato. "Music helped [with the drastic change] whenever I could, I got a lift or jumped on the train to London where I got really into the music scene. Before too long I was gigging in whatever bar or club would take me. I loved performing in these random places all over town," Birla explains. With the opportunity to move to England, she noticed so much around her that she may not have necessarily clocked on to immediately in Mumbai, considering the shift in culture. "If the opportunity is there, everyone should experience living in different places…we should all consider ourselves as global citizens in a global community, and experiencing new cultures is a key to that mindset."
It was while in England that she became aware of the growing amount of young students who suffered from anxiety and depression. It was then when Birla and her mother decided to set up the MpowerMinds initiative —a programme that supports people dealing with mental illness in India. "One of our main goals is to stamp out the stigma that clings to mental health the world over," she explains. "It is a cause that is really personal to both of us: I used to suffer from anxiety and my mother battled with postnatal depression. The vast majority of people [in India] don't have access to the amazing support we did, and that needs to change." Is it unusual to have a professional relationship with someone you're so close to? "We work really well together, and it's very special to be able to build something [so important] as a team."
With both charities on the rise and an upcoming album, Ananya Birla embodies both female entrepreneurship and creativity —she is ready to continue to spread the word of her humanitarian work helping women in India while rising on the charts with her upbeat dance music. "Every morning I wake up and feel like I can conquer the day because I am following my passions, working with people that I love and hopefully making a positive difference," she says. "It's more than a career, it's a calling."
Ananya's new single, Hold On, is out now. Listen to it here.
Words / Estefania Hageman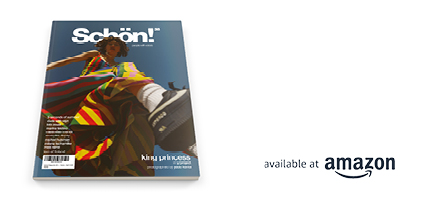 Discover the latest issue of Schön!. 
Now available in print, as an ebook, online and on any mobile device.