Very few people get to live in an actual fairy tale, but Amy Manson is definitely one of the lucky ones that visit a very special world every day. Transforming into Merida on ABC's Once Upon a Time, the fiery redhead from Pixar's Brave is the perfect firecracker character for Amy's high-spirited personality.
Based on Disney's archetypal characters from all our childhood favourite movies, Once Upon a Time is based in Storybrooke, which coexists in a universe parallel with the real world. Eventually both worlds collide, and the series unveils the relationships, love affairs, all the drama one would expect from merging characters when all story lines combine as one. We go deep into the dark with the evil queen and Rumpelstiltskin not far behind creating chaos and complication amongst its fantasy-turned-reality characters. Being a huge fan of the show before, Amy reveals that the audition was shrouded in as much mystery as the show itself, "the producers don't like telling the actresses what they are auditioning for, and so it ended up being a big surprise. I cried when I found out! The fans have been amazing, and this experience has been so life changing." 
Amy's charming Scottish accent wasn't the only thing that made her perfect for Merida. Her sparkling personality seems to emulate her character so perfectly; one can see how the two became one so easily. "She's changed me," Amy animatedly. "She's so happy and she just wants the best for everybody in life. I think that's such a huge challenge for people. It's also hard to be themselves, and to wear their heart on their sleeves. For me, it's been a blessing to play her." She believes in the importance of self-love and what Merida has taught her, "surrounding yourself with people that love and adore you, who believe in you, and are there for you when shit hits the fan are so important. You need people who you can be yourself around. Opening up, and being able to talk about things is important. Never stop talking about who you are or what you believe in. Also, looking after number one, that's the most important thing! You need to look after you, and only after you do are you able to give energy to other people." Her laughter is infectious as she excitedly speaks of the spirit she must embody on the show: "She's very open minded, courageous and brave. She's super fun to play. She's very patriotic and won't take no for an answer. She's very forthcoming about helping travellers and people from her land."
It's hard to see where Amy ends and Merida begins. The role has been a perfect marriage for the young actress, and we hope this is only the beginning of a beautiful new storyline for Storybrooke. "Not a lot of people know this yet, but Merida is going to be back for the final episode in the finale in season 5, hopefully to pave way to be a possible regular on the show in future seasons," Amy says in hushed tones. "They don't really tell us what is going to happen. The mains characters are stuck in the underworld, so I'm hoping my character comes to save the day."
Channeling a little of her favourite character, the elusive and evil Rumpelstiltskin may have rubbed off on her, as one of her new projects, Chameleon was filmed right around the same time as Once Upon a Time. Nefarious and deeply unsettling, the new thriller depicts a serial killer on the loose, with Amy as his captive. "I play the lead girl who he kidnapped for nearly two weeks. She was the only girl that survived the ordeal and she's still living now." Having the rare chance of actually meeting the woman she plays in the movie, she got a deep look into the experience of a real victim of torture and trauma survivor. "He abused her every day, giving her uppers and downers to control her. She was very much out of it most of the time. She's a young twenty year old that got kidnapped from a pub, and she thinks she's going to die." With former thrillers such as Estranged under her belt, Amy is unquestionably the perfect actress for the role.
Once Upon a Time airs Sundays on ABC.
Words / Mynxii White
This Schön! Online Exclusive has been produced by 
Talent / Amy Manson
Photography / Ben Cope @ 7AM
Production & Make Up / Mynxii White
Fashion / Sophia DeArborne
Hair / Johnny Stuntz
Make Up Assistant / Michaeline Becker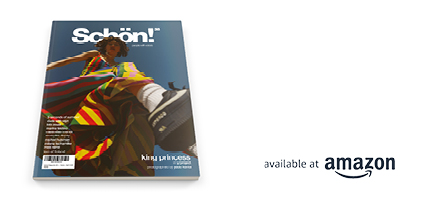 Discover the latest issue of Schön!. 
Now available in print, as an ebook, online and on any mobile device.