Amine Bendriouich is a figure at the centre of Marrakech's flourishing creative scene. His commitment to his homeland is unwavering, with designs reflecting on a rich cultural heritage, whilst simultaneously carving out a new place for Morocco on fashion's global stage. The title of his latest collection, 'ADNA' (or 'Amine-DNA'), references a collection which embodies his beliefs, and as he describes: "who I am and what I stand for". After launching his label in 2012, Bendriouich considers his most recent collection to be a culmination of everything he has learned throughout his career so far. The result is garments invested with values and integrity, defying notions of fashion as frivolous or transient, whilst still retaining elements of playfulness and experimentation which uniquely encapsulate the designer's DNA.
Bendriouich describes his relationship with fashion as shaped by nostalgia and Morocco's artistic avant-garde. He highlights the experience of seeing Moroccan designer Tami Tazi's kaftans in a shop window; a designer whose stunning silks led to collaborations with the likes of Yves Saint Laurent, and whose career incited a huge resurgence in the use of Moroccan embroidery. Bendriouich also discusses the significance of the Boulevard festival (the largest event of its kind in Morocco), for igniting a whole new subculture in the city, and giving him a place to sell his clothes: it was, he says, the "first platform I had to express myself".
His time spent living in Berlin – a place he calls his "heart" – was also formative. He is a self-styled 'Berberliner': a reference to his progeny from the North African 'Berber' people, and his adoptive homeland Berlin. Two disparate cultures between which he perceives many overlaps. These combined influences have led to Urbanite re-workings of traditional Moroccan garb, with his current collection showcasing a statement hoodie and loose-fitting trousers, indicative of Bendriouich's own vocabulary of high-end street style.
Yet perhaps the most significant influence on Bendriouich's career is his relationship with Hassan Hajjaj. Hajjaj, a brilliant artist often dubbed 'the Andy Warhol of Marrakech', fuses hip-hop, reggae, club and North-African influences in his multi-disciplinary practice, whilst meditating on counterfeit-culture. Bendriouich recalls the revelatory experience of seeing Hajjaj's t-shirts in a store window during high school. In 2007, the pair would cross paths at a music festival (which is, incidentally, how Bendriouich seems to have met many of his closest friends), and have shared a thriving professional and personal relationship ever since, collaborating on countless projects. The energy and dynamism the two share drive their defiant and subversive spirits, emboldening each other to push boundaries and to never play by the rules.   
In opposition to the realm of fast fashion, Bendriouich's designs focus on craftsmanship and traditional techniques. "My aim is to prove that there is a cohabitation between industry and artistry, and to find the balance", he says. More than just a visible supply chain, Bendriouich knows many of the people who make his garments on a personal level, and through a shared cultural heritage. Growing up in a culture which fosters a more democratic and collective approach to creation means that being ethical isn't a conscious decision per se, rather: "it's something that comes naturally". All the cotton in this collection are handwoven and the embroidery handstitched, a craftsmanship which he "feels proud to make something beautiful from".  
Creating garments of such high quality and paying workers fairly inevitably impacts the cost price, and with this, accessibility. It's something Bendriouich grapples with, given his desire to "design for every person, wherever he or she may be". However, what his clothes do offer is longevity, not only because of the quality but because they don't conform to current trends. "My worst nightmare is someone trying on my clothes and saying: 'I can't wear this, it's not my style'… style is a box". Gender might also be seen as a 'box', given that a number of his pieces are unisex. As the manifesto for his debut collection states, Bendriouich "does not dress beings, he dresses souls and temperament".
It is an incredibly exciting time to be working as a designer in Morocco, with its ever-growing number of creative spaces and events continually enriching the historical city. Bendriouich's eclectic, thoughtful and innovative designs are inextricable from his heritage but speak of an artist who is outward-looking and constantly evolving, thus allowing personal experience to shape his creations. By continuing to immerse himself in such a creatively charged environment, surrounded by people who inspire and support him, Bendriouich is well primed to shake up fashion's DNA.
Fashion Forward Dubai (FFWD) will feature Amine Bendriouich's presentation at the bi-annual showcase on October 28.
Words / Daisy Schofield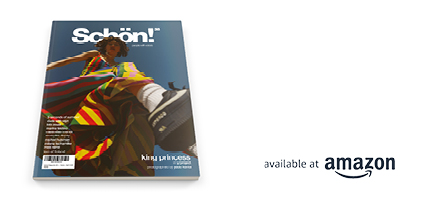 Discover the latest issue of Schön!. 
Now available in print, as an ebook, online and on any mobile device.